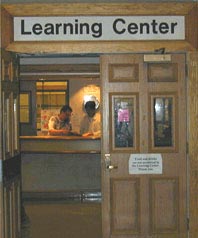 The Learning Center: A Path To Your Dreams
Learning is not attained by chance; it must be sought for with ardor and attended to with diligence.
Abigail Adams, 1780

It's a safe bet that Ms. Adams, First Lady to one American President and mother of another, would have been delighted by BC's Learning Center. The Center's intelligent, sophisticated and caring tutors embody the love and thirst for learning that Adams instilled in her six children. It is a mecca for students seeking a bit of help or a lot of help in both writing and academic subjects across the Cores. Tutoring is provided by BC students exclusively, and the Learning Center is so accomplished that it has a national reputation for excellence. Over the years, it has shown thousands of students that the knowledge they need to move toward their dreams is, indeed, attainable right here on campus.
At the Learning Center you can hear the low hum of constant activity as soon as you enter. The bright and well-planned space can accommodate about two hundred students at a time and often does. The facility has about forty computers and five printers. There are about 125 tutors, mostly undergraduate, who are evenly divided into three categories: writing, Core courses and specific classes. These classes include chemistry, calculus and pre-calculus, physics, CIS, biology, Spanish, French, accounting, economics and psychology. Centers at other colleges often tutor only math and writing. But the real heart of the Center and the source of its success, according to dedicated Director Myra Kogen, is the fact that "we have a very special group of students at this college who take responsibility for their learning." Moreover, says Kogen, "One of the essential elements of tutor training is the emphasis on respect for students and colleagues. Tutors are taught the importance of listening and showing students how to think for themselves. There is genuine interaction, not just a lecture." Hard working, enthusiastic and tireless, Kogen is herself a major factor in the Center's success, but too modest to say so.
The Learning Center has been a cherished campus asset from the start. In 1975 a Writing Center was established by Kenneth Bruffee, professor of English. This successful Center garnered praise in national college journals and inspired BC to expand the scope of its tutoring. The current Learning Center is in large part the result of the work of President Christoph Kimmich, its chief champion. As BC Provost, Kimmich developed a plan for a Learning Center along with Mary Oestereicher, then Associate Dean of Undergraduate Studies. In 1994 Kimmich secured funding for the establishment of the Learning Center from the U.S Department of Education's Title III program. Kimmich directly oversaw the reconstruction of the space and the development of the project. Under Kimmich's leadership, Kogen brought together various campus tutoring operations—Core, AMP, Hughes and the Writing Center—to create what she accurately calls a "seamless tutoring laboratory."
The Learning Center has flourished, says Kogen, because it "has always enjoyed a lot of freedom and support, as well as considerable give and take between the tutors and faculty." The watchful eye of President Kimmich is matched by that of Ellen Belton, Dean of Undergraduate Studies, who oversees the Center. Belton is a strong influence on the Center's positive, productive culture and works very closely with Kogen.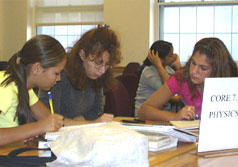 Why do the Learning Center's tutors have so many new and repeat "customers"?
There are three essential reasons. First, tutors are themselves excellent students. All tutors must be recommended by a faculty member and have an A in the Core content they will tutor. For the writing branch of the Center, candidates must either have an A in English 1/English 2 and/or Core 1, or be recommended by a faculty member. The tutors receive continuous feedback from Learning Center supervisors and are carefully observed at the end of each semester. In addition, twenty students are invited each semester to register for a special English course, at the end of which several are asked to join the tutoring staff.
Reason number two is the thorough and ongoing tutor training. Tutors observe classes weekly and meet with faculty, to deepen their understanding of course content and classroom dynamics. Training and staff development continue throughout the tenure of all tutors and include sessions that continually focus on ways to improve learning. At one recent session, for example, the subject was "Common Problems Encountered During Tutoring Sessions." The result was a helpful handout for students: important tips for making the most of tutoring.
Finally, there is the genuine enthusiasm and sincerity of the tutors. They are appreciative of the opportunities BC provides and "want to tutor here because they want to contribute to the school; to give back to the college community," explains Kogen.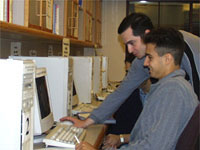 What's particularly interesting about the Learning Center is that while many students seek tutoring to avoid failing a class, just as many top students come to the Center to turn a B into an A. Also notable is the fact that the tutors cheerfully claim to learn as much as they teach. Brooklyn College is proud to say that many of our tutors have gone on to graduate and medical programs at Ivy League schools, where the good work of the Learning Center is greatly admired.
The Center is itself always learning new ways to meet the needs of students. In 2000, Kathleen Gover, Associate Dean of Undergraduate Studies, began the "Gateway Project" to help students achieve passing grades in first-level courses in a chosen major. Gateway subjects include accounting, biology, chemistry, economics, math and psychology. Coming next is online tutoring, the creation of Kogen and CIS Professor Paul Whitlock. This new program will provide clear, frequently sought explanations of course content in an FAQ-like format. Professor Whitlock has been involved in the new program every step of the way and collaborates very closely with the Learning Center, CIS Professor Danny Kopec, and a group of CIS majors who serve as webmasters and designers. The Learning Center is thus off to a great start in the 21st century and will doubtless continue to enhance the lives of many students.
Sir Winston Churchill said, "Personally I'm always ready to learn, although I do not always like being taught." Imagine if he had had the resources of our Learning Center!