Technology for Remote Learning: Getting Started on Blackboard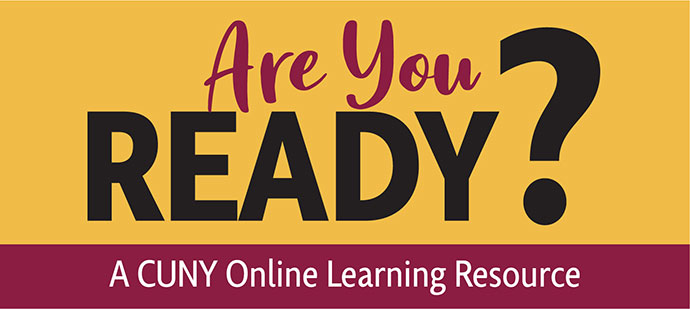 Are You Ready?
Are You Ready? is a Blackboard-based course developed to help prepare students for online learning. Using brief videos, quizzes, and a practice assignment, the self-paced course includes modules that cover basic technology proficiencies and requirements, the basics of Blackboard, online learning etiquette, and a brief self-assessment to highlight some of the key skills that online learning requires. The course takes only about 30 to 45 minutes to complete.
Access Are You Ready? by following these instructions:
Select Blackboard.
Search for "Brooklyn College Online Student Orientation" and enroll by hovering over the name of the course and clicking "enroll." Then enter the access code, noting that it is case-sensitive: BrooklynOnline.
When the confirmation page appears, click OK to start the course.
Getting Started on Blackboard: A Student Guide
Technology for Remote Learning
Equipment
You will need a working computer with sufficient memory to download any software or program that your distance learning course requires. To have the best user experience, it is highly recommended that your computer have a minimum:
8th Generation Core i5 CPU - Processor
8GB RAM - Memory
256GB SSD – Storage
If you do not have access to a computer, Brooklyn College has Chromebooks you can borrow.
Using a tablet or phone is not recommended. These devices do not have all the features your courses will require, and some programs may not work well on them. In addition, you may not be able to type papers, take quizzes, and participate in online collaborative activities using them.
Computer Features
Your computer should have a webcam, microphone, and speakers (or headphones). Your course may require that you connect using a camera for your professor and classmates to see you and interact with you.
A hard drive / flash drive will allow you to save your documents and back up your work just in case your computer crashes or the internet goes down.
Internet
Fast, reliable internet connection is key to distance learning. It will allow you to connect and communicate in real time.
Private internet access is available to students, including through Altice USA and Charter Communications, which have both said they would offer free broadband services, for 60 days, to students taking online classes. Regular pricing will take effect at the end of the 60-day period if a customer doesn't cancel or change the service.
Before Your First Class
Before your first class you will want to test your equipment and Internet access to make sure everything is working smoothly. Download and run the distance learning software you need for your course ahead of time to make sure it works properly. Practice its functions to avoid any problems when the class begins.
Where do I go for help?
Contact the ITS helpdesk at 718.951.4357 or via e-mail.
Technology for Students—available technology tools and systems (How to login to CUNYfirst, Blackboard, WebCentral; and access your Brooklyn College e-mail).