Everbridge VaxPass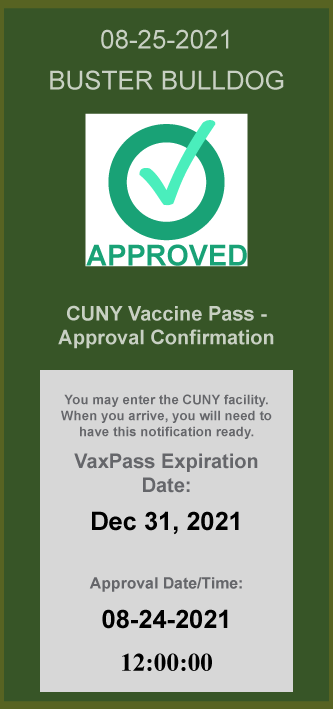 Everbridge VaxPass uses vaccine verification from CUNYfirst.
All CUNY buildings and offices require that those with vaccinations (students, staff, and faculty) have a VaxPass Access Allowed confirmation displayed on their smartphone before coming into the office or a campus location. Students, staff, and faculty staff will be registered for VaxPass by filling out the Vaccination Verification application form accessed within the Main Menu of CUNYfirst.
How to Use the Everbridge VaxPass
Before you enter a CUNY building, make sure you have the Everbridge app and your daily VaxPass ready on your smartphone.
Install Everbridge
Navigate to the Apple App Store or Google Play on your phone and search for Everbridge. Download, install, and open the Everbridge app.
Tap "Find an Organization" or subscription button on the Everbridge splash page.
Search for CUNY. Select the "CUNY—Health Screening" option. Do not choose NYAlert.
You will be taken to the CUNY Web Applications Login page. Log in using your CUNY Login credentials (Username: Firstname.Lastname##@login.cuny.edu).
Set your notification preferences. Tap the "Done" button.
One-Time VaxPass Setup
Within the Everbridge app, tap the Shield icon in the bottom right corner. If you do not see the Shield icon, restart the Everbridge app.
Tap the VaxPass icon. If you do not see the VaxPass icon, restart the Everbridge app. If you still do not see it upon restarting, contact the ITS helpdesk at helpdesk@brooklyn.cuny.edu or 718.951.4357.
Tap "Submit." You will see a "You've successfully submitted your form" banner.
You will receive a notification of a new message in your feed within a few minutes.
Your Access Approved confirmation token will be available within your Everbridge Feed. Open the VaxPass confirmation token for review by the CUNY screener when you are entering a CUNY location.