Earth Month
Every year April 22 is celebrated as Earth Day! It marks the anniversary of the modern environmental movement. In spring 1970, Senator Gaylord Nelson, a U.S. Senator from Wisconsin, created Earth Day as a way to integrate environmental protection onto the national political agenda. Following the first Earth Day celebration, President Richard Nixon created the Environmental Protection Agency. In New York City, the first Earth Day was marked by thousands who participated in various events, Fifth Avenue was closed to traffic from Union Square Park to Central Park, and 14th Street between Third and Seventh avenues was transformed in to an "ecological carnival." Earth Day continued to be marked during the 1970s and was resurrected in 1990 and again in 2000. Today, Earth Day is celebrated by billions of people, and it is one of the largest secular observances in the world.
Brooklyn College faculty and staff are invited to show off the college's commitment to sustainability and protecting the environment by participating in Earth Month–related events throughout April. It's a great opportunity to engage students and other campus stakeholders on a wide number of issues. For information, contact Julissa Lora, Sustainability Coordinator, at 718.951.5400 or via e-mail.
See photos taken during the Earth Week 2017 and the Sustainability Fair.
Earth Month 2019 Events Guide
8 a.m.–4 p.m.
CUNY Graduate Center
365 5th Avenue, New York, NY 10016
NYC Parks Green Thumb will host its 35th annual conference to kick off the city's community gardening season. This is a free event and space is limited; register by March 28, 2019.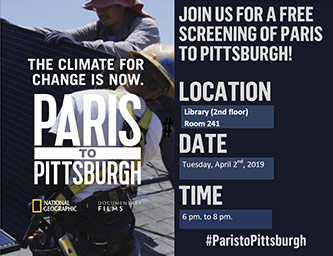 6–8 p.m.
241 Library
Join us for the screening of Paris to Pittsburgh, a new film from National Geographic, produced by RadicalMedia in partnership with Bloomberg Philanthropies. This documentary focuses on the incredible actions taken by individuals, communities, businesses, and local government in the United States to combat the threat of climate change. The film is narrated by Emmy and Golden Globe Award–winning actress and activist Rachel Brosnahan (The Marvelous Mrs. Maisel). Watch the trailer.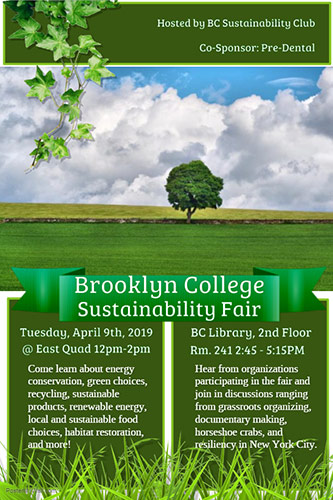 April 9—Sustainability Fair
Hosted by BC Sustainability Club; co-sponsored by Pre-Dental
Noon–2 p.m.
East Quad
Come learn about energy conservation, green choices, recycling, sustainable products, renewable energy, local and sustainable food choices, habitat restoration, and more! Join nonprofit organizations, city agencies, and others that will have tables with information about environmental conservation and sustainability.
April 9—Sustainability Lectures
2:45–5:15 p.m.
241 Library
Hear from organizations participating in the fair and join in the discussions on such topics as grassroots organizing, documentary making, horseshoe crabs, and resiliency in New York City presented in TED-style talks, and in facilitated discussions.
April 9—Supporting Sustainability Locally
5:30 p.m.
Hostos Community College
450 Grand Concourse
Faculty Dining Room
Enjoy a panel discussion about the Earth Day 2019 Protect Our Species project and our local sustainability issues.
April 9 and 10—Eco Festival 2019
Kingsborough Community College
2001 Oriental Boulevard, Brooklyn

Celebrate sustainability and civic engagement by participating in lectures, workshops, faculty panels, and the film screening of Plastic Paradise.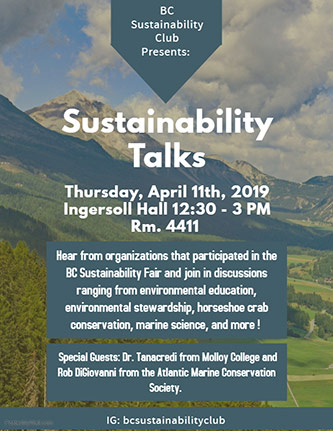 April 11—Sustainability Talks
Presented by BC Sustainability Club
Thursday, April 11
12:30–3 p.m.
4411 Ingersoll Hall
Hear from organizations that participated in the BC Sustainability Fair and join in discussions on such topics as environmental education, environmental stewardship, horseshoe crab conservation, marine science, and more!
Special Guests
Dr. John Tanacredi, Biology, Chemistry and Environmental Studies, Molloy College
Rob DiGiovanni, Founder and Chief Scientist, Atlantic Marine Conservation Society
April 15 to 17—EcoCinena Cafe Marathon Film Festival
John Jay College of Criminal Justice
524 West 59th Street

Enjoy a three-day marathon of award-wining films that not only entertain but also build awareness and inspire dialog and action.
April 16—Mounding Fatbergs and Melting Icebergs
10:30a.m.–12:45p.m.
LaGuardia Community College
31-10 Thomson Avenue
EBuilding Room E-500
Join representatives from the New York City Department of Environmental Protection for a presentation about how to dispose of hazardous household waste, follow by LaGuardia's faculty panel discussion on human activity and global climate change.
April 17—Recycle Your E-Waste
Noon–3:30 p.m.
LaGuardia Community College
31-10 Thomson Avenue
EBuilding Atrium

Recycle your e-waste during the college's Earth Day celebration and learn mote about environmental activism and going green.
April 17—BMCC Sustainability Fair 2019
Noon–4 p.m.
Borough of Manhattan Community College
199 Chambers Street
Richard Harris Terrance/South Lobby

Enjoy hands-on sustainable activities, exhibits, food, community organizations, prizes, the screening of This Changes Everything, and much more.
April 18—ECOFest 2019
11 a.m.–4 p.m.
CityTech
300 Jay Street
Library Building
ECOfest is a college-wide event and Earth day celebration. It is a forum for the campus community to share ideas about City Tech and environmental sustainability and have fun in the process.
April 22—Earth Day
April 27—Car-free Earth Day
9 a.m.–3 p.m.
Broadway, Washington Heights, All five boroughs

This annual event is held the Saturday after Earth Day. It opens 30 blocks of Broadway from Times Square to Union Square for people to explore on foot.
April 29–May 3—Hunter Goes Green Week
Hunter College
695 Park Avenue
This weeklong event engages the CUNY community in issues related to the environment. Every day will have a different theme, including food, energy, biodiversity, etc. There will be games, giveaways, and plenty more.