Earth Week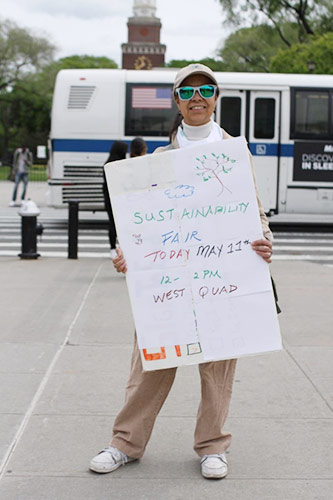 See more photos taken during the 2017 Earth Week and the Sustainability Fair.
The Brooklyn College Campus Sustainability committee invites faculty and staff to show off the college's commitment to sustainability and protecting the environment by participating in Earth Week, April 24–29. This week offers a great opportunity to engage students and other campus stakeholders on a wide number of issues.
Contact Carrie Sadovnik, Campus Sustainability committee chair, at 718.951.5400 or via e-mail.
We encourage all members of the college community to attend the week's events, listed below. We also invite you to learn more about campus sustainability and the 10-Year Sustainability Plan.
Thursday, May 11
Sustainability Fair: Noon–2 p.m., in front of West Quad Center
Come to the fair and hear from New York City agencies, nonprofits, and local businesses and organizations about environmental conservation and sustainability. Lots of activities from free meditation and yoga to herbal health and a campus-based bike co-operative. Hosted by the Geology Society, NYPIRG, STAT (Students for a Sustainable Today and Tomorrow), and the Campus Sustainability Committee.
Sustainability Talks and Workshops: 2–3:30 p.m.
Hear from organizations participating in the fair and join activities and discussions ranging from herbal medicine and how to fix household items to efforts to protect water and habitat.
NYC Agencies & Sustainability—3408 Boylan Hall
Environmental Advocacy & Social Movements—3424 Boylan Hall
Sustainable Nutrition—4135 Boylan Hall
Holistic Health—4315 Boylan Hall
Upcycling—2150 Boylan Hall
Monday, April 24–Friday, April 28
Mugs Wanted—All day and all week long in Metropolitan Cafeteria, Library Cafe, and James Hall Cafe
Receive a 20¢ discount for coffee or tea for bringing in a reusable tumbler or mug! 
Tuesday, April 25
Postponed to Thursday April 27: Zero Waste Food Production—12:30–1:30 p.m., BC Garden near the Ocean Avenue gate
Drop by the BC Garden for a tour and find out about composting and no‐till approach to gardening. 
Film: Merchants of Doubt: 4–6 p.m., 3127 Ingersoll Hall
NYPIRG is hosting a documentary on pundits-for-hire who present themselves as scientific authorities as they speak about topics like toxic chemicals, pharmaceuticals, and climate change. 
Wednesday, April 26
Walking Tour of the Brooklyn College Campus: 9:30 a.m.–10:45 p.m. (leaving from 431 Ingersoll Hall Extension)
Join Professor of Philosophy Mike Menser for a walking tour of of the campus with Landscape Architect Walter Meyer and artists Bibi Calderaro and Alyssa Dennis. Meet in 431 Ingersoll Hall Extension (9:30 am sharp!). We will then walk to sites around campus where students and faculty have made proposals for rain gardens, hoop houses (for year round food production), aquaponics, green walls and public art.
Art and Ecology and the Brooklyn College Campus: 11 a.m.–12:15 p.m., 431 Ingersoll Hall Extension
Professor of Philosophy Mike Menser is hosting presentations on the work of eco‐artist Patricia Johanson and a guest speaker and landscape architect Walter Meyer of Local Office Landscape Architecture (LOLA) will be discussing green projects for the college campus and its surroundings.  
Birds on Campus: Collisions and What to Do: 12:30–2:00 p.m., 242 Library
The campus is situated on the Atlantic Flyway and is a popular stopping point for migratory birds. Join fellow bird enthusiasts, campus facilities, and others to learn about the migratory birds sited on campus and how to prevent window collisions. 
Urban Sustainability Lecture:  The Trump Assault on the Environment: 3:15–4:30 p.m., 150 Library (Woody Tanger Auditorium )
Professor of Sociology Ken Gould will address Trump's appointments, policy goals, and impacts. 
Thursday, April 27
Tour: The Vault: 11 a.m., 033 Ingersoll Hall Extension (meet at yellow door along the drive past Ingersoll Hall Extension)
Have you ever wondered what happens to chemical waste after it leaves the lab or studio? EHS Specialist Ben Daggett will give you a rare look into the "The Vault."
Film: Awake, A Dream from Standing Rock: 12:30–2:30 p.m., 1310 Ingersoll Hall
Josh Fox's documentary about Native-led resistance to the Dakota pipeline and efforts to protect groundwater quality. Join Professor of Sociology Tammy Lewis after the film for a discussion. 
Garden to Sustain People and Wildlife: 2:30–7 p.m., BC Garden near Ocean Avenue gate
The campus is invited to participate in spring cut back (chopping up plant material), sifting compost, and preparing garden beds for food growing using a no-till approach. Find out how your contribution ties into sustainable garden practice on campus.  Wear comfortable clothes! RSVP.
Saturday, April 29
Brooklyn Center for the Performing Arts Presents: Tenth Annual National Grid Earth Day Celebration: 3–5 p.m., in front of Whitman Hall
Enjoy live music, arts and crafts, and street performers at this free community festival, where interactive family activities highlight the need for creating a more sustainable future and caring for the earth.