refashionNYC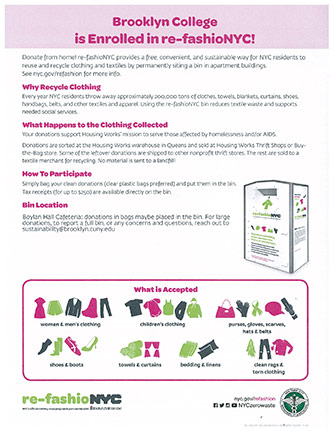 refashionNYC is the city's official clothing reuse and recycle program. Campus Sustainability has partnered with the New York City Department of Sanitation (DSNY) and Housing Works to make donating your clothing and textiles easy with a convenient in-campus service. A large refashionNYC bin is permanently installed in the Boylan Hall cafeteria. Since the program started on campus, the college has recycled more than 4,410 pounds of textiles.
What's accepted:
Clothing (women's, men's, and children's)
Shoes, purses, gloves. scarves, hats, and belts
Towels, curtains, bedding, and linens
Clean rags and torn clothing
Clothing and accessories donated through refashionNYC are sorted out at the Housing Works warehouse in Queens.
Tax receipts are available on the bin. This partnership with Housing Works and DSNY provides a convenient collection system while fighting homelessness and AIDS in the city. Contact the Campus Sustainability team at extension 5400 or via e-mail for more information or to report a bin issue.
For more information about donating, visit: