My Course Seems to Address Only Two of Our Five Program Student Learning Outcomes. Is This a Problem?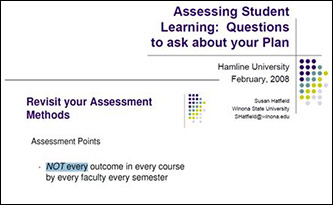 Learn more (pdf).">
You are asking the right question, and you may be surprised by how simple the answer is. Susan Hatfield, formerly assessment director, Winona State University and currently senior scholar with the Higher Learning Commission, gives the answer in her presentation "Assessing Student Learning: Questions to ask about your Plan."
The truth is, when you are doing assessment right, and this means doing it in such a way so that it is sustainable, you will not be assessing "every outcome in every course by every faculty every semester." It is quite acceptable for different courses in your program to teach toward different outcomes. There will, of course, be overlap, with certain outcomes being integral to a number of courses, but it is not likely that any one course will teach toward all of your outcomes.