Why Can't I Do an Assessment Just by Using the Grades Students Got in a Course?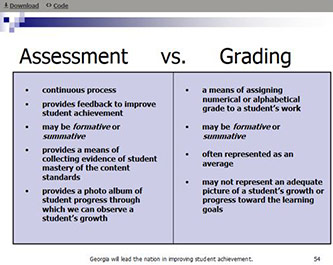 "Grades represent the extent to which a student has successfully met an individual faculty member's requirements and expectations for a unit or course…. The focus of program assessment is on providing evidence that students can demonstrate knowledge or a skill that is directly linked to specific performance criteria that define the program outcomes. Grades per se are relative measures and generally do not represent specific aspects of learning. More often, they reflect performance on multiple concepts." — Dr. Gloria Rogers for the Accreditation Board for Engineering and Technology
This chart from a Georgia Department of Education training day compares assessment and grading.