I Like to Survey Students at the End of My Courses to Find Out What They Have Learned. Is This a Fair Way to Assess a Learning Outcome?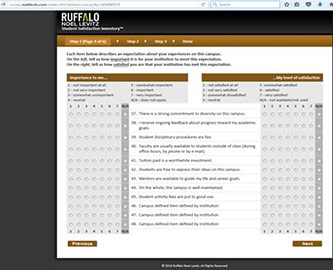 Surveying is an indirect measure of student learning. But, as we read below, surveys have their limitations:
"Educational research is tricky business. Methodologies that are used to measure student learning each have their own limitations and biases, and no method can be counted on to be completely error free. That is why best practice in educational research dictates triangulating the data. If several different sources of data are used, it increases the probability that the findings present an accurate picture. In other words, the strongest assessment programs will rely on a mix of direct and indirect measures.
"Indirect measures include data from surveys of seniors and alumni, retention rates, graduation rates, number of students progressing to advanced degrees, etc. They allow administrators, faculty, researchers, and consumers to infer the benefits to students from their years in college, but they cannot report with precision exactly what students have learned or what they are capable of doing as a result of their university education. Historically, these kinds of data have been collected by offices of institutional research, alumni offices, etc.
"Direct measures provide more evidence of the increase in students' knowledge and abilities over a period of time. Standardized tests as, for example, the Collegiate Learning Assessment (CLA) are one kind of direct measure…. Other examples of direct measures include assignments that ask students to perform some kind of conceptual task (e.g., create a concept map) or portfolios compiled over a course of study. It is important to emphasize that these student work products need to be systematically reviewed for evidence of learning in order for them to be of most use." — Teaching and Learning Laboratory, Massachusetts Institute of Technology
Institutions may administer the Noel Levitz Student Satisfaction Inventory and other similar surveys to find out about student perception of their experience at a college, but to find out if students believe they achieved a specific program learning outcome, you would need to develop a more targeted survey.