Why Is It Important to Include Student Learning Outcomes in Every Syllabus in My Program?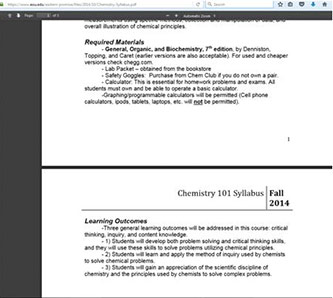 "Course-level expected student learning outcomes should be included in course syllabi." — Middle States Commission on Higher Educations, Characteristics of Excellence in Higher Education
In addition to satisfying the desires of the accrediting body by including student learning outcomes into each syllabus, your doing so allows students to understand from the beginning of the course what they should hope to get out of the course. It allows the faculty, too, to remember why students are taking this particular course in the context of the larger program and to remain aware of where students have come from and where they are heading in their course of study.
Furthermore, ask yourself as your department develops a course and writes up the syllabus, if the course will not serve to help students reach any or all of the learning outcomes for your program, is it appropriate for your program to offer that course? If your department has spent a good deal of time developing the new course and thinks it is an important course to offer, then take the time to re-think your program outcomes and make changes as needed.
This chemistry syllabus from Eastern Oregon University incorporates three learning outcomes.