Do I Have to Assess All of My Program Goals Every Year?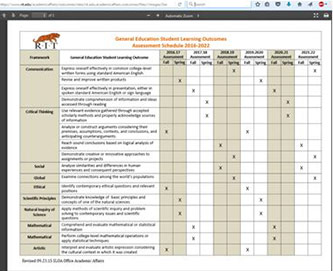 "The first thing you need to do to keep assessment sustainable is to keep things as simple as possible. Don't try to assess everything all the time; focus on the really important goals. Also, I've never seen any rule that says you have to assess every single goal in every single course, program or gen. ed. course requirement, every single semester or term. It's fine to develop a staggered schedule." — Linda Suskie, Middle States Commission on Higher Education
Your department can create a chart to map out the semesters when you will assess each goal or outcome for a program, just as the Rochester Institute of Technology has done here (pdf) for their general education student learning outcomes. Notice that the chart schedules when each outcome will be assessed and not which courses are being assessed. You can decide which courses you will use to do the assessment, and the courses you choose can change.