Submitting Textbook Information to the Brooklyn College Online Bookstore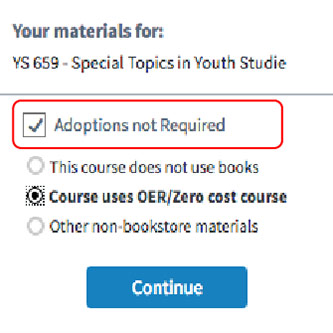 Log in: Visit the Brooklyn College Online Bookstore and log in with your CUNY Login credentials.
Select a Course: Click one of your courses to start the adoption process.
Add Textbooks: Use the search box to search by ISBN or title. When you click on a book, a pop-up will appear with full book details, including pricing and edition alerts. Click "Adopt" to add it to your course.
New Only: If your course requires digital courseware materials (e.g., access code), lab manuals, or other one-time–use products, select "New Only."
No Textbooks Required: If your course does not require textbooks, check the box next to "Adoptions not Required" and then select the reason why (e.g., you are utilizing Open Educational Resources as part of the CUNY Zero Textbook Cost initiative).
Optional Steps: Add Ancillary Materials and/or Course Notes. Example: You can attach your syllabus in the course notes section.
Preview Course: Review how students will see your course.
Submit Course: Click "Submit" to complete your course adoption. If you teach two or more sections of the same course, you can copy the information to all sections.
The bookstore receives daily updates from CUNYfirst regarding course information. If your courses are not listed, or if you experience issues logging into the bookstore, you can check back at a later date or e-mail your course and textbook information.
Note
All course material information must be submitted to the online bookstore. Book information entered in the bookstore portal will transfer back to CUNYfirst within 24 to 48 hours.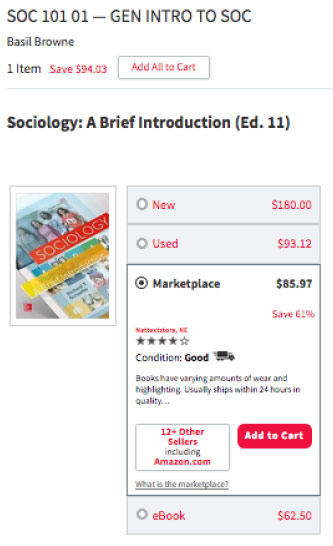 Bookstore Benefits for Students
Students can log in and see a personalized page showing only the courses they registered for and their corresponding course materials.
Students can select from a variety of textbook formats, including new, used, eBook, and rental.
The online bookstore offers an integrated peer-to-peer marketplace, where students can save an average of 60 percent off list price.
The online bookstore provides online buyback for students.
The bookstore offers a Price Match Guarantee on all new books, so students won't pay more if they find a lower price elsewhere.
Price comparisons from top-selling textbook websites.
Students get the right book, at the lowest cost, even if they choose to shop on third-party sites.
Bookstore Benefits for Faculty
Textbook adoption information entered into the online bookstore portal will transfer back to CUNYfirst, streamlining the process and saving time.
Previously adopted textbooks will display for easy re-selection.
Real-time pricing and availability for textbooks display upon adoption.
Coursepack creation service for faculty to create low-cost, highly tailored course materials.
A textbook recommendation engine featuring more than 12 million ISBNs.
Enhanced reporting and analytics for faculty, chairs, and staff to provide real-time course completion information and student purchasing information.