Graduation Initiatives and Commencement Planning
Cheers to the Class of 2020!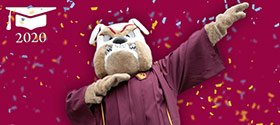 Head to our #BCGrad2020 page for our Virtual Graduation Celebration and links to the May 28 online event.
Join the Class Gift Committee
As a tradition at many universities, the class gift is one that the graduating class gives to the college as an expression of gratitude. It is a gift that is given to solidify their legacy.
We want your class gift to be reflective of the lessons you have learned, the relationships you have formed, and the growth you have experienced here at Brooklyn College.
We are kicking off the Class Gift Initiative by inviting rising 2020 graduates to be a part of the Class Gift Committee! The committee will help decide what the class gift will be, spearhead fundraising efforts, and unite the Class of 2020 through philanthropy.
To be considered as a member of the committee, complete the 2020 Class Gift Committee Application by Monday, September 23. Prospective committee members will be contacted by Monday, September 30.
Senior Star of the Week: Highlighting Our Future Grads 
Did you recently get the internship or job you wanted? Just got accepted into graduate school? If you recently celebrated a major academic or professional accomplishment, the commencement team wants to highlight you!
For a chance to be featured on our Instagram, follow us and direct message us the following:
Your photo, which will be posted on our Instagram
Brief summary of your academic or professional accomplishment (maximum word count: 250) that includes your name and EMPLID
To be eligible for a chance to be featured, students must have filed for graduation.
We can't wait to learn about the amazing things that our graduates have done!
Note: By entering for a chance to be featured as the senior star of the week, you grant the commencement team permission to post your photo on our Instagram account. Submitting your photo and brief summary does not guarantee a feature.
About Us
The mission of the Office of Graduation Initiatives and Commencement Planning is to coordinate the annual college-wide Commencement Ceremony and ensure that graduating students pursue the necessary steps to maneuver commencement-related processes in order to participate in the Commencement Ceremony.
The office facilitates a smooth transition to commencement by encouraging students to file for graduation, providing graduation portraits, promoting the college yearbook, administering ticket reservation, distributing tickets, and coordinating the purchase and distribution of academic regalia. In addition, the office is dedicated to cultivating commencement as an experience by facilitating events to celebrate our graduates.
Contact Us
For more information about the Commencement Ceremony, upcoming deadlines, and commencement-related events, visit the commencement webpage.
Location: 2153 Boylan Hall
Office Hours: Monday–Friday, 9 a.m.–5 p.m.
P: 718.951.5352
Contact us by completing the commencement suggestion form.