#BCGrad2020
Diploma Pickups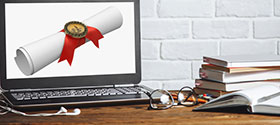 Your diplomas are almost ready! Ensure your mailing address is up to date in CUNYfirst.
Cheers to the Class of 2020!
We're proud to host a virtual graduation celebration for all our 4,462 seniors. We know you've come through one of the most difficult periods in your lives, persevered through unprecedented difficulties, and emerged as graduates, civically minded citizens, and proud #BCfamily.
This may not be the commencement we had all hoped for, but we're rolling with the punches, and for succeeding academically through a global pandemic, you deserve to be honored and celebrated!
Marching Order and Cheers to the Class of 2020 Broadcast
Where: The virtual ceremony will be broadcast on Marching Order (with student names), available on desktop or mobile devices. Make sure you see yourself! Musical performances, guest speakers, special greetings, a valedictory address, and the keynote address. Watch with your classmates, faculty, staff, family, alumni, and the entire extended Brooklyn College family.
Please note: The Marching Order platform will also showcase every graduating student's name, photo, and degree. Those who submitted their details by the deadline will be able to listen to their name being announced.
Social Shoutouts with #BCGrad2020
We'll be sharing your tweets, Facebook comments, and Instagram shoutouts. Offer your congratulations and well-wishes with your classmates, colleagues, faculty, and family. Simply use #BCGrad2020 to join the conversation.
If you ordered the cap and gown, join the Watch Party by getting dressed up in your well-earned regalia. Customize your cap (and share photos with us!) and get ready to cheer when your degree is conferred.
Let's Get This Party Started!
Maybe the Alma Mater isn't your thing. Try some of these #BCGrad2020-approved tunes to get your Cheers to Class of 2020 Watch Party going.
This playlist features tracks submitted by graduating seniors as official commencement song suggestions.
Keeping It Social
You're now a Brooklyn College alumnus, so share the news with the (social) world! Add a frame to your Facebook profile, shout from the rafters on Stories, or filter your way through Instagram.
Lift Your Zoom Game
We might have missed the last couple of months (and arguably the most beautiful season) on campus, but there's no need to say goodbye forever. With this selection of Zoom virtual backgrounds, you can take the Lily Pond with you long after the final remote exam or paper.
Sharing BC Moments
Share why you're excited to graduate, what you'll miss most about Brooklyn College, and your plans for the future using #BCGrad2020. Want to tell the graduate in your life how proud you are? Let us know, using #BCGrad2020. A message of thanks to your favorite professor, staff member, or our beloved campus mascot, Buster? We got you, at #BCGrad2020.