Student Activities, Involvement, and Leadership (SAIL)
302 Student Center
Monday–Tuesday, Thursday–Friday, 9 a.m.–5 p.m.
Wednesday, 9 a.m.–7 p.m.
P: 718.951.5712
E: sailreception@brooklyn.cuny.edu
The Student Activities, Involvement, and Leadership (SAIL) Center provides co-curricular experiences that strengthen the personal development and academic growth of all Brooklyn College students. We produce educational, cultural, and social programs that enhance cultural awareness, foster unity, and inclusivity. Additionally, the SAIL Center assists with budget management services that encourages fiscal responsibility. These resources allow students to be active and positive members of the campus community.
The SAIL Center encourages school spirit and invites you to participate in our November events. Stay connected to the campus, learn something new and build your Brooklyn College pride.
Zoom Virtual Hour
If you need assistance, we are offering a one-hour window every Tuesdays and Thursdays from noon to 1 pm. Click this link and choose Virtual Drop-In Hour.
Areas of the SAIL Center
Signature Programs, Opportunities, and Events
Cultural Celebrations
FallFest
MLK Day of Service
SASA—Study Abroad Scholarship
Volunteer Week
Welcome Activities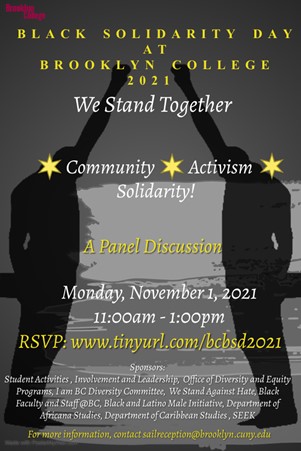 November Events
November 1, 11:00 am – 1 p.m.
Virtual Panel Discussion on Community, Activism and Solidarity
Sponsors:
SAIL, I am BC Diversity Committee, We Stand Against Hate, Office of Diversity and Equity Programs, SEEK, Department of Africana Studies, Black Faculty and Staff @ Brooklyn College, Black and Latino Male Initiative, Department of Caribbean Studies
Protest against the intensifying repression that threatens the very existence of Black people in America.
— Carlos Russell

Every Monday before elections we celebrate Black Solidarity Day, founded by former Panamanian ambassador to the United Nations, and Brooklyn College Professor, Carlos Russell. His call to "protest against the intensifying repression that threatens the very existence of black people in America" is being echoed across the world today.

It was first observed on November 3, 1969, against the backdrop of the Black Power Movement and a post-Civil-Rights-era America, strategically observed one day prior to elections day.
Missed the event? You can watch the virtual panel here.

November 16, 7 – 8:30 p.m.
NATIVE AMERICAN HERITAGE CELEBRATION
Join SAIL, We Stand Against Hate, ISSO and the I am BC Diversity Committee next Tuesday, November 16th at 7pm, for a conversation on Native and Indigenous Identities with members of the American Indian Community House here in NYC. We will explore how communities are restoring their own languages and defining the identity based on Indigenous culture and not prohibited identities offered by the West such as the uniform colonial oppression and white supremacy that often defines their communities.

November 17, 6:30 – 8 p.m.
MULTICULTURAL FEAST & CULTURE FAIR –International Students Day Celebration
Join ISSO, in collaboration with SAIL, I am BC Diversity Committee and others on Wednesday, November 17th at 6:30pm, for a Multicultural Feast & Cultural Fair- a celebration of our International Student community at Brooklyn College. You'll experience an amazing showcase of diverse cultures represented in various forms such as, art, music, food, cultural wear, poetry, etc.