Student Activities, Involvement, and Leadership (SAIL)
Celebrating Native American Heritage Month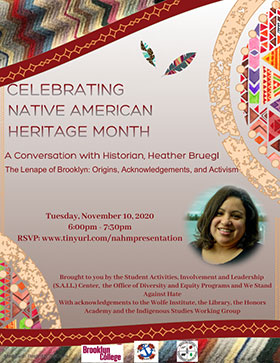 The Lenape of Brooklyn: Origins, Acknowledgements, and Activism
A conversation with historian Heather Bruegl
Tuesday, November 10, 2020
6-7:30 p.m.
Via Zoom
Brought to you by the Student Activities, Involvement, and Leadership (SAIL) Center, the Office of Diversity and Equity Programs, and We Stand Against Hate.
With acknowledgments to the Ethyle R. Wolfe Institute for the Humanities, the library, the Honors Academy, and the Indigenous Studies Working Group.
Black Solidarity Day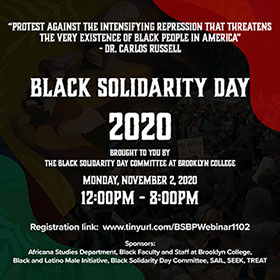 302 Student Center
Monday–Tuesday, Thursday–Friday, 9 a.m.–5 p.m.
Wednesday, 9 a.m.–7 p.m.
P: 718.951.5712
E: sailreception@brooklyn.cuny.edu
The Student Activities, Involvement, and Leadership (SAIL) Center provides co-curricular experiences that strengthen the personal development and academic growth of all Brooklyn College students. We produce educational, cultural, and social programs that enhance cultural awareness, foster unity, and inclusivity. Additionally, the SAIL Center assists with budget management services that encourages fiscal responsibility. These resources allow students to be active and positive members of the campus community.
The SAIL Center encourages school spirit and what better way to invoke Brooklyn College pride than with the school mascot, Buster the Bulldog.
Zoom Virtual Hour
If you need assistance, we are offering a one-hour window every day from 11 a.m. to noon. Click this link and choose Virtual Reception.
Areas of the SAIL Center
Signature Programs, Opportunities, and Events
Cultural Celebrations
FallFest
MLK Day of Service
SASA—Study Abroad Scholarship
Volunteer Week
Welcome Activities