Salutatorian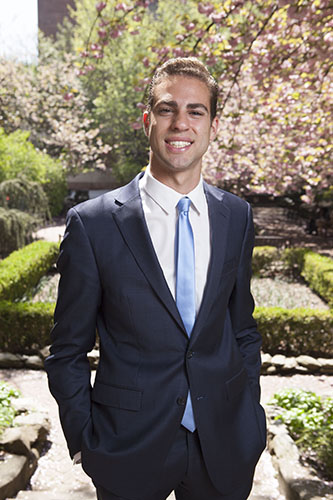 Michael A. Franco is the salutatorian of the Brooklyn College Class of 2017.
Franco, a member of the prestigious William E. Macaulay Honors College, majored in psychology, with concentrations in biology and chemistry as well as Judaic studies. He is enrolled in the Coordinated B.A.-M.D. Program for premedical studies. He has a 4.00 grade point average and has made the Dean's List every semester that he has attended Brooklyn College.
Franco is no stranger to academic distinctions. He was valedictorian at both the Magen David Yeshivah Elementary School and the Yeshivah of Flatbush High School, and was the recipient of numerous awards from both institutions. In summer 2015, Franco attended the Lorenzo de Medici School in Florence, Italy, to study the psychology of crime, and was named a Meyer Scholar for academic excellence in studying abroad.
A civic-minded individual, Franco is an active member of the Tanger Hillel House at Brooklyn College, spending countless hours serving the larger community. He has volunteered at the Monmouth County Medical Center as a nurse's assistant and served as a camp counselor, peer tutor, and president of the Kol Israel Congregation Youth Program. Committed to the study of Judaism, Franco spent a summer at Tebah Organizational Services editing an academic series of works on the Torah.
Following graduation, Franco plans to obtain his medical degree and synthesize all that he has learned from his scientific and humanitarian efforts to become a psychiatrist, with the goal of healing the minds, bodies, and souls of others.
Please join us in congratulating Michael A. Franco on his graduation and selection as the salutatorian of the Brooklyn College Class of 2017. We wish him success in all of his future endeavors.