Fredy Peccerelli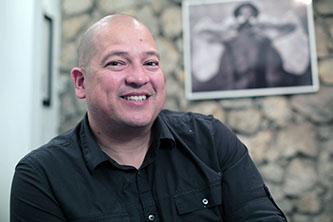 Distinguished Alumnus Award
Fredy A. Peccerelli '96 is a forensic anthropologist who has dedicated his life to defending human rights. He is the executive director and a founding member of the Forensic Anthropology Foundation of Guatemala (Fundación de Antropología Forense de Guatemala, or FAFG), a nongovernmental organization established in 1997 that exhumes from mass graves the remains of victims of Guatemala's 36-year internal armed conflict and helps to identify them. The evidence uncovered thus far has helped convict perpetrators of genocide and crimes against humanity in that country as well as aided families in locating their dead and missing loved ones.
Born in Guatemala in 1971, Peccerelli and his family fled to New York City in 1980 after they received threats from government death squads. He attended Brooklyn College, where he studied archaeology and anthropology with the goal of reconnecting to his heritage. In 1994, Peccerelli was sent by the college to the annual meeting of the American Anthropological Association. There, he met experts in the field of forensic anthropology who had begun exhuming mass graves in Guatemala. He approached one of them and offered his help.
Peccerelli graduated with a bachelor of arts in anthropology in 1996 and went on to receive a postgraduate diploma with distinction in forensic and biological anthropology from Bournemouth University in the United Kingdom in 2004. He is an affiliate professor for postgraduate masters in forensic sciences on the faculty of medical sciences at the University of San Carlos of Guatemala.
Peccerelli is a leader in the development and use of a multidisciplinary human-identification system that combines victim investigation and forensic archaeology, anthropology, and genetics to bring to light the identities of victims of human rights abuses. The discoveries by Peccerelli and FAFG have been used as evidence in international criminal tribunals for the former Yugoslavia at The Hague, Netherlands, at the Inter-American Court of Human Rights, and, most recently, in Guatemala.
In addition to being an expert witness, Peccerelli, along with FAFG, has collected more than 325 interviews from survivors of the Guatemalan conflict in collaboration with the University of Southern California's Shoah Foundation–Institute for Visual History and Education, a nonprofit organization dedicated to capturing the faces and voices of survivors and witnesses of the Holocaust and other genocides. The Guatemalan testimonies have been included in the foundation's digital IWitness Education System.
Named by CNN as one of the top 50 Latin American Leaders for the New Millennium, Peccerelli was the 2015 Chancellor Dunning Trust Lecturer at Queen's University in Kingston, Ontario, was awarded a Special Honors Medal by Canada's Governor General David Johnston, and received an award for his activism on behalf of human rights from the Abraham Lincoln Brigade Archives and the Puffin Foundation, among other distinctions.
In recognition of his remarkable career in forensic anthropology and his commitment to human rights and social justice, Brooklyn College presents Fredy A. Peccerelli with the Distinguished Alumnus Award.