Bernie Sanders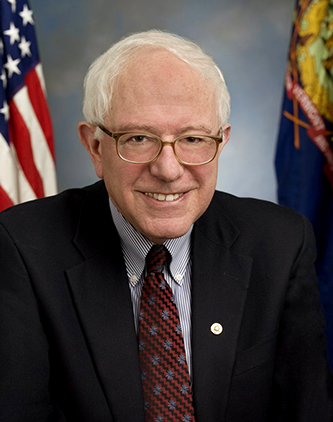 Honorary Doctor of Humane Letters, Keynote Speaker
U.S. Senator Bernard (Bernie) Sanders (I-VT) is internationally known for his campaign to become the Democratic Party's 2016 U.S. presidential candidate. The longest-serving independent in U.S. congressional history, Sanders was a congressman for 16 years. He was elected to the U.S. Senate in 2006 and was re-elected in 2012.
Born and raised in Brooklyn, Sanders was the younger of the two sons of Eli and Dorothy Sanders, who were Jewish immigrants from Poland. Sanders attended P.S. 197, then James Madison High School, where he ran track and became one of the borough's top long-distance runners. After graduating from high school in 1959, Sanders enrolled at Brooklyn College. It was there that he was introduced to the school's vigorous political culture, occasionally joining his older brother, Lawrence (Larry) Sanders '56, a leader in student government, at campus meetings of the college's Young Democrats.
In 1960, Sanders transferred to the University of Chicago, where his lifelong career as an activist for civil rights and progressive causes began, first as a student organizer for the Student Nonviolent Coordinating Committee (SNCC) and then with the Congress of Racial Equality (CORE). During his first year in Chicago, Sanders, along with other CORE members, led a 15-day sit-in at the school's administration building to protest the university's refusal to rent apartments to black students.
As a 22-year-old political science major in 1963, Sanders spent some months working on a kibbutz in Israel and then returned to the United States to participate in the March for Jobs and Freedom in Washington, D.C. "It was a question of basic justice," Sanders said in a 2013 interview for the Burlington Free Press, explaining how the march renewed his commitment to activism. "The fact that it was not acceptable in America at that point that you had large numbers of African Americans who weren't permitted to vote, eat in certain restaurants, receive certain hotel accommodations, who lived in segregated housing, and whose kids were going to segregated schools. That was clearly a major American injustice and something that had to be dealt with."
Sanders graduated from the University of Chicago in 1964 with a bachelor's degree in political science and continued his role as an activist. He was a conscientious objector to the Vietnam War. He ran two times each for the U.S. Senate and the governorship of Vermont, where he had moved in 1968. Running as an independent, Sanders was elected mayor of Burlington, Vermont's largest city, in 1981, and defended his seat in three subsequent elections. In 1990, he ran for Congress and won, becoming the first independent elected to the House of Representatives in 40 years. In 1991, he, along with five other representatives, founded the Congressional Progressive Caucus, an organization that works to advance progressive candidates, both inside and outside of Congress, and gives voice to liberal issues and platforms. For several years, Sanders was chair of the caucus, which has now grown to 76 members.
In 2006, Sanders ran for office as U.S. senator from Vermont after incumbent Jim Jeffords decided not to seek re-election. Sanders won by a margin of nearly 2–1, and six years later was re-elected with 71 percent of the vote.
Today, Sanders continues to be a tireless champion for the interests of working- and middle-class Americans. As chairman of the Committee on Veterans Affairs (VA), he has helped pass legislation to reform the VA health-care system. He has fought to protect Medicare and Social Security, which he describes as "the most successful anti-poverty program in American history." He also introduced bipartisan legislation to extend and modernize the Older Americans Act, a landmark legislation that provides a wide range of services such as nutrition programs, transportation, legal services, and caregiver support for senior citizens. In 2010, he gave a dramatic eight-and-a-half-hour speech on the floor of the Senate opposing the extension of the Bush-era tax cuts for the wealthiest Americans, which was later published as The Speech: A Historic Filibuster on Corporate Greed and the Decline of the Middle Class (2012).
A plainspoken defender of what he calls "real family values," Sanders made women's, immigrant, and LGBTQIA+ rights, as well as causes such as a living wage, equal pay for equal work, and parental leave, the cornerstone of his presidential campaign. He has been unwavering in his efforts to make higher education accessible to all, introducing legislation to increase Pell grants for students from low-income families and calling for a tuition- and debt-free college education. A member of both the Environmental and Public Works and the Energy and Natural Resources Committees, Sanders has made combating climate change and transforming America's energy program from fossil fuels to renewable sources a priority. Sanders is also a member of the Senate Budget Committee, the Health, Education, Labor and Pensions Committee, and the Joint Economic Committee. He is chair of the Subcommittee on Green Jobs and New Economy.
In recognition of his groundbreaking career in politics, visionary approach to public policy and higher education, dedication to civic welfare, and commitment to equality, Brooklyn College awards Bernard Sanders the degree of Doctor of Humane Letters.