Valedictorian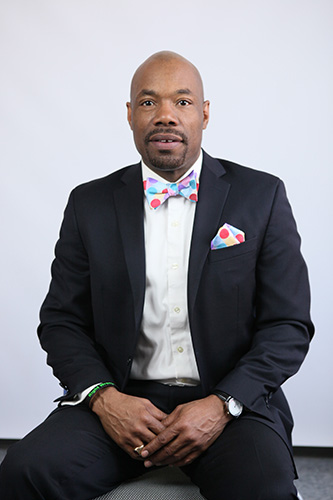 Kevin LaMonte Jones is the valedictorian of the Brooklyn College Class of 2017.
Jones majored in television and radio, and minored in both Africana studies and philosophy. He has a 4.00 grade point average and has made the Dean's List every semester that he has attended Brooklyn College.
He is the recipient of numerous awards, fellowships, honors, and scholarships, including the Brooklyn College Alumni Association Outstanding Student Award, the Belle Zeller Merit Scholarship, Ronald H. Brown Law Prep Honors, and the Zicklin Summer Fellowship.
Jones volunteers as an ambassador/mentor for the college's Black and Latino Male Initiative and, through his high-profile work in the Black Lives Matter movement, is heavily involved in the civic, political, and social engagements that are hallmarks of the Brooklyn College tradition. He served as host of Kuttin' It Up With K!, a political commentary show that was broadcast on the college's radio station, WBCR, where he was also business manager and treasurer; he was vice president of the Sociology Club; he was the City University of New York delegate at City Council hearings; and he is a member of both the National Association for the Advancement of Colored People and the Brooklyn College Black Student Union.
After previously attending Fontbonne University, then Morehouse College, Jones transferred to Brooklyn College to fulfill his educational aspirations, choosing the school because of its reputation for academic excellence. Prior to arriving at Brooklyn College, he started his own comprehensive artist development, management, and public relations company, Gifted Soul.
Jones interned with the Kings County District Attorney's office during summer 2015 as well as with the Honorable L. Priscilla Hall, associate justice with the Appellate Court, 2nd Department of New York Supreme Court. He continues to intern with Justice Hall and will pursue a Juris Doctor and master's degree in public policy beginning this fall. After obtaining his additional degrees, he plans to become a public defender and then, eventually, a federal judge as a means to ensure equity in the criminal justice system.
Please join us in congratulating Kevin LaMonte Jones on his graduation and selection as the valedictorian of the Brooklyn College Class of 2017. We wish him success in all of his future endeavors.