Coronavirus Disease 2019 (COVID-19) Update
Page Updated: May 11, 2021, 9:00 a.m.
Brooklyn College and the City University of New York both continue to monitor the COVID-19 outbreak.
COVID-19, a novel coronavirus not previously found in humans, is a viral strain that can lead to fever, cough, runny nose, sore throat, headache, and shortness of breath.
The well-being of the Brooklyn College community is a top priority.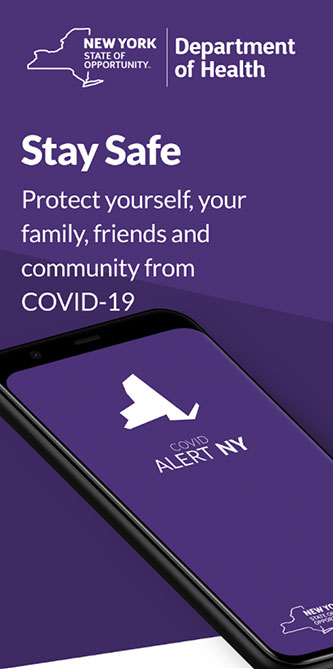 Download the COVID Alert NY Mobile App!
New York State has launched COVID Alert NY—a mobile contact-tracing app that notifies users of potential COVID-19 exposure. Users receive an alert if they have been in close contact—within six feet for at least 10 minutes—with someone who has tested positive for COVID-19. The app measures proximity but not geographic location, so COVID Alert is completely anonymous and does not track or collect any personal or location data from phones. The app enables individuals to quickly make a plan to stay safe upon learning of a potential exposure while maintaining individual privacy and security.
The app is available in several languages to anyone 18 or older who lives, works, or attends college in New York or New Jersey and can be downloaded from the Google Play Store or Apple App Store.
The COVID Alert app is not sponsored or managed by Brooklyn College or by the City University of New York.
COVID-19 Case Collection Form
Please complete this form if you suspect you may have been exposed to someone with coronavirus (COVID-19) or are experiencing the following symptoms:
Cough and shortness of breath or difficulty breathing
Or at least two of these symptoms:
Fever, or chills, or repeated shaking with chills, or muscle pain, or headache, or sore throat, or new loss of taste or smell
This will help the college provide you with guidance about what you should do next.
If you are experiencing symptoms, please call your health provider or 911 first. You can also call 311 to locate the closest city-operated hospital. For general questions about COVID-19, you are encouraged to review the information at the NYC Department of Health and the CDC.