Conference Facilities Will Be Available to the Community
Brooklyn College Celebrates Opening Of Newly Renovated Conference Center
Dec. 4, 2007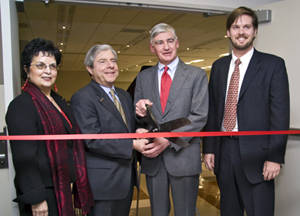 Brooklyn Borough President Marty Markowitz joined Brooklyn College President Christoph M. Kimmich, Dean Milga Morales, and Student Center Director Ryan Buck at a ribbon-cutting ceremony on Tuesday, Dec. 4, 2007, to mark the opening of the Brooklyn College Conference Center. Equipped with cutting-edge technology, the new facility will offer students, faculty, and borough residents flexible and affordable space that can accommodate business meetings, assemblies, conventions, movie screenings, and ceremonies. Major funding for the project was made possible through an appropriation from Borough President Markowitz.
"Brooklyn College prides itself on providing its students and faculty with the tools and resources to become successful individuals," said President Kimmich. "We are proud to be able to extend those resources to the Brooklyn community by offering this newly designed, state-of-the-art facility where they can hold their meetings and events."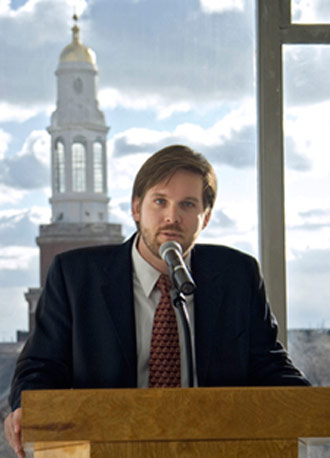 Designed by Gerner Kronick + Valcarcel, Architects, PC, the Brooklyn College Conference Center, located on the sixth and seventh floors of the Student Center (East 27 Street and Campus Road), is a five-room facility that can accommodate large gatherings. The newly renovated 11,000-square-foot facility can accommodate up to 300 people and has been outfitted with new digital projectors, amplifiers, touch screens for easy control, motorized and recessed projector screens, DVD players, motorized blackout shades, and other AV equipment. Compliant with the American with Disabilities Act (ADA), the renovated space has also been retrofitted with new lighting, new ceilings, fresh wall and floor finishes, and mechanical, electrical, and plumbing upgrades.
Borough President Markowitz added, "As a proud member of the Class of 1970, I could think of no better way to give back to Brooklyn College than to help make this renovated conference center a reality for future generations of my fellow alumni. This modernized facility will provide students, faculty, and Brooklynites with a state-of-the-art venue, and ensure that Brooklyn College continues to turn out the best and the brightest — who knows, maybe another Brooklyn borough president, or president of the United States!"
Among the organizations that have hosted or will host meetings and events at the Brooklyn College Conference Center are: Bank of America, Chase Bank, Citibank, Department of Civil Services, New York City Department of Health, HIP, HSBC, Law and Order, New York Methodist Hospital, and Washington Mutual.
Back to BC News