Jawaria Amir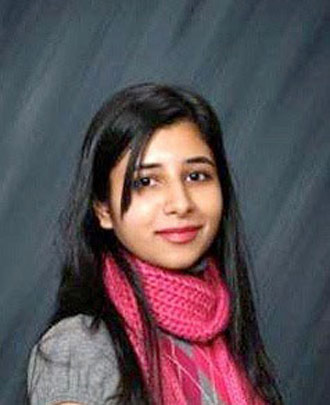 December 2010 winner
Jawaria Amir is a sophomore majoring in English and enrolled in the William E. Macaulay Honors College for high-achieving students.
Like all Macaulay students, Jawaria must attend certain events in Manhattan every month. But the majority of her time is spent here on the Midwood campus, which is fine by her. "I came to Brooklyn College because it's a great college," she explains.
Born in Lahore, Pakistan, Jawaria is now an American citizen. She came to the United States with her family at age 13. Her family lived briefly in Middletown, N.Y., and in Trenton, N.J., before settling down in Brooklyn, where she attended Edward R. Murrow High School.
Her first experience with Brooklyn College took place in 10th grade when she visited the Brooklyn College Library to research a high school paper.
"The librarian helped me immensely," she says. "Just like everybody else here. The professors are always willing to spend time with you, to explain things to you and make sure that you understand. That's one of the things that makes this a great school."
"I played sports as a child," says Jawaria, who is a member of the Bulldogs cross-country track team. "At the same time, I was a very shy girl and loved to sit in the house reading. My favorites were the 19th-century writers. Dickens was one of the authors whom I liked best."
Last summer, Jawaria volunteered at New York Methodist Hospital as part of the patient care program. She is looking forward to returning to the hospital this summer as a member of the acute care team. Her work at the hospital is preparing her for after graduation, when Jawaria plans to attend medical school. She hopes to become a trauma surgeon.
"I always wanted to do something with my life that was respected, secure and worthwhile. Saving lives with your brains and your hands is definitely worthwhile."