Arvind Badhey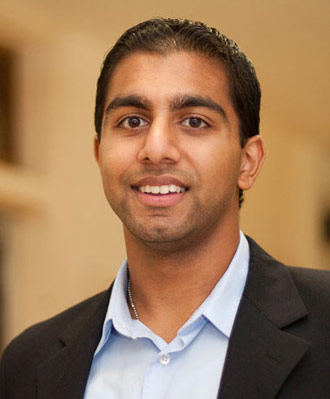 December 2010 winner
Arvind Badhey is a senior majoring in biology and philosophy at Brooklyn College. He feels that he was chosen for recognition this semester "because of the combination of things I've been able to achieve on campus."
Born in New Hyde Park and now living in Syosset, Long Island, Arvind also keeps an apartment close to campus in Brooklyn so that he can more easily carry on with his various activities as a member of the college community. Among his interests are the men's cross-country team, of which he has been a member since freshman year and team captain for the last three; the speech and debate team, for which he has served as captain and vice president; and the Global Medical Brigades chapter, which he cofounded.
"Last year, I also helped initiate a campaign for a no-smoking policy on campus," he says. "I don't know exactly what role the campaign played in the university's decision to ban smoking on all campuses, but I'd like to think it had something to do with it."
Arvind initially enrolled in the Coordinated B.A.-M.D. program, planning to attend SUNY Downstate's medical school after graduation. He has since broadened his horizons and is applying to several schools. "I don't know yet where I'll be going and probably won't know until later in the spring."
He says that during his time at college, he has changed. "I used to be very anti-research, but then I started doing research as part of the Scholars Program and I began to see the possibilities."
That is just one of the many life lessons that he has learned at Brooklyn College, he says. "Everybody here is from a different background, and working alongside them has helped me gain a new perspective on life."