Leonard Blades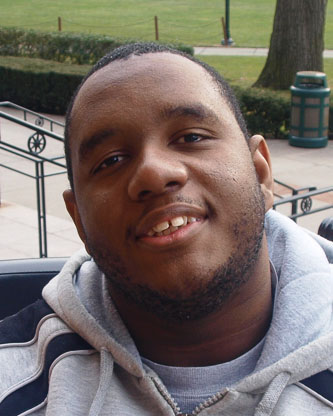 December 2012 winner
Leonard Blades believes you may encounter defeat but you should never feel defeated.
In 2010, he enrolled in Brooklyn College, and during his sophomore year he declared psychology as his major due to his fascination with the subject. "When I took the course, Intro to Psychology, I started learning about the study of the mind, and peoples' personal behaviors. You learn how and why people act a certain way. It's really interesting," said Blades.
Even though Blades was born with a disorder characterized by muscle weakness, joint contractures and fibrosis, he has adapted to college life and has become one of our most active students. "Not only did I have to get used to being in a school environment again and learn to adapt to the college workload, I was learning to be an individual with a disability on campus," he explained.
Drawing on his personal experiences and understanding the challenges of transitioning to college, Blades decided to assist other students on campus by volunteering. He wasn't sure if he would fit in at first, but the Office of Student Affairs welcomed him with open arms.
"The Office of Student Affairs made me feel comfortable because their goal is to help students the best way that they can and make the transition to college easier for everyone. I've learned so much from volunteering with Student Affairs; it helped me grow as a person. Volunteering allowed me to work on my public speaking skills, expressing my voice and opinions, and developing my ability to communicate with various people," said Blades.
Along with volunteering in numerous events with Student Affairs, Blades is also a member of SERVA and the Brooklyn College Health Awareness Club. After he receives his bachelor's degree, Blades wants to work in the human services field as a community service assistant.