Dominique M. Carson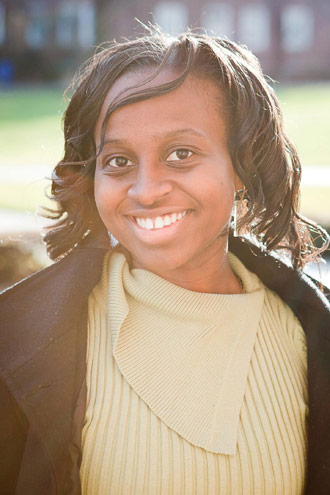 December 2011 winner
Dominique M. Carson, 21, is a senior majoring in Italian and journalism, and the only Brooklyn College student to be selected this semester for inclusion on the college's Wall of Fame.
A Brooklyn native, Dominique grew up in the East New York section and still resides there with her mother, a public school teacher who earned a B.A. and M.A. at Hunter College, and her 17-year-old sister, a senior at Abraham Lincoln High School. She hopes to attend John Jay College and then start a career in forensics.
Things might have turned out differently. From birth until the age of four, Dominique was deaf. Then, as she and her family were about to adjust to living with a deaf child and begin learning American Sign Language, a test showed her hearing was eight out of a possible score of 10 decibels. Suddenly, she could hear.
"When my mother and grandmother told me how I was able to overcome this devastating challenge, it allowed me to have faith in God, appreciate my support team, and be more ambitious and determined," said Dominique.
Encouragement from family and friends helped guide Dominique's steps from then on. Her grandfather, Richard Grant, urged her to choose Edward R. Murrow as her high school. Her uncle, Roderick Peebles, a poet and essayist and BET television show Teen Summit, inspired her to pursue writing. A language teacher, Giancula Scattoni, made her fall in love with Italian speech, culture and cuisine.
Dominique has studied Italian since the age of 14. She visited Italy in January 2011, traveling to Florence for a course titled "Food, Culture and Society," which gave her a better understanding of the Italian view of life.
As a reporter, she has extensive experience, having worked not only for the Brooklyn College Excelsior but also for the Bay Currents newspaper, the Brooklyn.today.info and Education Update, a newspaper that takes on issues and events in education. In addition, she has been a contributing writer for Urbane Perspective Media + Lifestyle Inc, an online magazine, Amsterdam News, www.NYCityWatch.org, Brooklyn Daily Eagle Internet edition, and for Spotlight on Recovery Magazine.
After graduation this spring, Dominique plans on attending CUNY Graduate School of Journalism in Manhattan to earn her master's degree.