Joel Cruz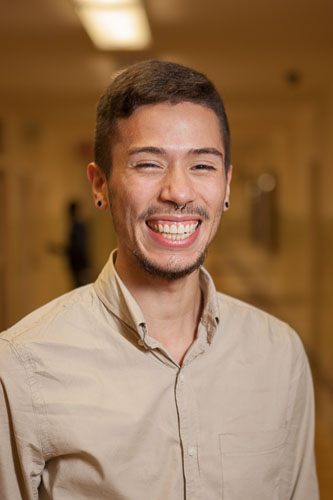 Spring 2013 winner
Joel Cruz is a senior majoring in both psychology and English and is a member of the Golden Key International Honour Society and of the Mellon Mays Undergraduate Fellowship, and he is a fellow of the CUNY Pipeline Program.
A passionate hobby of Joel's is competing in poetry slams with the Brooklyn College Slam Team. As the current president of the Brooklyn College Poetry Slam Team, Joel conducts workshops and facilitates events, which encourages other Brooklyn College students to become involved in the arts. Along with his fellow team members, he has brought "poetry to the Brooklyn College community."
Joel stated that "becoming a member of the Mellon Mays Undergraduate Fellowship has played an imperative role in my academic trajectory. It has fostered my ambitions to acquire my Ph.D. and lead to my participation in the Summer Institute of Literary and Cultural Studies (SILCS)." After participating in SILCS, Joel confirmed that, although English is one of his great passions, he wants to pursue a career in clinical psychology.
To prepare for obtaining his Ph.D. in psychology, he currently volunteers as a research assistant in Assistant Professor Laura Reigada's lab. His research interests "revolve around mood and anxiety disorders." This interest led to him deciding to study rape myths as his CUNY Pipeline Research. It also influenced his decision on his area of study for his Ph.D., which will involve trauma and interventions, similar to his CUNY Pipeline Program research.
His passion for education and the arts has led him to not only aspire to be a clinical psychologist but also to teach within higher education.