Kelly Harry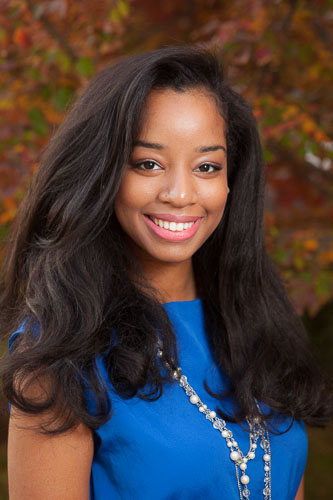 Spring 2013 winner
Kelly Harry is a junior majoring in broadcast journalism with a minor in economics. She graduated from Kingsborough Community College where she majored in broadcast media, technology and management with her associate's degree in applied science. She is currently a member of the New York Youth Leadership Council, the Geology Society, and the Brooklyn College Dream Team, and is the public relations manager of the Brooklyn College Chapter of the National Association of Black Accountants. Kelly is also a recipient of the Lorraine Foner Memorial Scholarship for Women 2013–14 and of the Rising Stars Conference Certificate of Completion 2013, and she won first place in the PricewaterhouseCooper's 2012 xTAX Case Competition.
As an immigrant from Trinidad and Tobago, immigration issues are close to Kelly's heart. She actively fights for the reform of immigration laws. Kelly believes that current laws leave undocumented immigrants feeling "non-existent." She has been inspired to fight for reforms that will allow undocumented students to achieve their goals. This fight has led Kelly to the Supreme Court in Washington, D.C., and the County Supreme Court in Albany, New York, where alongside the New York State Leadership Council, she was blessed with the opportunity to speak in support of undocumented students with assemblymen and state senators.
Kelly has a passion for journalism and has written and corresponded for various magazines and networks, including Giant magazine, Fuzion magazine, NV magazine and News 12. She hopes to make a significant difference in the world by utilizing her passion for journalism with her knowledge in finance to educate people about personal finance.