Kevin Reid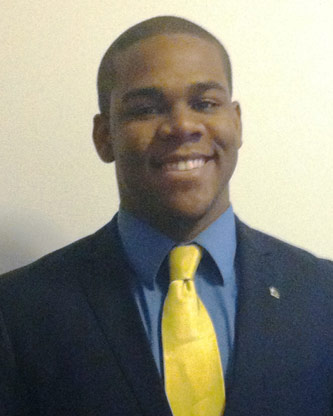 December 2012 winner
Kevin Reid is a math and education major at Brooklyn College. He chose to attend Brooklyn College because of its proximity to home, affordability, and because he was impressed with the college's education program.
Outside of the classroom, Kevin is a resident assistant at the college's residence hall and a member of the Zeta Beta Tau International Fraternity. Kevin says ZBT is a fraternity that exemplifies brotherhood: "I can depend on my brothers for support." He was also a member of the Brooklyn College Bulldogs soccer team for two years.
Even though Kevin participates in various activities on campus, his schedule has to be balanced. Kevin says a calendar helps him keep track of his activities. "My calendar is always full, but if I don't do it, no one is going to do it. I prioritize everything that I have to do because it's about managing your time," he says. "I learned when you're first starting out, don't take on too much along with your studies. When you get used to a schedule that works for you, you add as you go. That's how you gain experience in time management."
In spring 2013, Kevin will graduate from the college and is keeping his options open about graduate school. But, he says he may come back to pursue his master's degree in math education or philosophy of education.
"My aspirations and desires are embodied in these accomplishments, and I will continue to grow, learn, and most importantly give back to my community as a future educator and alumnus of Brooklyn College."