Donnette Lee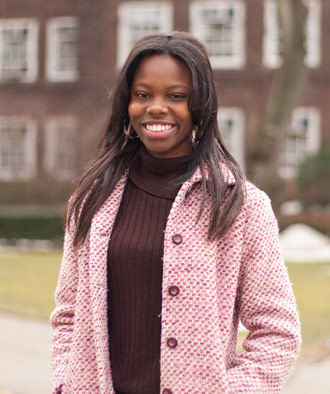 December 2010 winner
Donnette Lee, a native of Kingston, Jamaica, left that green Caribbean isle for the United States a decade ago at the age of 10, in search of an education.
"My goal is to complete my Ph.D.," she says with pride and determination. "I want to work in the field of social policy, in international relations."
It is a dream that Donnette shares with her single mother, who remained at home alone in Jamaica. "I hope to return to Jamaica eventually and to pursue a career in international affairs and social policy," she says.
During the decade that she has spent here, Donnette has worked hard — and almost continuously. She attended Brooklyn public schools and Science Technology and Research Early College High School at Erasmus, then enrolled at Brooklyn College, seeking assistance from the ERIS/Black Male Initiative Program, which also provides support to qualified female students.
When not engaged in classes and student activities, she held down jobs as manager at Women's Hair Care Center, accountant and tutor at Thought Crafts Educational Consultancy and as a summer intern at the city's Office of Management and Budget, where she worked on educational spending and researched the history of special education in city schools.
This Brooklyn College Caribbean International Student Alumni Association Award winner (2009) and member of the Dean's Honors List in academic years 2009 and 2010 in January completed the course work needed for her bachelor's with a 3.80 GPA in political science. Though she will not formally receive her diploma until May 2011, she has already begun attending classes at City College that will lead to her master's degree in international relations.
"I want to change the lack of educational opportunities in developing countries like Jamaica for future generations," Donnette notes.