Sophia Perez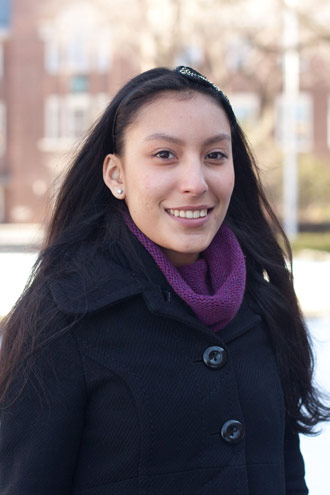 December 2010 winner
Sophia Perez is a woman who does not believe that failure is permanent. Rather, she views it as an occasion to get up, brush yourself off and begin again. So far, this positive outlook has proven highly successful for the 24-year-old Brooklyn native.
It's hard to believe now, but this February graduate of Brooklyn College with a bachelor's degree in business, management and finance and who plans to get a master's in the human resources field, actually ran into serious trouble during her first try at college.
"I found myself in an academic black hole," Sophia says, explaining how she was forced to drop out of classes because of low marks. "I had a cumulative GPA of 0.900 when I left. I was not at all focused and did not have a clear path mapped out for myself back then."
However, after this setback, something clicked inside her. "I made a promise to myself that no matter what, even if it took years to finish my degree, I would complete my degree with a GPA of 3.5 or above."
With a whole new attitude and a great deal of determination, Sophia returned to the classroom, enrolling at Kingsborough Community College, where, in February 2008, she graduated with an associate's of applied science in business.
She returned to Brooklyn College, this time enrolling in the Fresh Start Program. One requirement was that she surrender the 30 credits she had accumulated during her first go-round. "The stress and confusion I found myself in was excruciating," she admits.
The Fresh Start Program limited the number of credits that Sophia could take each semester. "But it helped me get back on track," she says.
"I was so afraid of failing again that I worked as hard as I could in every single class and constantly aimed for an A," she says. "Now I look forward to never letting myself down again."