Rosanna Hui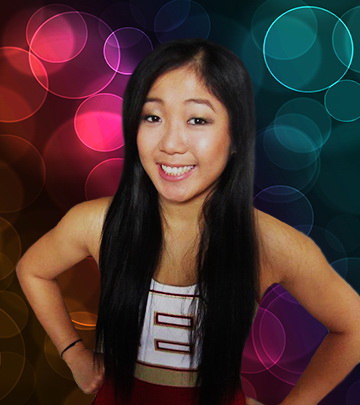 April 2012 winner
Rosanna Hui is a senior majoring in health and nutrition science who believes in the saying "Do unto others as you would have them do unto you."
After her father passed away when she was seven, Rosanna became a caregiver and provided a helping hand to her family. "I grew up quickly after that day. I was a child, but I learned to be independent at a young age," she explains. Her experience of taking care of her mom, as well as her grandparents, had a profound impact on her life and influenced her decision to pursue a degree in health care and to become a nurse practitioner. Rosanna's enthusiasm for educating others about their health and researching the causes behind different diseases is evident in various activities she has been a part of both on and off campus.
Rosanna was a member of the college's cheerleading squad, the women's cross country team, the Health Awareness Club and the Student Athlete Advisory Committee. She was also a health educator and tutor at the Seek Center, and she volunteered at New York Methodist Hospital, Brooklyn College EMS, the microbiology office, the Financial Aid Office and the library. She was also a member of SERVA and studied abroad in China.
Rosanna has made a positive impact on the campus community and describes how being here also changed her life. "Brooklyn College has made me a whole new person, one who is more outgoing, believes in herself, is able to work as a team player, works hard, and who constantly thinks of new goals to accomplish in the future."
After graduation, Rosanna is off to the New York University Accelerated Program in Nursing. She is hoping to receive her master's or doctorate in nursing, specializing in family nursing.