Amy Sandigorsky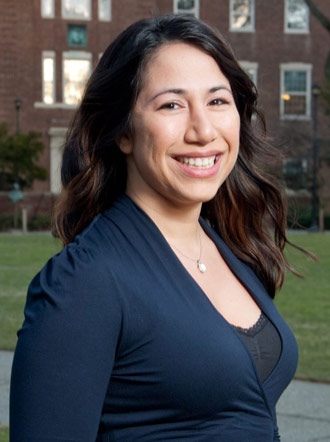 December 2010 winner
Amy Sandigorsky is a Brooklyn native who left the borough to attend college at SUNY-Binghamton in upstate New York. There, she earned bachelor's degrees in English and psychology in 2001, making the dean's list several times.
Upon her return to the city, she landed employment in graphic communications, working as a creative writer and editor for six years. But Amy never forgot her childhood dream of attaining a graduate degree.
"Even as a girl, all the dolls I played with had advanced degrees," she says with a laugh.
Amy enrolled at Brooklyn College and received her master's of science in education in school psychology in 2010. She is currently studying for an advanced specialist certificate, accredited by the National Association of School Psychologists. She expects to receive the certificate this May.
Fluent in both English and Spanish (her mother is a native of Ecuador), Amy chose to pursue a bilingual extension to her degree as well.
As part of her advanced training, she acquired field experience through a school psychology externship at David A. Boody Middle School and a New York City Department of Education psychologist-in-training internship program at P.S. 46 and P.S. 54 in District 13, Brooklyn.
"I feel something like a cheerleader for Brooklyn College, and especially for the school psychology program," she says. "I am grateful to everyone there for the help and guidance they have given me. They really took me under their wings and transformed me more than I could ever have thought possible."