International Electroacoustic Music Festival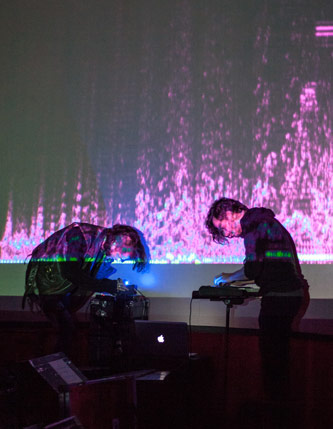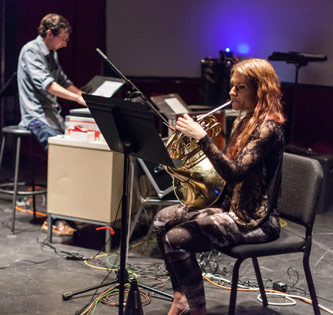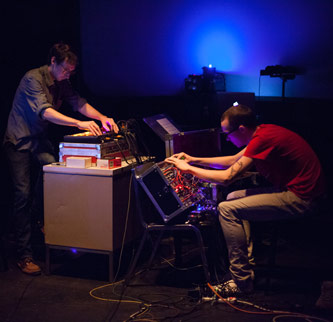 Fall 2013 IEAMF Festival
October 29 – 31
7 p.m.
Studio 312, Brooklyn College
Tuesday, October 29
"Mike McFerron and Friends," featuring performances by Rebecca Ashe (flute) and Ian Corbett (saxophone). With works by Mike McFerron, Ian Corbett, Rob Voisey and Jay Batzner.
Wednesday, October 30
"The Theremin and Hollywood," including a screening of The Day The Earth Stood Still (1951 version). With featured guests Professor Foster Hirsch, film historian, and Dalit Warshaw, composer and theremin virtuosa, who will give a theremin demonstration and performance. Plus a special surprise guest.
Thursday, October 31
"Emerging Composers," featuring world premiere works by: Max Alper, Ivonne Paredes, Jack Horowitz, Jessica DiMari, Nick Nelson, Whitney George, Konrad Kamm, Matthew Gantt, John Dunlop, Abe Morrison, Jabbath Roa and Dan Henry Boehler.
Spring 2013 IEAMF Festival
Thursday, March 21
Music of Walter Branchi
Tuesday, April 9
Emerging Composers
Thursday, April 11
80th Birthday Celebration for Morton Subotnick
Fall 2012 IEAMF Festival
Tuesday, November 6
Music of David Revill, Tom Goldstein, Jason Eckardt, Arthur Krieger and Marc Thorman.
Wednesday, November 7
Music of Douglas Geers, Linda Dusman, Douglas Cohen, Anna Rubin, Tania León and George Brunner.
Thursday, November 8
Emerging Composers
Spring 2012 IEAMF Festival
April 3, 5, 21 and 26, 2012
Three nights of electroacoustic music performances and installations at Brooklyn College.
The spring 2012 festival is honored to include a special 80th birthday celebration concert for renowned composer Pauline Oliveros on Thursday, April 26.
All events are free and open to everyone.
Tuesday, April 3
12:30 p.m., 206 Roosevelt Hall Extension
Presentation by composer Per Bloland on his works
7 p.m., Studio 312 Roosevelt Hall Extension
The Kenners and Per Bloland: The Electromagnetically Prepared Piano
Composer Per Bloland and electroacoustic duo the Kenners (Eliot Gattegno, saxophones and Eric Wubbels, piano) will perform. Program will include: "Of Dust and Sand," Per Bloland; "Divertimento," Charles Wuorinen; "This Is, This Is, This Is," Eric Wubbels; "torsion," Katharina Rosenberger; and "Quintet for Solo Saxophone and Electronics," Per Bloland.
Thursday, April 5
7 p.m., Studio 312, Roosevelt Hall Extension
Emerging Composers Concert
Featuring works by Butovens Mede, Arsid Ketjuntra, Gocha Tsinadze, Max Alper, John Dunlap, Camila Cano, Jabbath Roa, Víctor Castelo, Jeff Tobias, Ian Munro and Nick Nelson.
Thursday, April 21
11 a.m. – 7 p.m., Studio 312 Roosevelt Hall Extension
Symposium on Electroacoustic Music Performance
A full day of presentations and discussions about the electroacoustic performance. Participants include Maja Cerar, Douglas Cohen, R. Luke Dubois, Rebbeca Fiebrink, Doug Geers, Jules Gimbrone, Marianne Gythfeldt, Michael Klingbeil, Elizabeth Hoffman, Damon Holzborn, Mari Kimura, Michael Klingbeil, Esther Lamneck, Tania León, Martha Mooke, Dafna Naphtali, Jaime Oliver, Terry Pender, Todd Reynolds, Robert Rowe, Madeleine Shapiro, Jeff Snyder, Hans Tammen, David Wetzel and Red Wierenga.
Thursday, April 26
7 p.m., Studio 312 Roosevelt Hall Extension
Pauline Oliveros 80th Birthday Celebration Concert
Pauline Oliveros and special guests will play an entire concert of her works. Program details TBA.