Events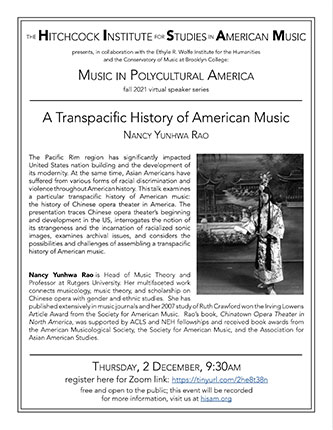 A Transpacific History of American Music
with Nancy Yunhwa Rao, Head of Music Theory and Professor, Rutgers University
Thursday, December 2, 2021
9:30 a.m.
Zoom Registration
Free and open to the public
The Pacific Rim region has significantly impacted United States nation building and the development of its modernity. At the same time, Asian Americans have suffered from various forms of racial discrimination and violence throughout American history. This talk examines a particular transpacific history of American music: the history of Chinese opera theater in America. The presentation traces Chinese opera theater's beginning and development in the US, interrogates the notion of its strangeness and the incarnation of racialized sonic images, examines archival issues, and considers the possibilities and challenges of assembling a transpacific history of American music.
Nancy Yunhwa Rao is Head of Music Theory and Professor at Rutgers University. Her multifaceted work connects musicology, music theory, and scholarship on Chinese opera with gender and ethnic studies. She has published extensively in music journals and her 2007 study of Ruth Crawford won the Irving Lowens Article Award from the Society for American Music. Rao's book, Chinatown Opera Theater in North America, was supported by ACLS and NEH fellowships and received book awards from the American Musicological Society, the Society for American Music, and the Association for Asian American Studies.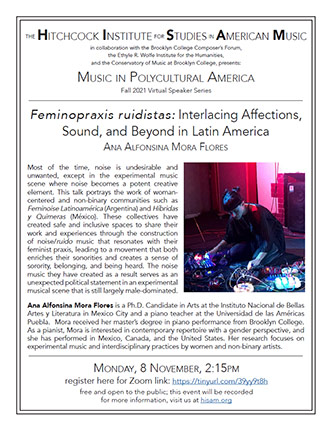 Feminopraxis ruidistas: Interlacing Affections, Sound, and Beyond in Latin America
with Ana Alfonsina Mora Flores
Monday, November 8, 2021
2:15 p.m.
Zoom Registration
Free and open to the public
Most of the time, noise is undesirable and unwanted, except in the experimental music scene where noise becomes a potent creative element. This talk portrays the work of woman-centered and non-binary communities such as Feminoise Latinoamérica (Argentina) and Híbridas y Quimeras (México). These collectives have created safe and inclusive spaces to share their work and experiences through the construction of noise/ruido music that resonates with their feminist praxis, leading to a movement that both enriches their sonorities and creates a sense of sorority, belonging, and being heard. The noise music they have created as a result serves as an unexpected political statement in an experimental musical scene that is still largely male-dominated.
Ana Alfonsina Mora Flores is a Ph.D. Candidate in Arts at the Instituto Nacional de Bellas Artes y Literatura in Mexico City and a piano teacher at the Universidad de las Américas Puebla. Mora received her master's degree in piano performance from Brooklyn College. As a pianist, Mora is interested in contemporary repertoire with a gender perspective, and she has performed in Mexico, Canada, and the United States. Her research focuses on experimental music and interdisciplinary practices by women and non-binary artists.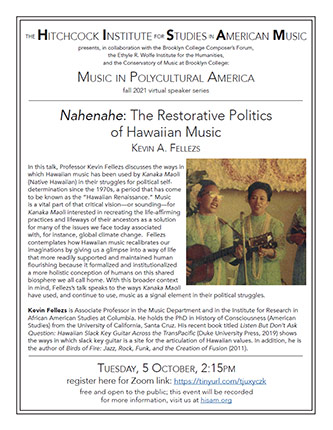 Nahenahe: The Restorative Politics of Hawaiian Music
with Kevin A. Fellezs
Tuesday, October 5, 2021
2:15 p.m.
Zoom Registration
Free and open to the public
In this talk, Professor Kevin Fellezs discusses the ways in which Hawaiian music has been used by Kanaka Maoli (Native Hawaiian) in their struggles for political self-determination since the 1970s, a period that has come to be known as the "Hawaiian Renaissance." Music is a vital part of that critical vision—or sounding—for Kanaka Maoli interested in recreating the life-affirming practices and lifeways of their ancestors as a solution for many of the issues we face today associated with, for instance, global climate change. Fellezs contemplates how Hawaiian music recalibrates our imaginations by giving us a glimpse into a way of life that more readily supported and maintained human flourishing because it formalized and institutionalized a more holistic conception of humans on this shared biosphere we all call home. With this broader context in mind, Fellezs's talk speaks to the ways Kanaka Maoli have used, and continue to use, music as a signal element in their political struggles.
Kevin Fellezs is associate professor in the Music Department and in the Institute for Research in African American Studies at Columbia. He holds the Ph.D. in History of Consciousness (American Studies) from the University of California, Santa Cruz. His recent book titled Listen But Don't Ask Question: Hawaiian Slack Key Guitar Across the TransPacific (Duke University Press, 2019) shows the ways in which slack key guitar is a site for the articulation of Hawaiian values. In addition, he is the author of Birds of Fire: Jazz, Rock, Funk, and the Creation of Fusion (2011).