Events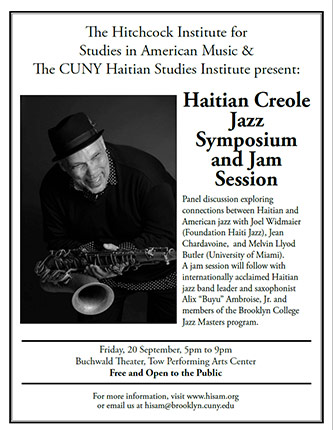 Haitian Creole Jazz Symposium and Jam Session
Panel discussion exploring connections between Haitian and American jazz with
Joel Widmaier (Foundation Haiti Jazz)
Jean Chardavoine
Melvin Llyod Butler (University of Miami)
A jam session will follow with internationally acclaimed Haitian jazz band leader and saxophonist Alix "Buyu" Ambroise, Jr. and members of the Brooklyn College Jazz Masters program.
Friday, September 20, 2019
5-9 p.m.
Buchwald Theater, Tow Performing Arts Center
Free and open to the public.
Unit Structures: The Art of Cecil Taylor
This conference aims to build upon Taylor scholarship in jazz and American music studies, and also to expand it into a broader range of disciplines in order to reflect more accurately the scope of Taylor's own praxis. We explicitly seek to recognize scholarship in an expanded context, one that welcomes creative responses to Cecil Taylor's work.
Schedule
Wednesday, Oct. 23 at The Graduate Center, James Gallery
Thursday, Oct. 24 at the Brooklyn College and The Graduate Center
Friday, Oct. 25 at The Graduate Center, Elebash Hall
Saturday, Oct. 26 at Brooklyn College, Buchwald Theater
Website / More Information