Events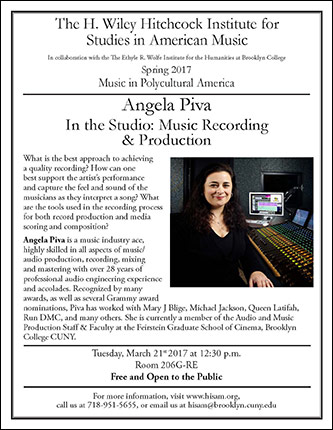 Angela Piva—In the Studio: Music Recording & Production
What is the best approach to achieving a quality recording? How can one best support the artist's performance and capture the feel and sound of the musicians as they interpret a song? What are the tools used in the recording process for both record production and media scoring and composition?
Angela Piva is a music industry ace, highly skilled in all aspects of music/audio production, recording, mixing, and mastering, with over 28 years of professional audio engineering experience and accolades. Recognized by many awards, as well as several Grammy Award nominations, Piva has worked with Mary J Blige, Michael Jackson, Queen Latifah, Run DMC, and many others. She is currently a member of the Audio and Music Production staff and faculty at the Feirstein Graduate School of Cinema, Brooklyn College.
Tuesday, March 21, 2017
12:30 p.m.
206G  Roosevelt Hall Extension
Free and Open to the Public
More Information
718.951.5655
hisam@brooklyn.cuny.edu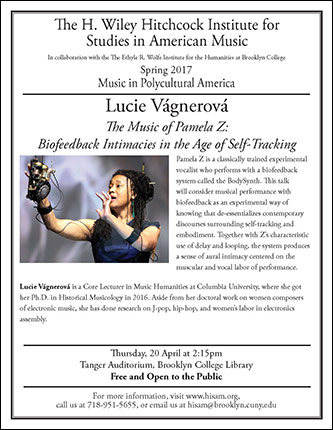 The Music of Pamela Z: Biofeedback Intimacies in the Age of Self-Tracking
With Lucie Vágnerová
Pamela Z is a classically trained experimental vocalist who performs with a biofeedback system called the BodySynth. This talk will consider musical performance with biofeedback as an experimental way of knowing that de-essentializes contemporary discourses surrounding self-tracking and embodiment. Together with Z's characteristic use of delay and looping, the system produces a sense of aural intimacy centered on the muscular and vocal labor of performance.
Lucie Vágnerová is a core lecturer in music humanities at Columbia University, where she got her Ph.D. in historical musicology in 2016. Aside from her doctoral work on women composers of electronic music, she has done research on J-pop, hip-hop, and women's labor in electronics assembly.
Thursday, April 20, 2017
2:15 p.m.
Tanger Auditorium, Library
Free and open to the public
Crossing Emotional Gulfs—New Works for Soprano, Flute, Horn, and Piano
Katie Dukes (soprano), Alice Jones (flute), Michael Walker (horn), and Kim Carballo (piano) perform a program of new works by Eric Nathan, Whitney George, and Carrie Magin that explore the relationship between text and music. The project by the quartet blends educational outreach and public performances with touring lecture-recitals and open rehearsals on the East Coast in April 2017.
Thursday, April 25, 2017
12:30 p.m.
Studio 312, Roosevelt Hall Extension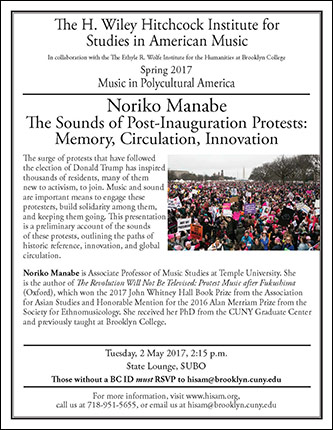 The Sounds of Post-Inauguration Protests: Memory, Circulation, Innovation
With Noriko Manabe
The surge of protests that have followed the election of Donald Trump has inspired thousands of residents, many of them new to activism, to join. Music and sound are important means to engage these protesters, build solidarity among them, and keeping them going. This presentation is a preliminary account of the sounds of these protests, outlining the paths of historic reference, innovation, and global circulation.
Noriko Manabe is associate professor of music studies at Temple University.
Tuesday, May 2, 2017
2:15 p.m.
State Lounge, Student Center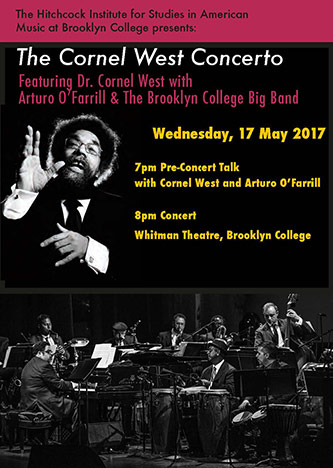 The Cornell West Concerto
With Arturo O'Farrill, Dr. Cornel West, and the Brooklyn College Big Band
Arturo O'Farrill's tribute to liberation theologist/political activist Dr. Cornel West premiered to critical acclaim at the Apollo Theater in May 2016. O'Farrill's original score for large jazz ensemble provides the swinging musical foundation for West's improvised narration based on W.E.B. Du Bois's four questions of social justice. Drawing from the rich trove of traditional African American jazz, blues, and the chanted sermon, this revolutionary work was inspired by the current spirit of political unrest and resistance.
Wednesday, May 17, 2017
7 p.m. Pre-concert Talk
8 p.m. Concert
Whitman Theatre
Tickets
$10—General Admission
$7—Seniors
Free—CUNY students and staff with ID