Events
The Battle on the Vibes: Politics of Race and Gender in Jazz during the 1950s
with Yoko Suzuki
in conversation with Victor Solano
Tuesday, April 20, 2021
12:30 p.m.
Zoom Registration
Free and open to the public; this event will be recorded.
Jazz pianist/vibraphonist Terry Pollard was discovered by legendary vibraphonist Terry Gibbs and performed in his band from 1953 to 1957. Newspaper and trade magazine reviews reveal that the highlight of the band's shows was a vibraphone duet featuring Gibbs and Pollard. Gibbs recalled, "a Black girl and a white guy battling it out on the vibes" always elicited a standing ovation from the audience. This talk explores the complex politics of race and gender in jazz during the 1950s through the case of Pollard's performances with the Gibbs band. During their television appearance on the Tonight Show in 1956, Pollard and Gibbs musically, physically, and verbally acted out a duet "battle," an exchange that demonstrated their equal mastery of the vibraphone and of bebop idioms. This performance was a framed space where temporary integration in terms of both race and gender was possible. These two musicians' musical connections and the proximity of their bodies crossing over the instrument during the duet not only disturbed audiences in the South but also blurred the boundaries between Black/white as well as male/female that were hard to navigate in 1950s American society.
Yoko Suzuki teaches at the University of Pittsburgh and performs as a jazz saxophonist. Her research, which explores the intersection of race, gender, and sexuality in jazz performance, has been published in Black Music Research Journal, American Music Review, and Gender, Education, Music, and Society.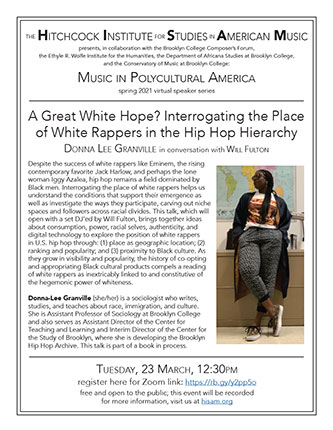 A Great White Hope? Interrogating the Place of White Rappers in the Hip Hop Hierarchy
with Donna Lee Granville
in conversation with Will Fulton
Tuesday, March 23, 2021
12:30 p.m.
Zoom Registration
Free and open to the public; this event will be recorded.
Despite the success of white rappers like Eminem, the rising contemporary favorite Jack Harlow, and perhaps the lone woman Iggy Azalea, hip hop remains a field dominated by Black men. Interrogating the place of white rappers helps us understand the conditions that support their emergence as well as investigate the ways they participate, carving out niche spaces and followers across racial divides. This talk, which will open with a set DJ'ed by Will Fulton, brings together ideas about consumption, power, racial selves, authenticity, and digital technology to explore the position of white rappers in U.S. hip hop through: (1) place as geographic location; (2) ranking and popularity; and (3) proximity to Black culture. As they grow in visibility and popularity, the history of co-opting and appropriating Black cultural products compels a reading of white rappers as inextricably linked to and constitutive of the hegemonic power of whiteness.
Donna-Lee Granville (she/her) is a sociologist who writes, studies, and teaches about race, immigration, and culture. She is Assistant Professor of Sociology at Brooklyn College and also serves as Assistant Director of the Center for Teaching and Learning and Interim Director of the Center for the Study of Brooklyn, where she is developing the Brooklyn Hip Hop Archive. This talk is part of a book in process.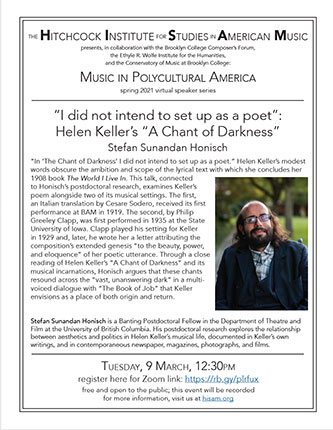 "I did not intend to set up as a poet": Helen Keller's "A Chant of Darkness"
with Stefan Sunandan Honisch
Tuesday, March 9, 2021
12:30 p.m.
Zoom Registration
Free and open to the public; this event will be recorded.
"In 'The Chant of Darkness' I did not intend to set up as a poet." Helen Keller's modest words obscure the ambition and scope of the lyrical text with which she concludes her 1908 book The World I Live In. This talk, connected to Honisch's postdoctoral research, examines Keller's poem alongside two of its musical settings. The first, an Italian translation by Cesare Sodero, received its first performance at BAM in 1919. The second, by Philip Greeley Clapp, was first performed in 1935 at the State University of Iowa. Clapp played his setting for Keller in 1929 and, later, he wrote her a letter attributing the composition's extended genesis "to the beauty, power, and eloquence" of her poetic utterance. Through a close reading of Helen Keller's "A Chant of Darkness" and its musical incarnations, Honisch argues that these chants resound across the "vast, unanswering dark" in a multi-voiced dialogue with "The Book of Job" that Keller envisions as a place of both origin and return.
Stefan Sunandan Honisch is a Banting Postdoctoral Fellow in the Department of Theatre and Film at the University of British Columbia. His postdoctoral research explores the relationship between aesthetics and politics in Helen Keller's musical life, documented in Keller's own writings, and in contemporaneous newspaper, magazines, photographs, and films.