Events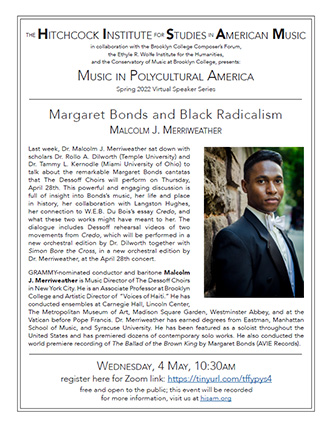 Margaret Bonds and Black Radicalism
with Malcolm J. Merriweather
Wednesday, May 4, 2022
10:30 a.m.
Register via Zoom
Last week, Dr. Malcolm J. Merriweather sat down with scholars Dr. Rollo A. Dilworth (Temple University) and Dr. Tammy L. Kernodle (Miami University of Ohio) to talk about the remarkable Margaret Bonds cantatas that The Dessoff Choirs will perform on Thursday, April 28th. This powerful and engaging discussion is full of insight into Bonds's music, her life and place in history, her collaboration with Langston Hughes, her connection to W.E.B. Du Bois's essay Credo, and what these two works might have meant to her. The dialogue includes Dessoff rehearsal videos of two movements from Credo, which will be performed in a new orchestral edition by Dr. Dilworth together with Simon Bore the Cross, in a new orchestral edition by Dr. Merriweather, at the April 28th concert.
Grammy-nominated conductor and baritone Malcolm J. Merriweather is Music Director of The Dessoff Choirs in New York City. He is an Associate Professor at Brooklyn College and Artistic Director of "Voices of Haiti." He has conducted ensembles at Carnegie Hall, Lincoln Center, The Metropolitan Museum of Art, Madison Square Garden, Westminster Abbey, and at the Vatican before Pope Francis. Dr. Merriweather has earned degrees from Eastman, Manhattan School of Music, and Syracuse University. He has been featured as a soloist throughout the United States and has premiered dozens of contemporary solo works. He also conducted the world premiere recording of The Ballad of the Brown King by Margaret Bonds (AVIE Records).
Free and open to the public; this event will be recorded.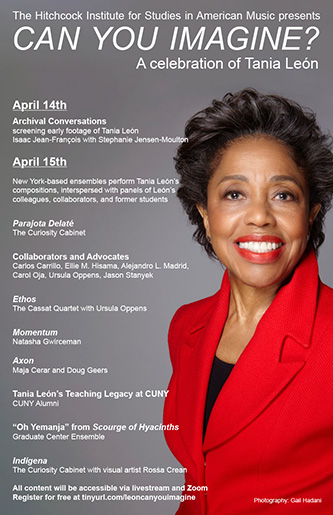 Can You Imagine? A celebration of Tania León
April 14, 2022, 7 p.m. EST
April 15, 2022, 10 a.m.-4 p.m. EST
Registration
All content will be accessible via livestream and Zoom.
Join friends, colleagues, and collaborators of acclaimed composer and Distinguished Professor Tania León for a springtime celebration of her Pulitzer Prize win for Stride and recent retirement from Brooklyn College and the CUNY Graduate Center.
This two-day symposium organized by the Hitchcock Institute for Studies in American Music and sponsored by the Baisley Powell Elebash Fund will kick off at 7 p.m. on Thursday evening 14 April with a screening of archival footage ranging from premiere performances of León's collaborations with Dance Theatre of Harlem to the London Sinfonietta's surprise gift of choreography for her piece Toque.
On Friday 15 April, performances of León's work will be livestreamed beginning at 10 a.m. from Elebash Hall at the Graduate Center, interspersed with two distinguished panels of León's colleagues and former students.
American Music Review, Volume LI, Issue 1, Fall 2021
Schedule
Thursday, April 14, 2022, 7 p.m. - Archival Conversations
Screening footage of Tania León and her work in performance
Isaac Jean-François, Yale University with Stephanie Jensen-Moulton, Brooklyn College
Friday, April 15, 2022 10 a.m.-4 p.m. - Performances and Panels
10 a.m. Parajota Delaté (1991)
Performed by the Curiosity Cabinet, conducted by Whitney George
10:15 a.m. Distinguished Collaborators and Advocates
Jeffrey Taylor and Stephanie Jensen-Moulton, Moderators, Brooklyn College
with Professor Carlos Carrillo, University of Illinois, Champaign-Urbana, Dean Ellie M. Hisama, University of Toronto, Professor Alejandro L. Madrid, Cornell University, Professor Carol Oja, Harvard University, Distinguished Professor Ursula Oppens, Brooklyn College and The Graduate Center, CUNY, and Professor Jason Stanyek, St. John's College, Oxford University
11:30 a.m. Ethos (2014)
Cassatt Quartet with Ursula Oppens
12:30 p.m. Break
1:30 p.m.
Momentum (1984)
Natasha Gwirceman, piano
Axon (2002)
Maja Cerar, violin, Doug Geers, electronics
2 p.m. Tania León's Teaching Legacy at CUNY
Douglas Cohen, Moderator
with Brooklyn College and Graduate Center Alumni Whitney George, Hyun-Kyung Lee, Andre Juan, Felix Jarrar, Angélica Negrón, Ivonne Paredes, Jabbath Roa, Jessica
Rudman, and Amir Spilman
3:15 p.m. "Oh Yemanja" from Scourge of Hyacinths (1994)
Graduate Center DMA Ensemble (Charlotte Mundy, soprano, Kirsten Jermé, cello, and Antonio Valentin, piano)
3:30 p.m. Indígena (1991)
Performed by the Curiosity Cabinet, conducted by Whitney George