Events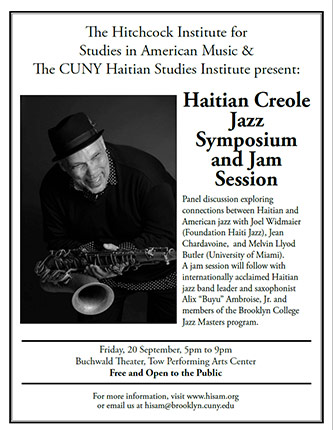 Haitian Creole Jazz Symposium and Jam Session
Panel discussion exploring connections between Haitian and American jazz with:
Joel Widmaier (Foundation Haiti Jazz)
Jean Chardavoine
Melvin Llyod Butler (University of Miami)
A jam session will follow with internationally acclaimed Haitian jazz band leader and saxophonist Alix "Buyu" Ambroise, Jr. and members of the Brooklyn College Jazz Masters program.
Friday, September 20, 2019
5–9 p.m.
Buchwald Theater, Tow Center for the Performing Arts
Free and open to the public.
Unit Structures: The Art of Cecil Taylor
A symposium dedicated to the art of pianist, composer, and poet Cecil Taylor. Invited speakers include Fred Moten, Brent Edwards, Fumi Okiji, David Grubbs, Ben Young, and Nahum Dimitri Chandler. The symposium will conclude at 8:00pm on 26 October with a big band concert led by Karen Borca in the Buchwald Theater. For the complete schedule and locations, see https://unitstructures.commons.gc.cuny.edu.
Wednesday, October 23 to Saturday, October 26, 2019
Brooklyn College and The Graduate Center, CUNY
Jump Up! Caribbean Carnival Music in New York City
Join us for a presentation on Harlem calypso and Brooklyn soca (soul/calypso) music drawn from Ray Allen's recently released book Jump Up! Caribbean Carnival Music in New York City (Oxford University Press). Professor Allen will trace the migration and transformation of Trinidadian calypso music in Harlem and Brooklyn through a diasporic transnational lens. Allen will be joined by soca arranger Frankie McIntosh, steelband arranger Winston Wellington, and steel pan player Garvin Blake.
Wednesday, November 6, 2019
12:50 p.m.
Tanger Auditorium, Library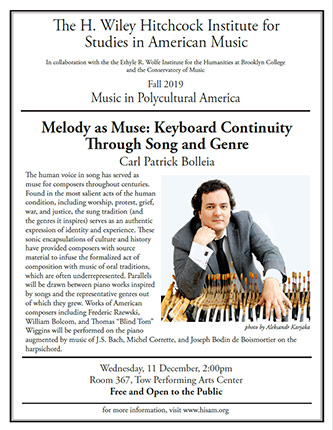 Melody as Muse: Keyboard Continuity Through Song and Genre
with Carl Patrick Bolleia
The human voice in song has served as muse for composers throughout centuries. Found in the most salient acts of the human condition, including worship, protest, grief, war, and justice, the sung tradition (and the genres it inspires) serves as an authentic expression of identity and experience. These sonic encapsulations of culture and history have provided composers with source material to infuse the formalized act of composition with music of oral traditions, which are often underrepresented. Parallels will be drawn between piano works inspired by songs and the representative genres out of which they grew. Works of American composers including Frederic Rzewski, William Bolcom, and Thomas "Blind Tom" Wiggins will be performed on the piano augmented by music of J.S. Bach, Michel Corrette, and Joseph Bodin de Boismortier on the harpsichord.
Wednesday, December, 11, 2019
2 p.m.
Room 367, Tow Performing Arts Center
Free and Open to the Public