Events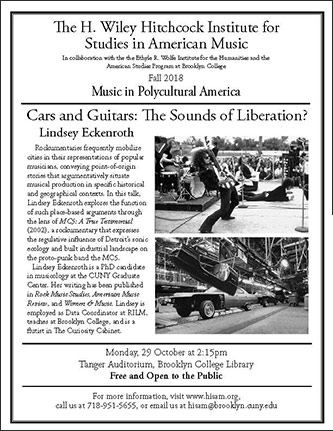 Cars and Guitars: The Sounds of Liberation?
with Lindsey Eckenroth
Rockumentaries frequently mobilize cities in their representations of popular musicians, conveying point-of-origin stories that argumentatively situate musical production in specific historical and geographical contexts. In this talk, Lindsey Eckenroth explores the function of such place-based arguments through the lens of MC5: A True Testimonial (2002), a rockumentary that expresses the regulative influence of Detroit's sonic ecology and built industrial landscape on the proto-punk band the MC5.
Lindsey Eckenroth is a PhD candidate in musicology at the CUNY Graduate Center. Her writing has been published in Rock Music Studies, American Music Review, and Women & Music. Lindsey is employed as Data Coordinator at RILM, teaches at Brooklyn College, and is a flutist in The Curiosity Cabinet.
Monday, October 29, 2018
2:15 p.m.
Tanger Auditorium, Brooklyn College Library
Free and Open to the Public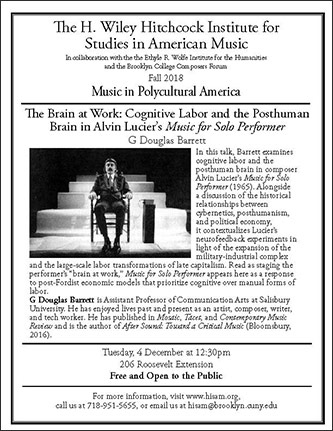 The Brain at Work: Cognitive Labor and the Posthuman Brain in Alvin Lucier's Music for Solo Performer
with G Douglas Barrett
In this talk, Barrett examines cognitive labor and the posthuman brain in composer Alvin Lucier's Music for Solo Performer (1965). Alongside a discussion of the historical relationships between cybernetics, posthumanism, and political economy, it contextualizes Lucier's neurofeedback experiments in light of the expansion of the military-industrial complex and the large-scale labor transformations of late capitalism. Read as staging the performer's "brain at work," Music for Solo Performer appears here as a response to post-Fordist economic models that prioritize cognitive over manual forms of labor.
G Douglas Barrett is Assistant Professor of Communication Arts at Salisbury University. He has enjoyed lives past and present as an artist, composer, writer, and tech worker. He has published in Mosaic, Tacet, and Contemporary Music Review and is the author of After Sound: Toward a Critical Music (Bloomsbury, 2016).
Tuesday, December 4, 2018
12:30 p.m.
206 Roosevelt Extension
Free and Open to the Public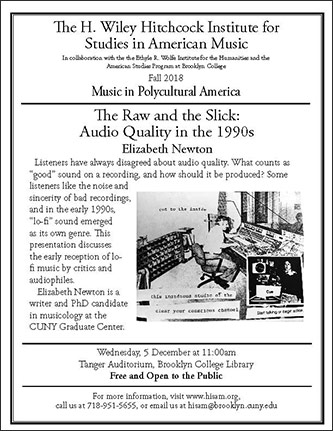 The Raw and the Slick: Audio Quality in the 1990s
with Elizabeth Newton
Listeners have always disagreed about audio quality. What counts as "good" sound on a recording, and how should it be produced? Some listeners like the noise and sincerity of bad recordings, and in the early 1990s, "lo-fi" sound emerged as its own genre. This presentation discusses the early reception of lofi music by critics and audiophiles.
Elizabeth Newton is a writer and PhD candidate in musicology at the CUNY Graduate Center.
Wednesday, December 5, 2018
11 a.m.
Tanger Auditorium, Brooklyn College Library
Free and Open to the Public