American Music Review
Vol. XLI, No. 1, Fall 2011
Empowering Bess, and Porgy Too: The Great American Opera One More Time
By Ray Allen
Originally published online on October 2011.
When Broadway director Diane Paulus and Pulitzer Prize-winning playwright Suzan-Lori Parks told the New York Times they were cooking up a twenty- first century remake of Gershwin's classic opera Porgy and Bess, Stephen Sondheim cried foul. In a lengthy letter to the Times (10 August 2011) the dean of modern American musical theater reprimanded Paulus and Parks for their 'disdain" of the original opera and their 'condescension" toward today's theatergoers who could no longer, according to producers, sit through a three-hour-long opera. Sondheim feared that Paulus and Parks's 'excavation" project, which reportedly included additional spoken word dialogue, back stories on several of the main characters, and a more hopeful ending, moved beyond 'interpretation" into the realm of 'wholesale rewriting." Interestingly, most Times readers whose responses were published the following week (21 August 2011) agreed with Sondheim's position that such tinkering was travesty and that directors and playwrights should pay more homage to the original versions of classic works. So why the call to crucify before the new Porgy and Bess even hit the stage? Why was Sondheim, himself one of musical theater's more adventurous creators, so threatened by a little messing with the great American opera?
Puzzling indeed, for his remarks were based not on any personal viewing of the piece, but rather on Patrick Healy's review of the work's early rehearsals and the provocative comments of Paulus, Parks, and leading-lady Audra McDonald that appeared in the Times (5 August 2011). Equally troubling is Sondheim's apparent bout with historical amnesia. He seems to have forgotten that Gershwin and Heyward's 1935 opera morphed into a Broadway musical in 1942, an international touring production in the early 1950s, a Samuel Goldwyn Hollywood movie in 1959, and finally back to an opera in 1976. Along the journey each incarnation of the work was marked by transformation and controversy. So perhaps it should come as no surprise that a new millennium production of the old saga of Catfish Row might raise a few hackles, especially with a racially diverse cast of women heading up the creative team.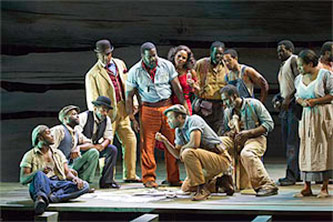 With all this in mind I traveled up to Cambridge in late September to see the new American Repertory Theater production at the Loeb Drama Center. My initial reaction—terrific show! How any Porgy and Bess lover could come away less than enchanted by the performances of Audra McDonald (as Bess) and Norm Lewis (as Porgy) is hard to imagine. While the book does include a few new twists, the overall story is not drastically changed. Evidently, an alternative ending with Bess begging Porgy to leave Catfish Row with her was dropped in favor of the original finale. Thankfully, 'I'm On My Way" remained intact. Gershwin fans will be pleased that music director Diedre Murray included all of the original songs (save for 'Buzzard Song"), although those familiar with the lush orchestrations of the 1935 opera may find the sound of the streamlined, eighteen-piece orchestra a bit thin. A number of Murray's arrangements had a more syncopated, jazzy feel than the originals, and the prominent use of the accordion was, well, different to be sure. A more thorough evaluation of the score will have to wait for additional listenings, but at this point it's fair to say that the overall production was driven by dramatic text rather than music. Keys were lowered to make song lyrics more intelligible and spoken word replaced much of the original recitative. As Ms. McDonald noted in a post-performance Q&A session, opera purists who live for the high-register vocal acrobatics might be disappointed, but the producers and company agreed that the priority was getting the story across.
And that story was made more compelling by Paulus and Parks's development of the two main characters. McDonald plays a tragic but empowered Bess. Still flawed and prone to bad decisions, this modern Bess strives for some control over her ill-fated existence. In the original opera, Bess initially resists Crown's sexual advances on Kittawa Island only to finally consent to her abusive lover. But McDonald does not allow Phillip Boykin (Crown) to drag her off to the bush (a scene that feels frighteningly close to rape when Brock Peters forces himself on a whimpering Dorothy Dandridge in the 1959 movie). Rather she pushes him away, strips off her dress to expose a revealing slip, and commands him to follow her into the jungle for their tryst. A similar scene unfolds when Bess's second tormentor, Sportin' Life, tries to lure her away from Catfish Row for the high life of New York. In the original Bess again yields to temptation by snatching a handful of Sportin' Life's happy dust and stumbling off in her final exit. But here McDonald is far more resolute. Refusing the happy dust, she brandishes a knife in David Alan Grier's (Sportin' Life's) face, declares her decision to go with him to New York, and warns him of painful consequences if he should try to double-cross her.
Norm Lewis's Porgy is also portrayed as a more complex and proactive figure than Todd Duncan's character in the original opera. Here we learn that Porgy, disabled since childhood, is determined to walk again. Not willing to reconcile his lot in life as a crippled beggar (as Heyward's original Porgy had), he visits a doctor, is fitted with a leg brace and medical cane (no goat cart for this Porgy), and boasts of his improved mobility. When Porgy's morning after rendition of 'I Got Plenty of Nothing" is met by knowing looks and hardy laughter from his neighbors, the audience understands he is singing about his sensual infatuation with Bess, not some naïve embrace of poverty. The final confrontation with Crown climaxes with his triumphant rise over his slain foe as he thrusts forward his bloody knife and roars: 'Bess, you got a real man now!" This Porgy is more than a tragic cripple who happened upon an unlikely summer romance— here is a man driven to overcome his disability, to satisfy his lover, and to live life to its fullest.
Taking all this in I was reminded that Paulus and Parks were not the first women to move Gershwin's opera in the direction of musical theater. In fall 1941, four years after Gershwin's death, Cheryl Crawford revivedPorgy and Bess for the Maplewood Theater (New Jersey). In December the production travelled to Boston before opening on Broadway in January 1942 where it successfully ran for 281 performances before touring to nearly fifty American and Canadian cities over the next three years. Though separated by seven decades, there are intriguing similarities between the Crawford and Paulus/ Parks productions. Under the supervision of music director Alexander Smallens, the recitative of the 1942 revival was replaced with spoken dialogue, the orchestra was cut from forty-four to twenty-seven, and score and book were trimmed down to reduce the show by forty minutes. The new streamlined Porgy and Bess flowed smoothly and emphasized the set numbers, pushing the Crawford production closer to the conventions of Broadway musical theater than grand opera. Sound familiar? Could Paulus and Parks have been channeling Crawford and Smallens rather than Gershwin and Heyward?
In what might come as a surprise to Sondheim, back in 1942 no one objected to these alterations. On the contrary, mainstream critics responded with unanimous praise, declaring the Crawford revival a substantial improvement over the original opera. Even the prickly Virgil Thomson, who had been a severe critic of the 1935 opera, heartily approved of Crawford and Smallens's adjustments, telling readers of the Herald Tribune:
It seems to me that that kind of correction, carried out by a skillful musician [Smallens] who knew the composer well and respected his genius, is exactly what the work needs right now. By making it as good a show as possible, as easy to execute and to listen to as is consistent with Gershwin's own writing (nobody has altered his actual notes), the work has, I fancy, more chance of becoming a part of standard operatic repertory than it would have in its original rather clumsy version.
One thing is for sure, Sondheim was not channeling Thomson!
There are notable resemblances between McDonald and her counterpart Etta Moten, who replaced Anne Brown as Bess in the summer of 1942. Brown's superb operatic soprano had gained her critical acclaim and led her to leave the Crawford revival for a solo concertizing tour. Moten, like McDonald, was both singer and actress, having built her reputation as a vivacious Broadway and film star. Reviews suggest that Moten's saucy Bess, like the character McDonald portrays today, was dramatically superior to Brown's original. While Moten and McDonald are exceptional vocalists, it was their on-stage charisma that raised the character of Bess to a new level. Off stage Moten, like McDonald, was concerned with the cultural image she and the cast projected. Shortly after accepting the part of Bess she objected to the racially offensive language in the libretto, which Ira Gershwin quickly agreed to remove. 'We refused to use the word 'nigger' ... and it was removed from all the lines except those spoken by white characters" she later told Era Bell Thompson of Ebony (October 1959). Moten was the first cast member to vehemently object to language in the book and songs, and her concerns were a harbinger of things to come.
Implicit in Paulus and Parks's initial remarks to the Times was their hope that their revamped Porgy and Bess might appeal to a younger and more diverse audience, including African Americans, many of whom traditionally had problems with the original story and characters. In the new production's Program Notes, Parks admits that Gershwin and Heyward suffered from a 'shortcoming of understanding" when it came to giving the characters of Catfish Row an 'authentic black voice." Her job as an African American dramaturge and playwright was to find that voice. McDonald, appearing on NPR's 'Tell Me More" (29 September 2011), told host Michelle Martin that in re-imagining Porgy and Bess for a twenty-first–century audience, Paulus and Parks had attempted to 'excise the more racists material and focus on the story and characters." So will African Americans embrace this reimagined Porgy and Bess with its fleshed-out characters and strengthened narrative? Veteran black journalist Hilton Als, writing for the New Yorker (26 September 2011), was certainly impressed. In response to Sondheim's criticism, Als argued that Paulus and Parks's revisions had little to do with 'self-serving manipulation of the classic" but rather were aimed at 'humanizing the depiction of race onstage." Of course Als would not claim to speak for all African Americans, and the jury will remain out until more black critics and audience members weigh in.
Als further observed that Porgy and Bess 'had never been a favorite of black audiences." While there is certainly some truth to his assertion, the reality is more complex. Black responses to the Crawford production, like reactions to the original opera, were decisively mixed. On the one hand black critics saw the work as an unprecedented opportunity for talented black opera and theater singers to achieve recognition on Broadway and opera stages where they had yet to achieve parity with their white counterparts. On the other hand reviewers fretted over damaging images purveyed by the stereotypic beggars, gamblers, drug addicts, hussies, and murderers who inhabited Catfish Row. Dan Burley captured these ambivalent feelings in his Amsterdam News (31 January 1942) review: 'there will be many colored theatergoers who will see 'Porgy and Bess' and come away with the usual complaint, 'Why don't they show us the way we are?'" His ironic response posed a challenge: '. . .the fact is that the Gershwin-Heyward conception of Negro life will have to do until some Negro takes the time to write one that will be acceptable." Despite such reservations, members of the cast led by Todd Duncan, Anne Brown, Etta Moten, and Ruby Elzy were lauded in the black press as superb artists and patriotic Americans who supported the war effort. Black critics vacillated between their adulation for the stellar black cast and their discomfort with what they perceived to be a flawed story with troubled characters. The debate over the cultural value of Porgy and Bess would grow more heated as the early civil rights movement unfolded and the work returned, first as an international touring production (1952–56) and then as a Hollywood film (1959).
All this historical reflection serves to remind us that since its inception, Gershwin and Heyward's creation has been a malleable text that has slid with relative ease from page to stage to screen and back to stage. In each incarnation the work has been a flashpoint for cultural controversy, challenging deep-seated notions of cultural hierarchy (was it highbrow opera, lowbrow Broadway entertainment, or something in between?) and laying bare the paradoxes of art created by whites, performed by blacks trained in formal European musical practice, and presented to primarily white audiences. Paulus and Parks' re-imagined work and Sondheim's strident disapproval form the most recent chapter in the grand narrative of Porgy and Bess and its troubled legacy as the great American opera.
Still, I can't help but wonder, once Sondheim and his followers calm down and finally see the new production, will they accept it as sophisticated musical theater that stays true to the spirit of Gershwin and Heyward's original opera? And will Parks's revisions answer Burley's 1942 call for a more 'acceptable conception of Negro life," thereby increasing the work's appeal to black audiences? Indeed, will these sorts of issues resonate at all with the Generation Xers and the New Millenniums who are beginning to replacing the aging Boomers in the audience?
To be continued, after Porgy and Bess finds its way back to Broadway, one more time.