American Music Review
Vol. XLI, No. 1, Fall 2011
"Science-Fiction Rock and Roll": Sound Painting and Social Subtext in Jimi Hendrix's "1983... (A Merman I Should Turn To Be)"
By Will Fulton, The Graduate Center, CUNY
During the 1960s, advances in multi-track recording, sound manipulation, and new musical hybrids produced extraordinary changes in musical style. Jimi Hendrix's fascination with science fiction led to a series of transformative works that he called "science-fiction rock and roll."1 His interest in depicting images, stories, and scenes with sound, perhaps most famously displayed in the guitar emulation of war during his performance of "The Star-Spangled Banner" at the 1969 Woodstock Music and Arts Festival, led to studio experimentation that Hendrix referred to as "sound painting[s]."2 He used technology to illustrate narratives of "social science fiction," a term coined by Isaac Asimov in the 1950s to describe Atomic Age science fiction literature that directly alluded to social events. Hendrix's 1968 epic "1983... (A Merman I Should Turn To Be)," which tells the story of leaving a dystopic earth's surface for a better life in Atlantis, exemplifies social science fiction in rock music. In its lyrical reference to "The Star-Spangled Banner" and allusions to war, "1983" is an allegory for late–1960s America.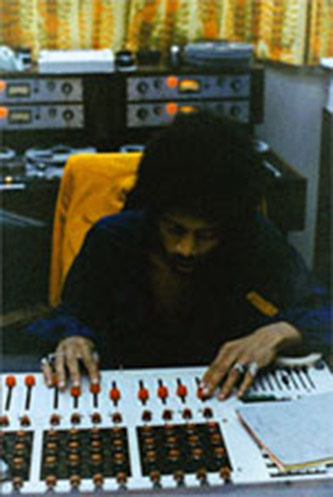 Hendrix's childhood interest in science fiction was deepened when he relocated to London in 1966 with Chas Chandler, his new manager. Chandler had similar literary interests and encouraged Hendrix's hybrid of blues music and fantasy narratives. With the newly formed Jimi Hendrix Experience, he recorded several songs in 1967 that incorporated science fiction narratives and programmatic music. "Third Stone from the Sun" and "Up from the Skies," songs written about an alien descending in a spaceship and meet- ing humankind, seem directly suggestive of Hendrix's 1966 plane flight to London. Such social subtexts in science fiction literature during this period were common. Asimov describes social science fiction as "that branch of literature which is concerned with the impact of scientific advance upon human beings."3 George Stewart's 1949 Earth Abides, which Hendrix was known to have read, views the U.S. after an apocalypse caused by an unknown disease. Written three years after the bombings of Hiroshima and Nagasaki, it seems to evoke nuclear war. Hendrix also read a collection of science fiction stories containing Ward Moore's "Lot" (1953), which describes a California family fleeing a similar post-nuclear wasteland.
"Purple Haze" (1967) may have been Hendrix's first attempt to realize a science fiction epic in the recording studio. The song drew inspiration from the 1966 science fiction short story "Night of Light" by Philip José Farmer, which uses the term "purple haze" to describe the "disorienting and dizzying visual effects of sunspot activity on a planet called Dante's Joy."4 Rather than a clear narrative, the song, particularly in its early incarnation, is a series of images described in near stream-of-consciousness. This lyric style, which would permeate much of Hendrix's writing, could in one motion discuss the surrealistic ("down on the ceiling looking up at the bed") and the realistic ("through the haze I see 1,000 crosses"), allowing for comments on the fantastic and society in a single verse. The recording of "Purple Haze" that was released that year had little resemblance to his original concept. Chandler noted that Hendrix's songs "tended to be six, seven minutes and we [edited] them down to three and four minutes. We all felt it improved them."5 Hendrix disagreed. He remarked that perhaps "the meanings got lost by breaking them down" and that he "didn't know whether they were going to be understood."6
By 1968, Hendrix was frustrated by the lack of time he was offered to experiment in the studio. Long-form pieces were of increasing interest to him but not to management; it is relevant that the recording of "1983" occurred shortly after Chandler quit as Hendrix's manager. These long-form structures may have been influenced by avant-garde jazz, elements of which are evident in the midsection of "1983." By the late 1960s Hendrix and drummer Mitch Mitchell had developed a strong interest in the music of John Coltrane, Rahsaan Roland Kirk, and possibly Sun Ra. Notably, the lengthy title track of Ra's 1967 album Atlantis relied heavily on abstract electronic textures.
New multi-track recording technology offered revolutionary possibilities in soundpainting and layered sound experiments. In 1967, Hendrix began working with engineer Eddie Kramer in London. He returned to New York in 1968 with the band and Kramer to record Electric Ladyland at The Record Plant. The Record Plant offered additional possibilities for multi-tracking, providing the opportunity to work with a twelve-track Scully machine whereas Olympic Studio in London only had four-track machines. Hendrix and Kramer would used the full capabilities of the studio and extra tracks to realize "1983."
April 1968, when the final version of "1983" was recorded (an acoustic demo version was recorded in March), was a tumultuous month for the U.S. Martin Luther King, Jr.'s 4 April assassination and the subsequent riots affected Hendrix deeply. He commented directly on this social unrest in Electric Ladyland's "House Burning Down," recorded just a week after "1983." Hendrix also dedicated an extended instrumental to King at the Newark Symphony Hall on 5 April, and recorded an instrumental called "MLK" in 1970. Though Hendrix's work in this period is largely regarded as apolitical, his statements suggest otherwise. In a 1967 interview, he asserted: "My world—that's hunger, it's the slums, raging race hatred and [the only] happiness is the kind that you hold in your hand, nothing more."7
Like Hendrix's 1967 "Third Stone from the Sun" and "Up from the Skies," the narrative lyric of "1983" describes a ruined world:
Hurray I awake from yesterday Alive but the war is here to stay So my love Catherina and me Decide to take our last walk thru the noise to the sea Not to die but to be reborn Away from the lands so battered and torn Forever Oh say can you see it's really such a mess Every inch of earth is a fighting nest Giant pencil and lipstick-tube shaped things Continue to rain and cause screaming pain And the arctic stains from silver blue to bloody red As our feet find the sand And the sea is straight ahead
As "pencil and lipstick tube shaped things" (missiles) have made the surface unlivable, notably melting the "arctic" from "blue to bloody red," the only solution for the protagonist is to escape this dystopia, build machines to breathe underwater, become a "merman," and swim to the utopian Atlantis. Hendrix creates a simple theme/refrain that represents the tragic scene:

This refrain section is based on a minor I-IV progression common in electric blues. The lyrics of the first verse hints at an allegorical subtext to the narrative, particularly the phrase, "alive but the war is here to stay," which in 1968 might refer to the Vietnam War, the domestic conflicts with the police, or both. Hendrix would later make an allusion to America's civil rights unrest as a "war" in an introduction to the song "Machine Gun" at a 31 December 1970 concert, which he dedicated to "all the soldiers that are fighting in Chicago, and Milwaukee, and New York—oh yes, and all the soldiers fighting in Vietnam." The second verse of "1983" begins with an allusion to "The Star Spangled Banner": "Oh, say can you see it's such really such a mess."8
This reference to the U.S. national anthem and following image of "giant pencil and lipstick-tube shaped things" that "rain and cause screaming pain" are particularly significant. Both this verse and the war episode—the guitar sound painting of bombs, missiles, and air raid sirens—seem to make a similar statement. Hendrix gave an opaque description of "1983," which he defined as "fantasy," while intimating there is some statement on the real world.9 When asked by an interviewer about social commentary in his music, Hendrix offered "1983" as an example:
That's something to keep your mind off of what's happening today, but not necessarily completely hiding away from it like some people might do...10
While Hendrix obfuscated any direct social context here, it is significant that he would provide "1983" as an example of social commentary; the narrative is about a war-torn world.
The basic form of "1983" is ABA. The first A section uses the refrain shown in Example 1, the B section at 4:15 is the undersea journey represented instrumentally, and the final A section (at 11:23) consists of one verse and an extended final refrain/solo. Each verse is set to a chromatic descent Db5 to Ab5, painting the escape into the ocean. Chromatic chordal descents such as this have precedents in R&B, such as The Clovers' "One Mint Julep" (1951), which contains a similar line in the bridge section. It is likely that this would have been part of Hendrix's repertoire during his teenage R&B band or sideman years. The second verse closes with the emphasized phrase, "the sea is straight ahead!" "Straight Ahead" was a slogan of the Black Power movement, and Hendrix recorded a socially oriented song of this title on 8 May 1968—two weeks after "1983." While this would seem an odd juxtaposition of social signifiers and fantasy narrative, "1983" contains other similar signs.
The first A section includes alternating verses and refrains, with a bridge following the second verse-refrain. The bridge section, which begins at 1:50, describes the resistance to the protagonist's plan, and the sadness of leaving others behind: "Well, it's too bad that our friends can't be with us today, the machine that we built would never save us that's what they say... anyway... it would be beyond the will of god, and the grace of the king." At the end of the bridge, Hendrix underscores the lyric "the grace of the king," with a repeating and harmonized figure set to a march-tempo military snare:

While the "king" in this context is a character in the fictional world of 1983, the regal and hypnotic guitar figure, notably not present in the March demo recording, could be heard also as lamenting Martin Luther King, Jr.'s death.
The A section of "1983," something of a prelude for the extended B section, closes with a verse describing their last moments above water, before they bid the land farewell. The B section is not a mere instrumental episode, it is core material. The Ab minor mode of the A section becomes Ab major, with modal raga-like improvisations, and a reversed track of electric sitar, representing the peaceful beauty of the ocean floor over a static Ab pedal.

What David Henderson describes as "the sounds of the depths of the ocean, sonar, buoys, gull cries, and submarine hydraulics" fade in and echo out, evoking the undersea atmosphere.11 Sea-sounds are created in different ways on the final Electric Ladyland version: whistling and breathing vocals through tape delay (breathing underwater, at 5:42), variable frequency oscillator on Flextone (buoys, at 5:21), tape speed variation on guitar track (shoals of fish, at 5:10), echoed cymbals (bubbles, at 4:50), and echo on headphone feedback (seagulls, at 13:11). Notably, while the Beatles and Pink Floyd used Foley sound effects such as bird call recordings, Hendrix eschewed these, stating: "we [use] echo here and there, but we're not adding false electronic things."12 The sounds all stemmed from vocal and instrumental performance that maintained a visceral connection between the mixing board and the body. Earlier, Hendrix described a similar relationship with his guitar, stating "my instrument, my sound, my body, are all in one action with my mind."13
Hendrix played all guitar tracks and bass guitar on the issued version, as well as electric sitar and various percussion instruments. Chris Wood of Traffic played flute. Mitchell played drums, contributing to the avant-garde jazz texture in the B section through the ebb and flow of his improvisation. After Mitchell and Hendrix cut basic tracks, the rest of the overdubbing and mixing was conducted by Hendrix and Kramer, working side-by-side at the console as they often did, which Kramer described as a "four-handed mix."14 Kramer says that he and Hendrix worked on the piece
...for about eighteen hours straight. We mixed the thing in one go, with no interruption, so it was a complete piece. With all the panning, all the effects, we would rehearse it a number of times, obviously. But it was like a performance... a creation of a piece of music...a unique experience.15
Hendrix and Kramer mutually agreed to mix the final master in one take rather than splice sections together—an ambitious decision considering the number of fades, pans, and effects which occur throughout the 13:40 piece. Although Hendrix had expanded his sound painting in the studio, with sections of a piece being crafted over a number of days, he retained an interest in the visceral use of an instrument during the mixdown—in this case the instrument being the mixing console.
"1983" was the last of Hendrix's realized science fiction works, and Electric Ladyland was the last studio album completed during his lifetime. Increased turmoil in the U.S. in 1968 made it impossible for Hendrix to remain uninvolved in social issues. Much of his later sound painting was overtly related to current events, and often occurred in live performance, such as the bombs represented in "The Star-Spangled Banner" or the M-16 sounds created by rapid staccato guitar and snare in "Machine Gun." The subtext of "1983" places it and other Hendrix science fiction works within the emerging aesthetic of Afrofuturism. While further study is needed to assess the relationship between Hendrix's unique "science-fiction rock and roll" and larger cultural movements, with "1983," he created an electro-acoustic work that represents both 1960s escapism and social commentary.
Notes