American Music Review
Vol. XLI, No. 2, Spring 2012
Woody Guthrie and the Occupy Movement
By Will Kaufman, University of Central Lancashire
In 2006 the Irish folksinger and radical activist Christy Moore responded to my query about what Woody Guthrie had meant to him as an aspiring songwriter. He said: "I first heard Woody in 1967. Listening to his songs I got the idea that maybe someday I could write a song myself. I also learned from Woody that songs of protest should be sung on the front line. It is fine to sing them in folk clubs and concert halls but they really come to life when sung on the picket lines and at the prison gates. He also showed me that certain songs need to be written now and performed five minutes later, for that's when they are needed most."1
To read some of the print and online commentary about the Occupy Wall Street (OWS) movement, one would think that there has been no significant musical presence, as though the musical activism that Christy Moore describes had somehow followed the 1960s into ancient history. Writing in the New York Times, James C. McKinley, Jr. lamented, "Where have all the protest songs gone?" He rattled off a sparse list of songwriters and recordings that have filtered up (or perhaps more accurately, have been handed down) to OWS—Ry Cooder'sPull Up Some Dust and Sit Down, Tom Morello's World Wide Revolution, Everlast's Songs of the Ungrateful Living; Justin Sane of Anti-Flag and the soul singer Aloe Blacc also caught McKinley's attention. But these exceptions aside, the morose conclusion was couched in the title of McKinley's article: "At the Protest, the Message Lacks a Melody."2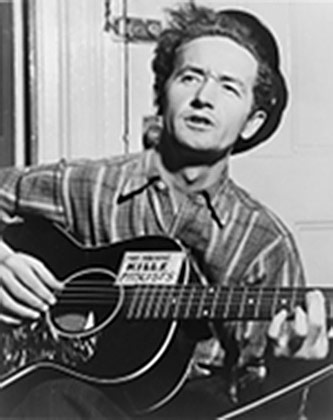 Bloggers have also been wringing their hands. Nicholas Tozier of Song- facts asks explicitly: "Where is the Woody Guthrie of Occupy Wall Street?" His skepticism is almost palpable: "Sure, we've seen several jongleurs perform at the protest—Tom Morello, for example—but so far no musician has earned widespread attention from either mainstream or online media. Why should they? What have they given to Wall Street Occupants that can't be gotten from an iPod?"3 One of Tozier's readers—StrongWriterDean from Anaheim, California—responded to this challenging rhetorical question: "I believe the reason you don't see any Pete Seegers or Woody Guthries evolving out of these 'protests' is that the recipe is missing a couple of ingredients. Namely, these 'Occupy' rallies did not materialize organically like past events (Berkeley, Columbia, Selma, Prohibition, etc.). But I think you'll hear songs emerge, because it's something to write about. Even the Tea Party demonstrations deserve more relevance in folk culture than 'Occupy Wall Street.' But you can't write songs about that. Be- sides, have you heard the 'Hey Hey' chants com- ing out of Zuccotti Park? Not exactly Phil Ochs or John Lennon!"
One might disagree with some of the particulars of StrongWriterDean's conclusions, particularly the implication that there was no deliberate organization to the previous "events" he mentions, but there is one striking opposition that he and the other commentators set up: the emergence of a protest singer of great stature, on the one hand, and the emergence of protest songs, on the other. Tozier assures us: "What I'm absolutely certain of ... is that the present demonstrations aren't going to magically deliver us a Dylan or Guthrie. Both of those figures worked hard, wrote prolifically and thoughtfully, and toured extensively. If the next great American protest singer is out there somewhere, she's got a lot of work to do and even more noise to cut through." Dylan, Guthrie, Seeger, Ochs, Lennon—these, apparently, are the benchmarks for acknowledging the emergence of any musical protest movement worth acknowledging. Otherwise: "Sure, we've seen several jongleurs perform at the protest... ."
Not being adept in French, I had to look that word up. Jongleur (from Old French): "an itinerant medieval entertainer proficient in juggling, acrobatics, music, and recitation." That doesn't quite sound like Tom Morello, but I suppose it might describe me, a "proficient" amateur who has taken his guitar to a number of picket lines and Occupy camps in Britain and Ireland. And, for those who haven't experienced it personally, it might be worth looking at the YouTube videomaker biamaku's visualization of Ry Cooder's OWS anthem, "Looking for the Wall Street Part of Town."4 There one will see at least sixteen intercuts of anonymous musicians—fiddlers, banjoists, guitarists, percussionists, an entire youth orchestra—against only one universally recognizable face (Joan Baez). I can't speak for any of the musicians on that video, but I can say that in the UK and Ireland, at least, when a musician turns up in solidarity at a protest or a picket line with a guitar strapped to his or her back, the association is inevitably made (albeit jokingly): "Hey Woody ... Does yer machine there kill fascists?" But behind the joke lies an important consideration. Perhaps the British and the Irish have kept sight of something apparently forgotten by those Americans pining for their OWS balladeer: Woody Guthrie was Woody Guthrie even before, especially before, he became famous. He was Woody Guthrie before he recorded Dust Bowl Ballads in 1940, which catapulted him into the national spotlight, and before he'd published the largely self-mythologizing Bound for Glory in 1942, which clinched his celebrity. He had already been Woody Guthrie when he and Will Geer went out in 1938 to fortify the migrant workers organizing, striking, and defending themselves against the gun thugs and vigilantes in the hire of the Associated Farmers in the Californian fields. He was simply doing what he did best: looking, listening, writing, and singing—certainly not aware that he was laying the foundations for the modern protest-song movement or any other movement for that matter.
In the end, it is instructive to return to the source. In a letter to his fellow Almanac Singers, written in 1941 from Portland, Oregon, Guthrie described what he'd been up to recently:
I have visited the Oakie [sic] camps a time or two since I been out here and they put me on their programs and the crowds were almost too big for you to believe. 600 here, 500 yonder, 300 next place, and they just dam near tore down a perfectly good govt auditorium when I sung about Pretty Boy or Tom Joad. And I made it my business to go into lots of the tents and shacks this trip that I didn't make on other trips, and hear them all sing, the little sisters, brothers, yodellers, ma and pa in the old yaller light of a coal oil lamp, settin in a rocker, or on the side of an old screaking bed, eyes about half shut, bottom lip poached out full of snooze, and they sang religious, hopeful songs, and sentimental, worried songs, but hours on hours could sing and sing and sing.5
This was already Woody Guthrie, even though the sanctification and the canonization, the national honors and the celebrity were yet to come. In the same letter, he told the Almanacs what he had said to the migrants who had gathered around him to sing in their camps:
Why don't you take time out and write up some songs about who you are, where you come from, where all you been, what you was a lookin for, what happened to you on the way, the work you done and the work you do and the work and the things that you want to do. Your songs so far are not your songs, but songs that somebody else has put in your head, and for that matter, not your own life, not your own work, trouble, desires, or romances; why had you ought to sing like you're rich when you aint rich, or satisfied when you aint satisfied, or junk like you hear on these nickel machines and over the radio?6
It is fitting that this advice should have come in a letter from Portland, for there resides David Rovics, certainly a contender for the title of "The Woody Guthrie of OWS" (Amy Goodman has called him "the musical version of Democracy Now!"). In Sing for Your Supper, his fascinating DIY guide for politically committed musicians who deliberately eschew making a name for themselves in "the industry," he argues: "Culture should be created by and for everybody, not a few pop stars delivering culture to the masses. Also, even without the controlling media, we as artists can have a huge impact ... And just as DIY operations on the internet, community radio, community television, and in print have had a huge impact on the consciousness of people around the world, the same is true of DIY performers and recording artists."7 These "DIY performers" may well be dismissed as jongleurs by those out to collar the new Woody Guthrie, without their realising that for almost the entirety of his musically active life, Guthrie himself would have beautifully fit the bill for a jongleur. Rovics reminds his readers:
One of the points of having a rally or other such event is to truly rally the people, to impact the hearts and minds of those in attendance. The power of culture to affect people in this way cannot be overstated. If you talk to people who were at the forefront of the civil rights movement they will tell you that if it wasn't for the music, they might have turned and ran when they saw riot police and their dogs and water cannon.8
Having said this, the critics of OWS music do have one important point. To repeat StrongWriterDean: "Have you heard the 'Hey Hey' chants coming out of Zuccotti Park? Not exactly Phil Ochs or John Lennon!" The importance of writing "thoughtfully," however quickly or slowly, cannot be overemphasized. But it is also worth remembering that many of Woody Guthrie's greatest songs were already written before he had achieved any celebrity to speak of. This is particularly true of Dust Bowl Ballads; imagine those blessed "Oakies" in the migrant camps being serenaded with "Tom Joad," "Pretty Boy Floyd," and "Jesus Christ" years before they were committed to vinyl.
In any event, the Washington Post paints a much different picture to that lamented by the New York Times and the Songfacts bloggers. Far from wailing "Where have all the protest songs gone," David Montgomery writes in the Post: "Amid 'Occupy,' Protest Music Gets Rebirth." The process he describes is almost identical to that practiced by Woody Guthrie, the process that so inspired Christy Moore in his formative years:
The night before the Oct. 6 start of the occupation of Freedom Plaza, the singer-songwriting duo Emma's Revolution stood before a packed protest-planning rally at Busboys and Poets, fiddling with chords, harmonies and a lyric sheet.
They were in town from Occupy Boston and were still getting the hang of a song they had been inspired to write on the road down: "Occupy D.C."
Who are we? Occupy D.C.
The crowd loved it, but Pat Humphries and Sandy O weren't satisfied. Starting from scratch, Humphries crafted new lyrics and a melody, and they worked out the harmonies. The next evening, they carried their acoustic guitars to Freedom Plaza and performed "Occupy the U.S.A." for the first time.9
Again, Montgomery describes his encounter with another pair of jongleurs, RodStarz and G1 from the South Bronx, who together form Rebel Diaz, a radical hip-hop duo: "Rebel Diaz had a hook and an idea for some lyrics when a television camera spotted the duo at the occupation. RodStarz and G1 started freestyling lyrics for the camera. Back home in the South Bronx, they polished, recorded and uploaded the new song, called 'We the 99%.' It's on their new digital mixtape, '#OccupyTheAirwaves.'" Montgomery, like the musicians he describes, harbors no illusions about the impact of such efforts. "This music doesn't get played on the radio. Performers such as Emma's Revolution and Rovics tour relentlessly and have small but devoted national followings, drawing crowds of dozens, hundreds, rarely thousands." Still, thanks in particular to their commitment to free downloading, these performers almost certainly have larger followings than Guthrie would have enjoyed throughout most of his musically active lifetime. Montgomery's conclusion implies that the embryonic stirring of the process, updated to the Internet age, has propelled Guthrie's spirit into the contemporary public sphere: "The first singles on the soundtrack of the revolution are being written on the fly and downloaded as we speak."10
Woody Guthrie could not have asked for more. He would have applauded, as he did in 1946, those jongleursbanging "on cheap guitars and banjos their songs old and new that keep their streets singing and foaming with hate for the Money Powers and love for the workers."11 Guthrie's work is still being done at every Occupy camp and on every picket line where songs are being sung—as well as on YouTube, Spotify, Last.fm, and all across the cyber universe.
Notes