American Music Review
Vol. XLIX, Issue 1, Fall 2019
Global Jazz Connections: Haitian Jazz in Brooklyn
By Ray Allen
Jazz scholars have long acknowledged a "Latin Tinge" in early American jazz, attributing its source to the musics of Cuba, Argentina, and other Spanish speaking countries of the Caribbean and South America. The musical interchange between the French-speaking Caribbean Islands and US is less well understood. This, despite a well-documented in-migration by Black and Creole Haitians to New Orleans during the nineteenth century, and the fact that two of the Crescent City's early jazz icons, Ferdinand "Jelly Roll" Morton and Sidney Bechet, were French Creoles of possible Caribbean ancestry.
This history, coupled with the ongoing musical interchange between Haiti and the US over the last century, raises a number of significant questions. What, for example, were the influences of Afro-Haitian Vodou, rara, and other traditional rhythms on New Orleans' incipient jazz scene of the early twentieth century? How did swing and post-war styles of US jazz shape Haitian dance and popular styles such as Vodou-jazz of the 1940s and 1950s, kompa of the 1960s, and mizik rasin (roots music) of the 1970s and 1980s? How do contemporary Haitian jazz musicians, networking between Haiti and diasporic communities in New York, Miami, and Paris, continue to dialogue with modern US jazz styles? And finally, what exactly constitutes Haitian jazz, perhaps better termed Haitian "Creole" jazz, in the twenty-first century?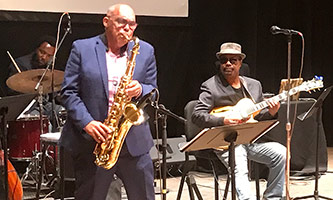 These were among the issues debated in a lively symposium titled "Haitian Jazz and American Jazz: Historical Connections and Specificities," held at Brooklyn College on 20 September 2019. Organized by Professor Jean Eddy Saint Paul of the CUNY Haitian Studies Institute, in collaboration with the Hitchcock Institute, the gathering brought together noted Haitian scholars and musicians for an evening of discussion and music. Musicologist Melvin Butler of the University of Miami, journalist Vania Andre of the Haitian Times, and renowned jazz musicians Jean Chardavoine (guitar), Alix "Buyu" Ambroise, Jr. (saxophone), Joel Widmaier (percussion), and Pauline Jean (vocals) were among those who spoke and performed for a sold-out audience at Brooklyn College's Buchwald Theater.
The event was so successful that three of the musicians, Chardavoine, Ambroise, and Jean, were invited back to play with the Brooklyn College Global Jazz Ensemble on 26 November. Director D.D. Jackson and Global Jazz Masters student Julian Velasco created big band arrangements of compositions by Chardavoine and Ambroise that featured the guitarist, saxophonist, and vocalist Jean, all backed by the Brooklyn College band. Especially memorable was Velasco's arrangement of Kote Mon Yo, an original piece by Ambroise that fronted singers Jean and Brooklyn College student Joelle Leslie Lewis.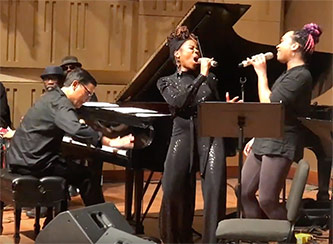 The November Haitian Jazz concert was the latest partnership between Brooklyn College's Global Jazz Ensemble and local Brooklyn musicians. Previous projects have featured West Indian, Yiddish, and South Indian jazz hybrids. These mini-residencies and performances, the foundation of our Global Jazz Masters program, aim to explore connections between contemporary jazz and world music. Stay tuned for a West African jazz collaboration in the Spring of 2020.