American Music Review
Vol. L, Issue 2, Spring 2021
Sounding Movement, with a Light Touch: An Interview with Jonathan Zalben
By Alana Murphy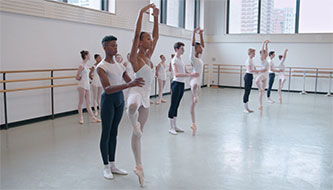 This April, I sat down with Jonathan Zalben on Zoom to discuss his experience as composer and music supervisor for the Disney+ docuseries On Pointe, which chronicles a season at the School of American Ballet (official school of the New York City Ballet) through the eyes of several talented and dedicated young dancers. Zalben and I talked about embodiment and interdisciplinarity, nostalgia for our own conservatory days, diegesis vs. underscore, the unique challenges of making collaborative recordings in lockdown, George Balanchine's beloved cat Mourka, and much more.
Alana Murphy: So let me just say, to start off, that I loved On Pointe. I had been meaning to watch it even before Stephanie [Jensen-Moulton] had approached me about interviewing you.
Jonathan Zalben: Glad to hear.
AM: It's funny, my partner had really wanted to get a Disney+ account to watch The Mandalorian. I said, "We have too many streaming services already." But then I heard about On Pointe and thought, that is tempting. And then Stephanie reached out, and I told my boyfriend, "okay, you're in luck—now I have to watch a Disney+ show for an official assignment, so I suppose we can subscribe to the platform." By the way, are there any video clips of the show that I could use when we publish this interview? Or is that verboten?