Haitian Studies Institute
Event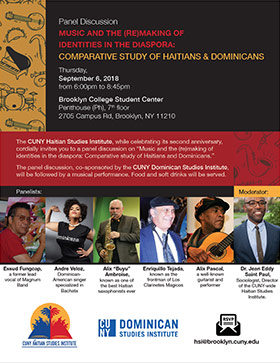 Panel Discussion - Music and the (Re)making of Identities in the Diaspora: Comparative Study of Haitians and Dominicans
Thursday, September 6, 2018
6 - 8:45 p.m.
Brooklyn College Student Center, Penthouse (7th Floor)
2705 Campus Rd, Brooklyn, NY 11210
Moderator
Panelists
Essud Fungcap, a former lead vocal of Magnum Band
Andre Veloz, Dominican-American singer specialized in Bachata
Alix "Buyu" Ambroise, known as one of the best Haitian saxophonists ever
Enriquillo Tejada, known as the frontman of Los Clarinetes Magicos
Alix Pascal, a well-known guitarist and performer
Origin
The CUNY-HSI is an academic unit aimed to encourage and support studies on Haiti and Haitians living abroad. The institute's main commitment is to engage in analysis and research to better understand policies and projects girded toward Haiti and the Haitian community, and policies that link scholarship programs on Haiti to social actions impacting the lives of Haitian populations and other racial and ethnic communities.
Haitian Creole for Native Speakers: HACR 203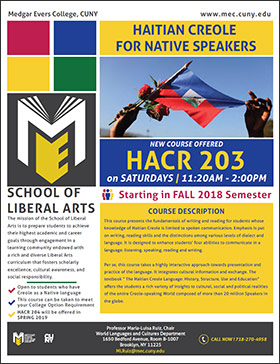 New course offering at Medger Evers College (CUNY)
Open to students who have Creole as a native language.
This course presents the fundamentals of writing and reading for students whose knowledge of Haitian Creole is limited to spoken communication. Emphasis is put on writing, reading skills, and the distinctions among various levels of dialect and language. It is designed to enhance students' four abilities to communicate in a language: listening, speaking, reading, and writing.
Saturdays, 11:20 a.m.–2 p.m.
Learn More
Professor Maria-Luisa Ruiz, Chair
World Languages and Cultures Department
P: 718.270.4958
E: MLRuiz@mec.cuny.edu
Website