Events
Espas Kreyòl ap prezante:
Maurice Sixto, gran lodyansè devan Letènèl
Yon fim Arnold Antonin
* * *
Brase lide ant Doktè Janbatis ak patisipan yo sou Sixto
Samdi 18 me 2019 * 5:00 pm tapan – 8:45 pm
Brooklyn College, Woody Tanger Auditorium
2900 Bedford Avenue
Brooklyn, NY
Pou enskri: Rele (917)538-6130 onson Voye Imèl nan: espaskreyol@gmail.com
Espas Kreyòl declare
2019 se lane Sixto, Sanba natifnatal
Ote ZabElbok * Ti Sentaniz * Lea Kokoye, elatriye
ESPAS KREYOL
Patnè: HAFECE, Foundation Maurice A.SIxto, Haitian Studies Institute @ Brooklyn College
Toussaint Louverture Cultural Foundation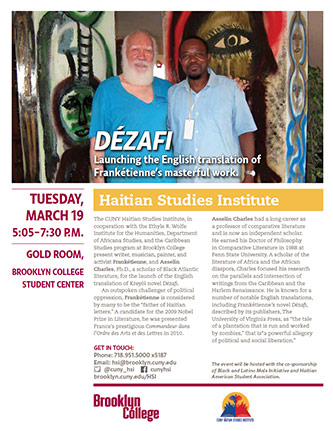 DÉZAFI - Launching the English Translation of Frankétienne's Masterful Work
Tuesday, March 19, 2019
5:05–7:30 p.m.
Gold Room, Student Center
The CUNY Haitian Studies Institute, in cooperation with the Ethyle R. Wolfe Institute for the Humanities, Department of Africana Studies, and the Caribbean Studies program present
Frankétienne - writer, musician, painter, and activist
Asselin Charles, Ph.D. - scholar of Black Atlantic literature
for the launch of the English translation of Kreyòl novel Dézafi.
An outspoken challenger of political oppression, Frankétienne is considered by many to be the "father of Haitian letters." A candidate for the 2009 Nobel Prize in Literature, he was presented France's prestigious Commandeur dans l'Ordre des Arts et des Lettres in 2010. Asselin Charles had a long career as a professor of comparative literature and is now an independent scholar. He earned his Doctor of Philosophy in Comparative Literature in 1988 at Penn State University. A scholar of the literature of Africa and the African diaspora, Charles focused his research on the parallels and intersection of writings from the Caribbean and the Harlem Renaissance. He is known for a number of notable English translations, including Frankétienne's novel Dézafi, described by its publishers, The University of Virginia Press, as "the tale of a plantation that is run and worked by zombies," that is"a powerful allegory of political and social liberation."
Honoring Our Sheroes
Women of Distinction Award Ceremony
Thursday, March 14, 2019
6–8 p.m.
Woody Tanger Auditorium, Brooklyn College Library
Join Assemblymember Rodneyse Bichotte as we celebrate exceptional women in our community. Presenters: Mistress of Ceremonies Farah Louis, Special Presenter Professor Mojúbàolú Olufúnké Okome.
Honorees for 2019:
Dr. Eda Hastick—Education
Anne Gaudet—Lifetime Achievement
Susannah Laskaris—Environmental Activism
Robin Redmon—Community Engagement
Regine Roumain—Arts and Entertainment
Victoria Stennett—Business and Enterpreunership
RVSP in advance via e-mail or telephone, 718.940.0428. Space is limited. For more information about this even or any community concern, contact Assemblymember Bichotte's district office.
My Soul Is in Haiti: Protestantism in the Haitian Diaspora of the Bahamas
Tuesday, February 26, 2019
3:40–5 p.m.
Woody Tanger Auditorium, Brooklyn College Library
Haitian-American anthropologist and author Bertin M. Louis Jr, will discuss his latest book, My Soul Is in Haiti: Protestantism in the Haitian Diaspora of the Bahamas.
Join Professor Louis for an evening of conversation on the topic of religion and the growth of forms of Protestantism in the Haitian communities of the Bahamas. Louis will cover the topics of the religious identity in the Bahamas and analyze the reasons why Protestantism appealed to the Haitian diaspora in the region.
Annual Caribbean Writers Series
Featuring Keynote Speaker Dr. Gina Athena Ulysse
Thursday, February 7, 2019
5-7 p.m.
Little Theater at St. Johns University
8000 Utopia Pkwy, Jamaica, NY
Haitian-American Anthologist, Poet, Feminist, Performance Artist, Activist and Professor of Anthropology at Wesleyan University will be giving a talk within the interdisciplinary & intersectional field of Haitian Studies.