Events / Trips
Join BLL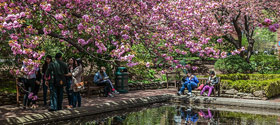 Our spring semester begins February 3!
Be a part of the Brooklyn Lifelong Learning community.
We are planning more fun and exciting trips! We will be posting them soon!. You must be a member of Brooklyn Lifelong Learning to participate.
A Spring Day in The Bronx (City Island)—Tuesday, May 12
Tour the Bartow-Pell Mansion Museum and Carriage House, a 19th-century landmark in Pelham Bay Park. Stroll the gardens and grounds. After lunch on City Island, we will explore the City Island Nautical Museum to find out more about this historical island. Please note: Only the first floor of the mansion is accessible. There are five steps leading up to the entrance. Price: $86, includes transportation, lunch, gratuities, and museum admission. Cutoff for registration is March 10.