Events / Trips
Trips
You must be a member of Brooklyn Lifelong Learning to join our trips. Please call the BLL office, 718.951.5647.
Sugarloaf Craft Fair
Sunday, November 12, 2017
For 40 years this craft festival has been the nation's best- featuring local and national artisans. We go the Fair, then leave to have a relaxing lunch and then return to the Fair for more shopping. NOTE: 40 members only - reserve soon!
Cost: $65 Includes transportation, admission, lunch and gratuities
Depart from Brooklyn College at 8:30 a.m. Return approximately 7:00 p.m.
Reservations required by October 13, 2017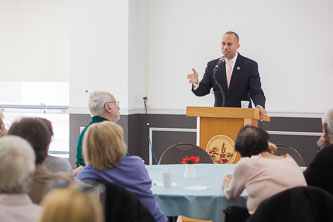 Visit from Congressman Hakeem Jefferies
Monday, December 4, 2017
Congressman Hakeem Jeffries speaking at the End-Of-Semester Brown Bag Lunch from Brooklyn Lifelong Learning on Monday December 4 in the Student Center at Brooklyn College. There were approximately 50 interested participants and lots of good questions for the Congressman.
The Coasters Christmas Show, "Home for the Holidays" at Mount Airy Casino
Tuesday, December 5, 2017
So popular, this is our 4th annual trip! Travel by motorcoach to Mount Airy Casino located in Mount Pocono, PA. Enjoy an electrifying performance that is sure to get you into the holiday spirit.
Cost: $70 Includes transportation, buffet lunch, $15 slot pay and the holiday show
Depart from Brooklyn College at 8:45 a.m. Return approximately 9:00 p.m.
Reservations required by November 13, 2017