Bulletins / News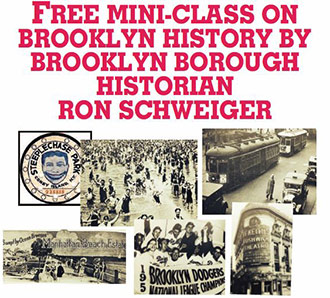 Brooklyn History Mini-Class
Brooklyn Lifelong Learning presents a free mini-class on Brooklyn history By Brooklyn Borough historian Ron schweiger.
Tuesday, September 8, 2015
12:30 - 2 p.m.
Room 3139 Boylan Hall
Brooklyn College
2900 Bedford Avenue
More Information
BLL@brooklyn.cuny.edu
718.951.5647
This is just a small sample of the program at Brooklyn Lifelong Learning, a non-profit organization located at Brooklyn College for older adults who want to keep their minds alive. At this session, you'll learn more about our stimulating program of classes, trips and cultural activities. Join us!