Learning Center Employment Opportunities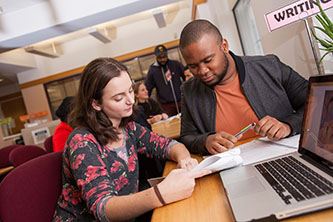 Employment Opportunities
The Learning Center is looking for interested applicants to fill several positions. Each position has its own unique set of qualifications and requirements that candidates must successfully meet and fulfill. Questions regarding any of the information presented herein should sent via e-mail.
Tutoring Positions for College Assistants, Federal Work-Study Students, and Volunteers
The Learning Center is always on the lookout for new talent to fill tutoring positions for a variety of courses and welcomes applications from interested undergraduates and graduates. Applicants must possess an A grade in the course(s) they hope to tutor as well as a minimum of 50 credits completed, and an overall minimum GPA of 3.20.
How to Apply
If you are interested in working for the Learning Center, download the Learning Center Employment Application (pdf), fill it out, and return it to us along with an unofficial copy of your undergraduate transcript (which can be accessed through your CUNYfirst account) via e-mail. We will contact you to discuss next steps and schedule an interview in the event of a hiring opportunity.
The Learning Center also accepts applications from students seeking volunteer positions as well as those eligible for Federal Work-Study (FWS).