Want to Be a Tutor?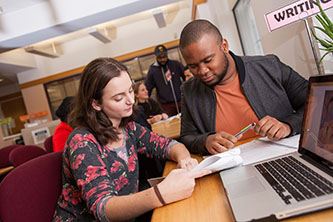 Employment Opportunities
The Learning Center accepts applications from potential tutors year-round. Our tutors have completed a minimum of 50 credits and have earned an A in the course(s) they wish tutor. We hire on a rolling basis based upon our needs.
We encourage all interested students to visit 1300 Boylan Hall and pick up an application or download the Learning Center Employment Application (pdf).
When submitting the application, attach an unofficial copy of your undergraduate transcript(s); unofficial transcripts for Brooklyn College and other CUNY institutions can be accessed via your CUNYfirst account. We will contact you and schedule an interview in the event of a hiring opportunity.
The Learning Center also accepts applications from students seeking volunteer positions as well as those eligible for Federal Work-Study (FWS).