Events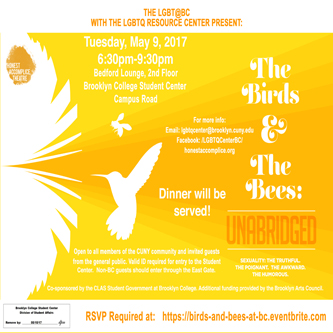 The Trans Literacy Project
In Honor of Transgender Day of Visibility
Thursday, March 30, 2017
12:30 to 2 p.m.
Occidental Lounge, 5th floor, Student Center
The Trans Literacy Project is a video series created and produced by Honest Accomplice Theatre to provide communities with an accessible education about Tran's experiences, from the perspective of Tran's people. Addressing topics such as pronoun usage, acceptable questions, and how to be an ally, the series is a valuable resource for Tran's people to both ease the burden of education, and create a space to explore issues facing the Trans community. HAT surveyed hundreds of people to find the topics most Tran's people wanted to cover, learn what our allies wanted to hear about.
Lunch will be served
Open to all members of the Brooklyn College community w/valid id.
For more information, contact: lgbtqcenter@brooklyn.cuny.edu
September Events 2018
Welcome Back Meeting
Thursday, September 6th, 2018
12:30 to 2 p.m.
Glenwood Lounge, Student Center (2nd Fl.)
Join the LGBTA for lunch at our annual Fall welcome back meeting. Come and meet the new executive board for 2018-19 and hear about upcoming events for the academic year.
BC Diversity Awareness Fair: Culture Fest
Thursday, September 13th, 2018
12:15 to 2 p.m.
West Squad
Join the LGBTA and the LGBTQ Resource Center at the college's annual diversity fair. Come & learn more about world culture's through food, music and art. We'll be presenting a history of the rainbow flag in advance of LGBT History Month.
Honest Accomplice Theatre (HAT) presents ReconFIGUREd
Thursday, September 27th, 2018
6:30 to 9 p.m.
Bedford Lounge, Student Center (2nd fl.)

We live in our bodies. They enable us, constrain us and sometimes define us. However, our personal interactions with our bodies are silenced by the constant parade of women and trans people as objects of desire or fetish. ReconFIGUREd gives space to examine "the body" with a fresh eye and unveil the realities of what it means to live in and with these bodies.

October Events 2018
Living History: Come Out and Celebrate LGBT History Month @ BC
LGBTQ Center Open House
Thursday October 4th, 2018
219 Student Center & Glenwood Lounge
Milk and Cookies- 3 to 9:30 p.m.
Back to back screenings of Milk and Love, Simon.
National Coming Out Day
Thursday, October 11th, 2018
Various Locations, Student Center
11 to 4 p.m. Resource Fair, Amersfort Lounge
12:30 to 2 p.m. Out at Work, Bedford Lounge

For National Coming Out Day, HAT & the Magner Career Center will facilitate a discussion centered on the topic of being out at work. HAT will be presenting an excerpt from their new work, A Chip on Her Shoulder.
2:30 to 5:30 p.m. Devising with HAT, Glenwood Lounge
Go Behind the scenes with HAT & learn the basics of how they create their original shows & media. This interactive workshop will provide an overview of HAT's creative process & allow participants to partake in devising exercises. No previous theater experience needed, all are welcome.
6:30 to 10:00 p.m. Living History Dinner, Bedford Lounge
LGBTQ+ students & faculty share their stories in an interview format.
Honest Accomplice Theatre (HAT) presents Birds and the Bees: Unabridged
Thursday, October 18th, 2018
6:30 to 10 p.m.
Bedford Lounge, Student Center (2nd fl.)
We're all taught anatomy and shown sexuality in the media, but what happens when those definitions and explanations are not enough? Out play explores the unique-yet interwoven- life circumstances of eight women and trans people forced to confront their own shifting identities, struggles, and confusions surrounding their own sexuality.
Halloween Film Screaming
Wednesday, October 31th, 2018-All Day
LGBTQ Resource Center, 219 Student Center
Follow Our Facebook page for additional event details and upcoming events.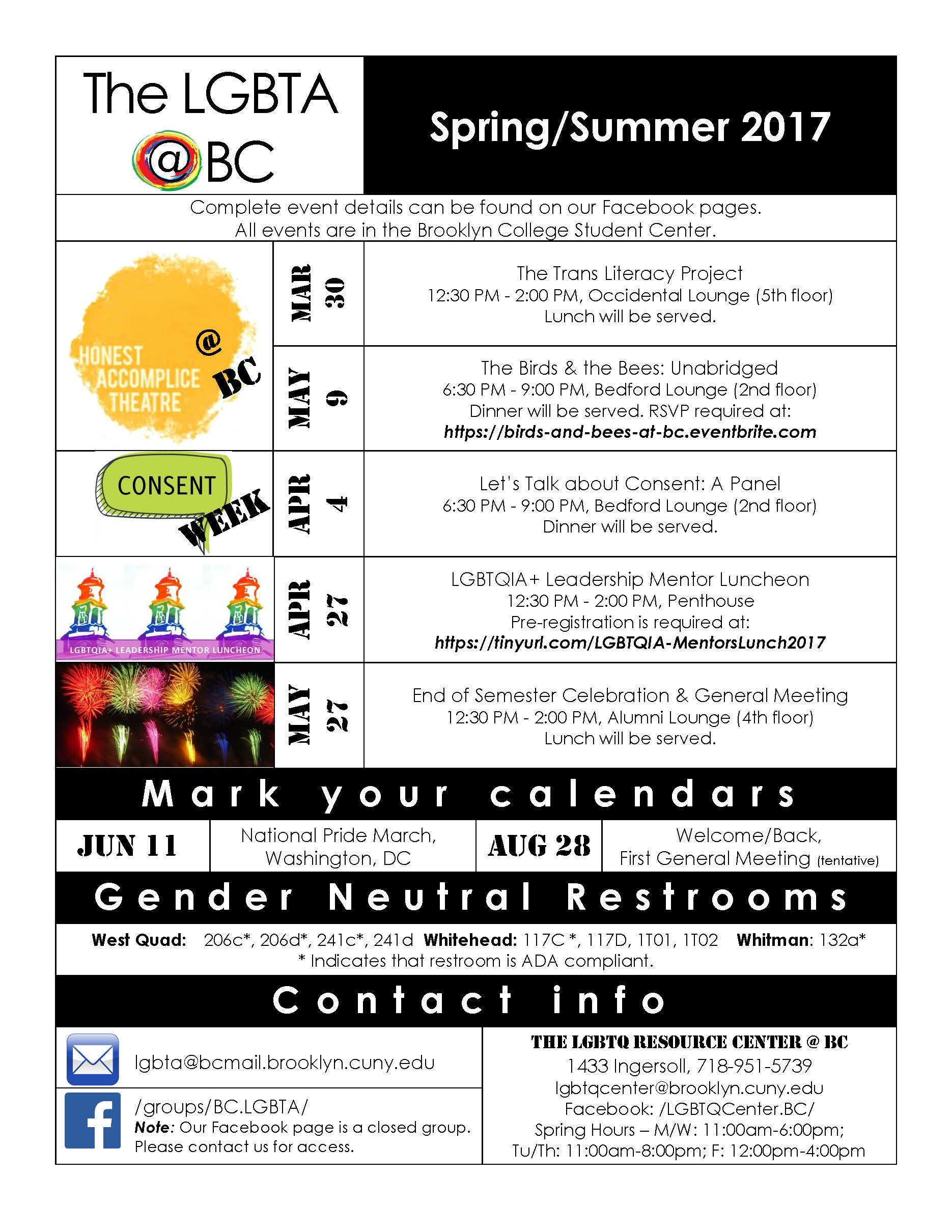 Let's Talk about Consent: A Panel
Tuesday, April 4, 2017
6:30 to 9 p.m.
Bedford Lounge, 2nd Floor, Student Center
LGBTQIA + Leadership Mentor Luncheon
Thursday, April 27, 2017
12:30 to 2 p.m.
Penthouse, Student Center
The Birds & the Bees: Unabridged
Tuesday, May 9, 2017
12:30 to 2 p.m.
Bedford Lounge, 2nd Floor, Student Center
(RSVP Required)
End of Semester Celebration & General Meeting
Saturday, May 27, 2017
12:30 to 2 p.m.
Alumni Lounge, 4th Floor, Student Center
Lunch will be served