Events
The Trans Literacy Project
In Honor of Transgender Day of Visibility
Thursday, March 30, 2017
12:30 to 2 p.m.
Occidental Lounge, 5th floor, Student Center
The Trans Literacy Project is a video series created and produced by Honest Accomplice Theatre to provide communities with an accessible education about Tran's experiences, from the perspective of Tran's people. Addressing topics such as pronoun usage, acceptable questions, and how to be an ally, the series is a valuable resource for Tran's people to both ease the burden of education, and create a space to explore issues facing the Trans community. HAT surveyed hundreds of people to find the topics most Tran's people wanted to cover, learn what our allies wanted to hear about.
Lunch will be served
Open to all members of the Brooklyn College community w/valid id.
For more information, contact: lgbtqcenter@brooklyn.cuny.edu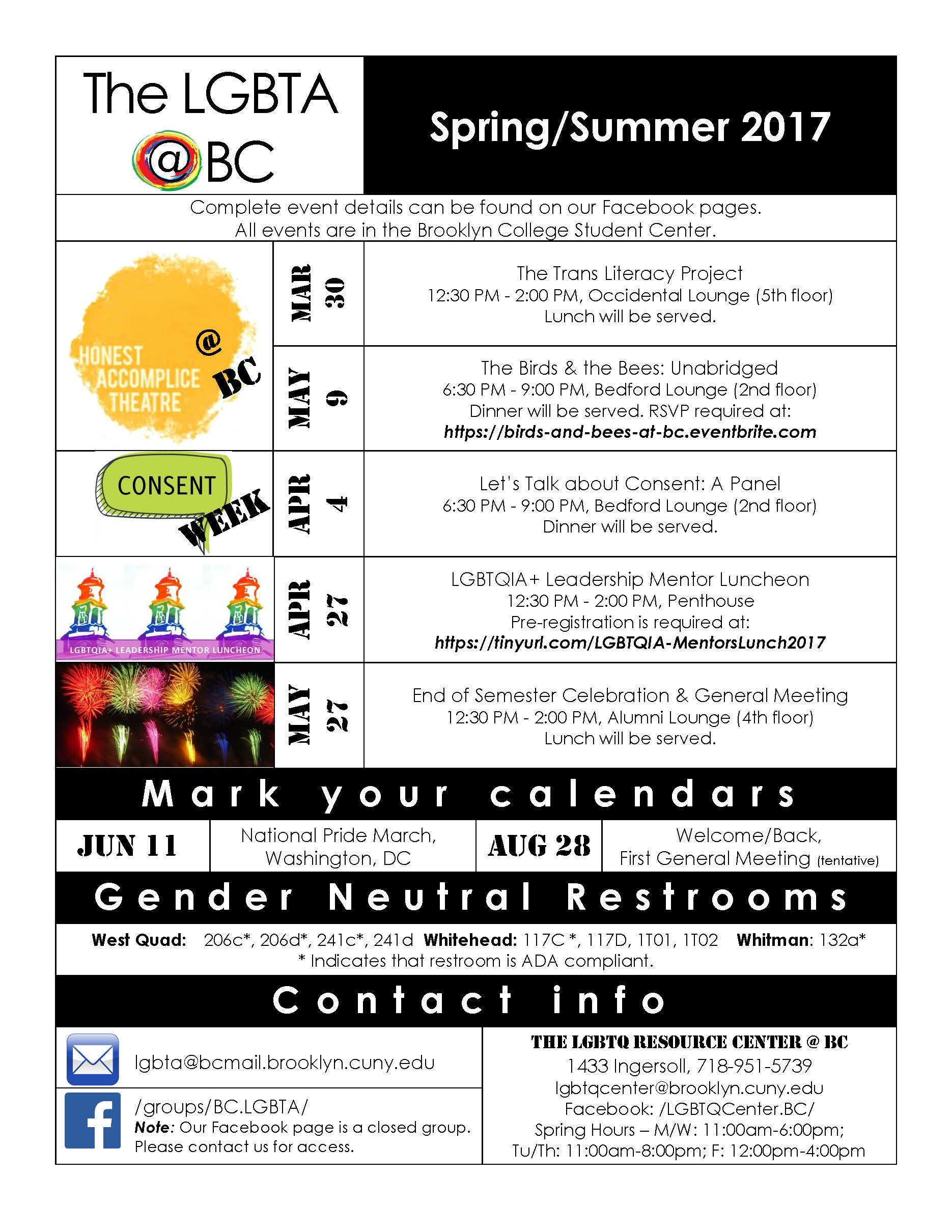 Let's Talk about Consent: A Panel
Tuesday, April 4, 2017
6:30 to 9 p.m.
Bedford Lounge, 2nd Floor, Student Center
LGBTQIA + Leadership Mentor Luncheon
Thursday, April 27, 2017
12:30 to 2 p.m.
Penthouse, Student Center
The Birds & the Bees: Unabridged
Tuesday, May 9, 2017
12:30 to 2 p.m.
Bedford Lounge, 2nd Floor, Student Center
(RSVP Required)
End of Semester Celebration & General Meeting
Saturday, May 27, 2017
12:30 to 2 p.m.
Alumni Lounge, 4th Floor, Student Center
Lunch will be served