Faculty
The unusual pace of work at the institute is made possible by the total immersion and total dedication on the part of both students and faculty. All programs are team-taught by experienced instructors, with hourly rotation of staff providing for exposure to a variety of approaches. In addition to our low student-faculty ratio, each student benefits from an assigned adviser and unparalleled access to our entire staff. The principles of team-teaching, individualized instruction, and a very carefully developed structure are some of the major ingredients that have made the programs so successful. The Latin/Greek Institute provides a unique and exciting intellectual environment for all its participants.
There are six to ten faculty members teaching in the Institute each summer.
Caleb Dance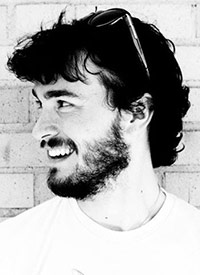 Caleb Dance is completing his doctorate at Columbia University in spring 2014 with a dissertation on "Literary Laughter in Augustan Poetry." His interests in Classical literature include satire, love elegy, pastoral and ancient literary criticism. He completed his B.A. at Tulane University in New Orleans, where he also cultivated interests in musical education and cycling. Originally hailing from Denver, Dance appreciates just about any excuse to spend time under open skies. Although he never studied at the institute, he has several friends who have attended and/or taught here, and he is thrilled to be joining the party. He has taught both Latin and Greek throughout his graduate school career and currently serves as an instructor for a section of Columbia University's "Literature Humanities" core curriculum course.
Patrick Glauthier
Patrick Glauthier's passion for Latin was first kindled here at the institute. While he was a student in the basic Latin program, he fell in love not only with the language and literature of ancient Rome, but with the institute itself, as both a unique place and an unrivaled way to learn Latin. This will be his third year as an instructor.

Glauthier received a Ph.D. in classics from Columbia University and is currently a lecturer in classical studies at the University of Pennsylvania. Most of his work focuses on Latin literature of the late Republic and early Empire, especially poetic texts, and he is particularly interested in how Roman authors creatively engage or manipulate ancient scientific and/or natural-philosophical theory. (This means that he gets to write about things like astrology, poisonous snakes, outbursts of plague and volcanic eruptions, just to name a few exciting topics.)

When he is not a slave to the classics machine, Glauthier has strong feelings about paper mâché, scissors and glue, food-based reality television, and an elephant named Lucy.
Hardy Hansen
This will be my 37th summer teaching in the Greek Institute. I wouldn't dream of spending a summer any other way.
After getting a B.A. in Classics from Princeton and an M.A. and Ph.D. from Harvard, I spent most of my career at Brooklyn College. I've now retired from Brooklyn and from directing the Institute--but not from teaching.
My LGI career began when Floyd Moreland, who founded the Latin Institute in 1973, decided to add a program in Greek. Gerry Quinn and I agreed to write the textbook. In the summer of 1978 we launched the Greek program, after an unbelievably intense ten months of drafting and re-drafting every word in the book. By then I had become an Institute veteran. Gerry and I had pre-taught every single lesson for an audience consisting of Floyd, Rita Fleischer, and Stephanie Russell, all seasoned instructors in the Latin program. They were critical in all the right ways. More than once, we had to repeat a class to get the timing right or to make sure that we were completely clear and consistent. I learned a lot about teaching, and I came to understand the collaborative enterprise that is the heart and soul of the Institute.
Sometimes people ask me if I don't get tired of teaching the same thing year after year. No, I don't. It took me a while to figure out why, but it's really simple. Every year the Institute is a completely new challenge. The students arrive, knowing little or nothing of the language. Ten weeks later, they have read authors like Plato and Euripides, Cicero and Vergil, at a scholarly level which few students ever attain. Just as important, they have learned what you can accomplish when you give everything to a task. We know where the students will be at the end of those 50 days. Seeing them arrive there is the richest reward for our effort.
Just as Gerry Quinn and I pre­-taught everything before that first summer, the faculty will be meeting this spring to pre-teach the material and prepare ourselves for Institute classes. It still takes plenty of preparation, even if you've done it 36 times before.
My main summer recreation is walking all over New York City. I need the exercise, both before and after a day at the LGI. My other extracurricular concern is tapirs.
Katherine Lu Hsu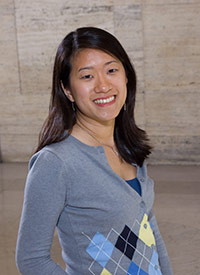 Katherine Lu Hsu is an assistant professor of classics at Brooklyn College. She was a student in Basic Greek and has taught at the institute for three summers; 2014 marks her first summer as director. She graduated magna cum laude with her A.B. in classics from Princeton and received her Ph.D. from the University of Michigan in 2013. Her dissertation, Heracles and Heroic Disaster, examines the shifting representations of Heracles committing acts of rage, lust, and murder in Greek art and literature, from Homer to Apollonius. In addition to mythology and heroism, her academic interests include Greek tragedy, Late Antiquity and papyrology. She enjoys singing, playing the piano and guitar, and going to the zoo.
Yekaterina Kosova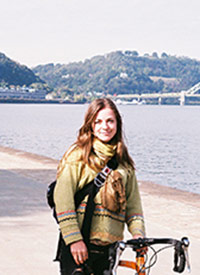 Yekaterina (Katia) Kosova is a three-time alumna of the Latin/Greek Institute, where she has also enjoyed teaching Greek and Latin. She holds a B.A. with honors from UC Berkeley in rhetoric and philosophy and an M.A. in creative writing from San Francisco State University. She has studied classics at New York University, where her interests have included the history and philosophy of science, Mediterranean studies and the relationship of the classical world to the Near East. Currently she is focusing on writing fiction while spending her free time hiking, bicycling and learning printmaking.
Aramis López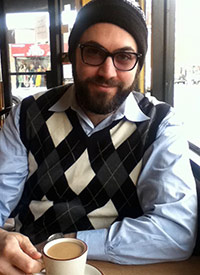 Aramis López is a Ph.D. student in classics at the CUNY Graduate Center. He is also an adjunct at Hunter College, where he teaches Ancient Greek and classics in translation. His research interests include Hellenistic philosophy and poetry as well as Greek metrics. He is also interested in the relationship and possible contacts between Greek and Indian philosophy. He is writing his dissertation on the Greek historian of philosophy, Diogenes Laertius. This will be his third summer teaching at the institute.
Jeremy March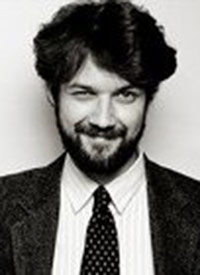 Jeremy March is a graduate of the 2000 Upper-level Latin Institute. He is currently a Ph.D. student at the CUNY Graduate Center, having earned an M.A. in classics at the Graduate Center and a B.A. in classics and philosophy from the University of Mary Washington. His interests lie primarily in Greek language and linguistics, Pindar, stylometry and applications of technology in the humanities. Combining his love of classics and technology he developed philolog.us, a Website and iPhone app which offers an interface to the Greek and Latin lexica originally digitized by the Perseus Project. As a former student of the Latin/Greek Institute, March believes the intensive study that the institute demands will have a lasting and rewarding impact on all who undertake it.
Akiva Saunders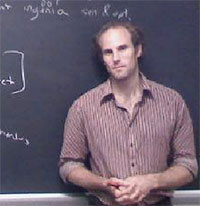 Akiva Saunders began his Latin and Greek studies at the institute and has been a teacher here since 2005. During the rest of the year, he is a pioneer in teaching Latin to the very young; every week he teaches Latin to 450 students in grades 2–6 in the New York City public school system.

His B.A. in linguistics is from Reed College and his M.A. in religion is from Hebrew University, Jerusalem. His training in classics is from the institute and course work at Columbia University. Along the way he attended rabbinical school at the Center for Torah Study and was a fellow at the Shalom Hartman Institute for Talmudic Studies, both in Jerusalem. In his spare time he enjoys basketball and hiking in the backcountry.
Jeff Ulrich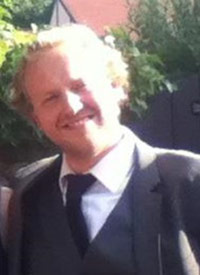 Jeff Ulrich is a fourth-year graduate student in classical studies at the University of Pennsylvania. Ulrich was first a student at the institute in the Upper-level Latin Program, where he had no clue what he was getting himself into. Since then, he has taken the Upper-level Greek Program and taught for one summer in the Basic Latin Program. He is currently writing a dissertation on the role of the mirror as a metaphor for identity and narrative in the works of Apuleius. He is focusing primarily on how Platonic conceptions of the mirror and other tools of imitation are translated from the Greek language and context and refracted through a Roman lens. He spends most of his time fiddling with Latin etymology and potential Greek roots, trying to make something come from nothing. In the rest of his free time, he tinkers with a guitar.
Alice Phillips Walden
Alice Phillips Walden is completing a Ph.D. in philosophy at Cornell University. Her interests are mainly in the history of philosophy, in particular the ancient ethical tradition and its later reception. Her dissertation shows how one ancient school, the Stoics, used their conception of self-sufficiency to answer questions about moral deliberation, value, the virtues and the good life that their predecessors had struggled with. She is also interested in early modern philosophy, the philosophy of religion, the philosophy of art (especially narrative art) and what we owe to non-humans. As an alumna of the Basic Greek and Latin and Upper-level Greek programs, she is delighted to be teaching Latin for the second time this summer.