Magner Career Center Class Notes
For over a decade, the Brooklyn College Magner Career Center—founded by Marge Magner '69—has played a pivotal role in forging relationships between successful alumni and high-achieving students, resulting in our students securing career opportunities at some of the most prestigious companies in the world. These experiences inspire the lifelong connections that uphold the college's traditions of engagement, generosity, and service. Here is a snapshot of alumni whose dedication to their alma mater provided a path to success to the generations of students who follow in their footsteps.
Lorraine Laighold '64, senior vice president at Lexington Group at Union Bank of Switzerland (UBS), certified financial planner, member of the Board of Trustees for the Brooklyn College Foundation, and founder of the Brooklyn College Lorraine Laighold Summer Leadership Academy, established an internship pipeline between the college and UBS. Senior Luiz Cazares is the most recent student to secure an internship at UBS. Read more about Laighold's work.
Elliot Tannenbaum '73, a retired partner at Ernst & Young LLP (EY) and retired managing director at Morgan Stanley, continues to serve as a mentor to many Brooklyn College students. He is responsible for increasing EY recruiting efforts on campus, which previously did not exist. As a result, more than 15 students have landed internships and full-time positions at EY.
Denise Koster '76, talent acquisition specialist at the Federal Reserve Bank, coordinated a company visit specifically for the college's student veterans. The presentation given was focused on job searching techniques and post-military service. One student, Reul James, landed a part-time position with the Federal Reserve.
Adria Alpert Romm '77, chief human resources and global diversity officer at Discovery Communications, mentors Brooklyn College students and has participated in numerous career panels to share her experience and offer career guidance. Romm helped arrange a visit to Discovery Communications and for a recruiter to participate on a panel. Through her efforts, Reanisha Bartholomew '17 secured an internship at Discovery. After graduation, Bartholomew was offered a full-time position at Discovery as the new commercial operations coordinator for the TLC Network.
Gerard Passaro '81 M.S., senior vice president of network and technical operations at the Madison Square Garden (MSG) Networks, coordinated a company visit. Students had the opportunity to tour the studio facility and participate in an informative career Q&A session. They met several Brooklyn College alumni who work in television production and post-production. Students also met alumnus and vice president of marketing partnerships Steve Mars '82. Students who attended were specifically interested in television production and marketing careers. Several discussed combining their interest in TV production with their passion for sports. Additionally, Nigel Markoni '16 returned to MSG Networks to shadow Mars for one full business day. Markoni sat in on meetings, conference calls, and learned more about chasing his dream career in sports marketing.
Anthony Valentin '83, a public school history teacher, has been mentoring Brooklyn College students seeking careers in education since 2002.
Anthony Castellanos '84, partner and director of the board at KPMG LLP, and trustee of the Brooklyn College Foundation board, mentored Craig Henry '11 (who is now employed full time at KPMG), Fanny Rodriguez '11 (an accountant at the New York State Insurance Fund), Kelly Alvarez '18, and Victoria Hernandez '19 (who secured an internship at KPMG for winter 2017 which led to a full time offer) in the past few years. Castellanos was responsible for increasing KPMG recruiting efforts on campus, which really did not exist before. As a result, more than 20 students have landed internships and full-time positions at KPMG. Castellanos also returns to campus periodically to meet with student groups selected by the Magner Career Center and the Student Leadership Council in the Murray Koppelman School of Business to discuss careers in finance and share the benefit of his experience with them. Read more about Castellanos' efforts.
Artie Feinstein '85, '94 M.S., executive recruiter at Northwell Health, has been very actively involved with the Magner Career Center in the past five years. He has mentored several students, participated in numerous panels, and conducted several workshops on how students should prepare for and obtain their first job after graduation.
Anthony Scala '86, chief financial officer of communications company PCI Media Impact, helped two students secure internships at his organization: Medina Lukolic '17 and Mohammad Bazar '17.
Dr. Michael A. Joseph '94, associate professor and vice chair of the Department of Epidemiology and Biostatistics at SUNY Downstate's School of Public Health, is one of the Magner Center's most dedicated and involved volunteers. Since 2009, Dr. Joseph has been a consistent and constant source of mentorship and support to Nadine Alexander '11, on her journey to becoming an epidemiologist. Additionally, Dr. Joseph has shared his educational experiences in public health and offered career advice by serving as a panelist on sessions sponsored by the center such as ""Finding Your First Job in the Health Sciences," "Internships in the Sciences and Research," "Secrets of the Successful Latino and Black Males Panel," "Careers for Health and Nutrition Majors," and "Careers in Health Outside of Pre-med." His involvement does not end once he leaves campus. He makes himself readily available to students. This commitment has led to several students participating in internship opportunities with the Brooklyn Health Disparities Center/Arthur Ashe Institute, or expressing an interest in Downstate's public health degree programs.
Terrance Stroud '98, serves of the board of directors for the Brooklyn College Alumni Association and is a director at New York City's Department of Housing Preservation and Development. Stroud worked diligently with the Magner Career Center's Pre-Law Career Program and collaborated on numerous events with the center to promote and support the partnership he created between the college and his alma mater Indiana University Maurer School of Law. The partnership is an education pipeline for Brooklyn College students that provides them with guaranteed scholarship and mentoring opportunities. As a result of his efforts, two Brooklyn College students will be studying at the Indiana School of Law, a top 10 public law school, in fall 2017 on scholarship: valedictorian Kevin LaMonte Jones '17 and Ben Adams '17.
Tom Sunshine '99, director of technology at Centric Digital, continues to mentor Connie Tejada '15, whom he helped obtain an internship at advertising agency Batten, Barton, Durstine, and Osborn (BBDO), and then a full-time position in advertising.
Shelley Worrell '00, founder of the Caribbean cultural center, CaribBeing, provided internship opportunities for several students and alumni, including Chrystelle Henri '13 (at Kings Theater), Nicole Casamento '15 (at the Art Dealers Association of America), and Monique Campbell '14 (at a local ad agency).
Stan Grinberg '04, director of ad developer relations at Google, serves as a mentor to the college's computer science majors. He facilitated a company visit to Google. He is a mentor to senior Chava Shulman, director of Women's Mentorship Initiative and member of the Computer Science Club.
Jeffrey L. Wilson '04, senior editor at PCMag.com, connected Anna Molly '17 M.S., with an executive on the marketing team of his company, leading to her securing a position as the new marketing manager.
Raphael Miranda '06, meteorologist at NBCUniversal/WNBC, served as alumni mentor for Brooklyn College senior Hope Osemwenkhae '18, whom he helped land an internship within his department.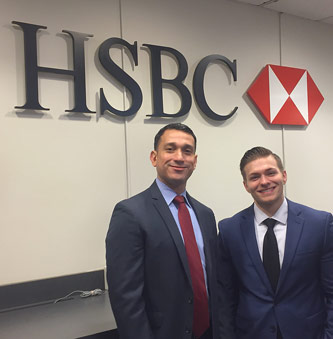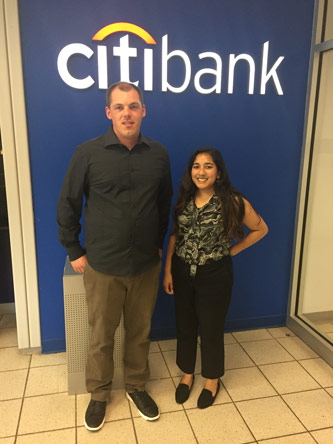 Daniel Menendez '08, vice president and senior branch manager at HSBC, helped senior Sebastian Komuda secure a paid summer internship at the bank.
Annais Morales '08, senior producer at news station NY1, mentors students who are interested in pursuing a career in journalism. She has also provided job-shadowing opportunities for current students, including Derek Norman '17, former editor of the Brooklyn College Kingsman, and Justin Monsanto.
Farjana Rohman '09, a vice president at Citigroup, assisted John Morrison '17 land a full-time position at her company.
Barbara Theus '11, an account executive at CBS Radio, worked with the Magner Career Center to coordinate a company visit for students interested in careers in radio.
Shaina Brander '14, product controller at JPMorgan Chase, has participated in career panels and networking events, and has mentored students. She also assisted senior Kelly Alvarez in obtaining an internship at her company. Steve Grande '96, executive director of human resources at JPMorgan Chase, also helped Alvarez prepare for her interviews.
Dionne Andino '15, former Magner Career Center stipend winner and corporate controller for the global hospitality company One Group, helped Omar Ilyas '14 secure a full-time position, and helped Danielle Burke '17 secure a paid internship, at her company this past year.
Renee Blumenfrucht '15, an operations analyst at Goldman Sachs, a position obtained with the help of Leonardo Rizzi '93, hosted a company visit, participated in two alumni panels, spoke to students over the phone regarding careers, and helped students review their résumés.
Daniel Alvarez '17, a technology analyst at JPMorgan Chase, said that he could not have obtained his position at the company if not for the mentorship, advice, resources, and dedication of Leonid Bystrik '98 M.S., who is a vice president and infrastructure development lead at JPMorgan Chase. "To be honest, I don't think that JPMorgan would have started recruiting from BC without the help of Leonid. With his help, there's now a strong pipeline from BC to JPMC and we couldn't be more grateful for it." Alvarez was featured in the college's 2017 "Journey to Commencement" video.