QR Fellows
Beliz Hazan
Beliz is a doctoral candidate in the Cognition, Brain and Behavior program at the CUNY Graduate Center. Her research focuses on the use of infographics to evaluate and possibly treat cognitive dysfunction in schizophrenia. She primarily serves as a lab instructor of statistics for behavioral sciences and experimental psychology at Brooklyn College. Last semester she taught cognitive psychology at York College. As a lab instructor, she observed that for some students, the emphasis on math in statistics poses a challenge and students become less engaged as the semester progresses. Therefore, she has been seeking various approaches to increase students' motivation and engagement along with innovative methods to teach the fundamentals. She and her colleagues have been conducting a pedagogical study entitled: Making Psychology Statistics Fun: Gamification of an Undergraduate Psychology Statistics Lab Course under the supervision of Dr. Laura Rabin to understand whether gamified learning environments can improve student interest, motivation, and performance in difficult courses such as psychology statistics. On the basis of her teaching and educational research experiences, as a Quantitative Reasoning Fellow, Beliz is willing to assist faculty in designing contextualized user-centered classrooms to engage and motivate the students and improve their course-specific quantitative skills in various academic departments at Brooklyn College.
Eric Pesner
Erik is a doctoral candidate in the Industrial-Organizational Psychology PhD program at The Graduate Center. His current research interests include the modeling of interdependency in teams, the measurement of human performance, and the study of ethical decision-making in organizations. He has taught several courses in psychology at Baruch College over the past four years and enjoys mentoring students who hold professional aspirations in I-O Psychology.
In his work as a QRF fellow at Brooklyn College, Erik hopes to build meaningful relationships with both faculty and students. His goals are to utilize a strong background in statistics to design quantitative reasoning assignments for professors to implement in their courses, to work closely with students to develop their quantitative skills, and to collaborate with peers on exciting projects that tap into shared interests.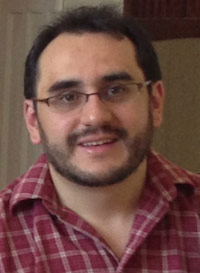 Pablo Muñoz
Pablo is a Ph.D. student at the CUNY Graduate Center. His research is on artificial intelligence with a focus on computer vision and human-computer interaction. Pablo wants to extend existing algorithms that are used in recognizing places to allow robots to localize themselves when visiting a known environment. Recently, Pablo was the project leader of an Assistive Indoor Navigation system developed at the Robotics Lab at the City College of New York, which was successfully presented at the U.S. Department of Transportation.
Pablo's QR activities focus on helping students develop the skills to recognize faulty conclusions derived from ambiguous or complex information. His goal is to prepare students to navigate a world where it is very easy to find claims that are not supported by facts (e.g., presidential candidates' statements).\
His other interests include exploring how data can be better visualized to effectively convey messages. For instance, he has designed activities that explore the use of color in data visualization using maps.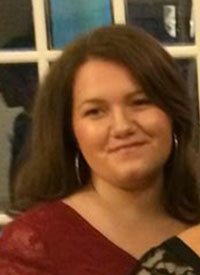 Alla Chavarga
Alla is a doctoral candidate in the Graduate Center's Cognition, Brain & Behavior Program, studying visual neuroscience and psychophysics. Her primary research interests are human color and spatial vision as they relate to object recognition. She primarily teaches Statistics and Research Methods for psychology majors at both the undergraduate and graduate levels.
In her work as a Quantitative Reasoning Fellow, she has created quantitative activities for use in courses throughout the liberal arts curriculum, worked closely with faculty to adapt these activities to their specific course content, and has given targeted QR instruction as a guest speaker for several courses in the School of Education. As a team-based learning-trained statistics instructor, Alla's ultimate goal as a fellow is to create engaging and interactive applications of QR that promote numeracy for all students, regardless of mathematics background.
Nicholas R. Nelson
Nicholas R. Nelson holds degrees from the University of Rochester and Brooklyn College, where his teachers included Morton Subotnik, Jason Eckardt, David DelTredici, and George Brunner. He has been in residence with numerous ensembles, including Ensemble Moto Perpetuo, the Brooklyn College Conservatory Orchestra under George Rothman, and the ConTempo ensemble of Brooklyn College under Ursula Oppens, and has also collaborated with the Remarkable Theater Brigade under Monica Harte who produced the New York City premiere of his first opera, as well as the CYGNUS ensemble, The East Coast Contemporary Ensemble (ECCE) and Ensemble Moto Perpetuo. His pieces have been premiered on the Edinburgh Fringe Festival, the bi-annual International Electro-Acoustic Music Festival, the Society for Electro-Acoustic Music (SEAMUS) national conference in 2011, and most recently the "Etchings" festival in Auvillar, France.
As a sought-after technologist, Nelson has provided technological and musical design for Jason Eckhardt, Kevin James of the [kaj] ensemble, John Eaton, and Amir Shpilman of Ensemble Moto Perpetuo. In addition to electro-acoustic music, Nicholas also provides sound design for theater and film. Shows for which he has designed sound have appeared on the New York, New Orleans, Prague and Hong Kong Fringe Festivals, and the Big Apple Film and City View film festivals in New York City. Currently a doctoral candidate at the CUNY Graduate Center, Nelson's research interests include performer / electronics interaction, machine listening, and interface design.