Stonewall 50 at Brooklyn College
June 2019 marks the 50th anniversary of the Stonewall riots in which members of the LGBT community rebelled against police raids at Stonewall Inn in Greenwich Village. In commemoration, the following events are being planned both on Brooklyn College's campus and throughout New York City.
Researchers can review the library's collection of books, ebooks, and databases by viewing the LGBTQ Research Studies Guide. To suggest a title for the library's collection, e-mail Librarian Matthew Harrick.
Fall 2019 Events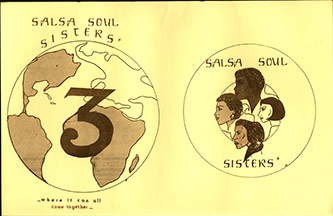 Ongoing—Through November 5
Exhibit: Salsa Soul Sisters
Curatorial Committee:
Shawn(ta) Smith-Cruz, Graduate Center, Lesbian Herstory Archives
Cassandra Grant, Salsa Soul Sisters Collection Donor
Elvis Bakaitis, Graduate Center, Lesbian Herstory Archives
Ruby Lowery, Smith College, Lesbian Herstory Archives Intern
Stahimili Mapp, Salsa Soul Sisters Collection processor
Matthew Harrick, Brooklyn College Library
Salsa Soul Sisters is the first formal organization dedicated to lesbians of color in the United States. On loan from the Lesbian Herstory Archives, the display of Salsa Soul Sisters archival material is evidence of the organizing and activism that gave rise to a community whose work and movement continues to this day.
Exhibit Area, first floor, Brooklyn College Library
Thursday, October 3, 2019
A Conversation With Salsa Soul Sisters
12:50–1:50 p.m.
Woody Tanger Auditorium, Brooklyn College Library
Monday, November 4, 2019
Exhibit Closing Reception
4–6 p.m.
Exhibit Area, first floor, Brooklyn College Library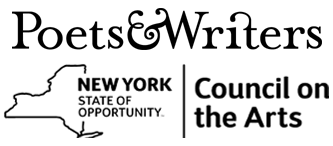 Spring 2019 Events
Tuesday, March 5, 2019
Latina Life Stories Presents
Transmission: A Groundbreaking Story About the Private Parts of Transgender Womanhood, with Barbra Herr
5–7 p.m.
Woody Tanger Auditorium, Brooklyn College Library
From a little, bullied Boricua boy in the Bronx to blond bombshell drag queen to outspoken trans activist: Barbra Herr has lived a whole lotta life. But at 61 years old, she's still a late bloomer. After 25 long years of gender transition, the New York City nightlife legend is ready to be complete. Follow Barbra on her sometimes painful, often funny—but always honest—journey to sexual awakening in this compelling new one-woman show.
(Actress/writer) TV: HABLA: Men (HBO; 2015). Stage: I'm Still Herr (Duplex; BAAD: Bronx Academy of Arts & Dance, FUERZAfest: New York City's first-ever Latino LGBTQ Festival at JdBPAC's "Presenta" series); Los Nutcrackers: A Christmas Carajo (BAAD). Screening Host: Suddenly Last Summer (IFC Center), Fabulous Fakes (Apollo Theater). Cabarets: Sabor Latino at Monster, Escuelita, Sally's Hideaway, Bachelor's Disco, Club Evolution and many more. Film: Mirror, Mirror (1996); Portrait of a Lady (2008); Whatever Happened to Bobby Herr? (2016). Titles: Miss Fire Island (1999), Miss Continental Elite (2005), Miss New York Continental (2012).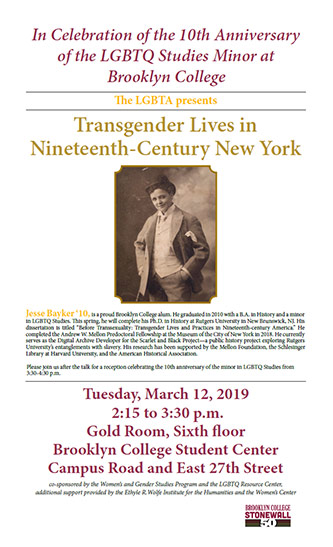 Wednesday, March 12, 2019
In celebration of the 10th anniversary of the LGBTQ Studies minor at Brooklyn College:
Transgender Lives in Nineteenth-Century New York
Jesse Bayker '10 is a proud Brooklyn College alumnus. He graduated in 2010 with a B.A. in history and a minor in LGBTQ studies. This spring, he will complete his Ph.D. in history at Rutgers University in New Brunswick, New Jersey. His dissertation is titled "Before Transsexuality: Transgender Lives and Practices in Nineteenth-Century America." He completed the Andrew W. Mellon Predoctoral Fellowship at the Museum of the City of New York in 2018. He currently serves as the digital archive developer for the Scarlet and Black Project—a public history project exploring Rutgers University's entanglements with slavery. His research has been supported by the Mellon Foundation, the Schlesinger Library at Harvard University, and the American Historical Association.
Talk: 2:15–3:30 p.m., Gold Room, Student Center
Reception: 3:30–4:30 p.m., Gold Room, Student Center
Co-sponsored by the Women's and Gender Studies Program and the LGBTQ Resource Center.
Wednesday, April 3, 2019
Trans Literacy Workshop
The Honest Accomplice Theatre will present and introduce the Trans Literacy Project that focuses on creating classroom practices that foster safe and inclusive spaces for trans students. This workshop is open to all students, staff, and faculty. 
4–6 p.m., Occidental Room, fifth floor, Student Center
Tuesday, April 9, 2019
LGBTQIA+ Mentors' Luncheon
Registration is required for students and will begin on March 5, 2019. E-mail the LGBTQ Resource Center, 718.951.5739.
12:30–3 p.m., Penthouse, Student Center
Trans Activism Before, During, and After Stonewall, with Victoria Cruz and Kai Green, moderated by María Scharrón del Río
6:30–8:30 p.m., Jefferson-Williams Room, fourth floor, Student Center